Owners of Phoenix warehouses filed a federal lawsuit against electronic scrap companies that shipped cathode-ray tube materials to Closed Loop Refining and Recovery, and already two defendants have agreed to pay out roughly $1 million each. 
The 36-page complaint, filed in U.S. District Court in Arizona, follows years of similar legal battles in Columbus, Ohio, where 43 companies, including original equipment manufacturers (OEMs), have agreed to pay a combined $15.8 million to clean up warehouses full of cathode-ray tube (CRT) material.   
That case is winding down, and it appears no defendants are planning to undertake the costs and risks of taking their dispute all the way to a trial. 
Made with leaded glass, CRTs are the heart of old, bulky TVs and computer monitors. CRT devices are negative-value scrap items because of their limited commodity value and the costs of properly recycling or disposing of the leaded glass they contain.
Estimated 106 million pounds abandoned
The more recent complaint, filed Oct. 7, mirrors the legal arguments in the Ohio case. It argues that under the federal Comprehensive Environmental Response, Compensation and Liability Act (CERCLA, otherwise known as the Superfund law), the suppliers that shipped material to Closed Loop are liable for a portion of cleanup costs. 
Nearly 50 e-scrap companies are named in the Arizona suit.
Eight companies that were sued and settled in the Columbus case are now being sued again. That list includes two organizations that plaintiffs allege were among the top five suppliers to Phoenix: IMS Electronics Recycling, which allegedly shipped 71.5 million pounds of material, and Federal Prison Industries (doing business as UNICOR), which shipped 14.4 million pounds. 
The Phoenix case involves two pairs of landlord plaintiffs. Berendo Property and Harrison Properties together own a warehouse at 435 S. 59th Ave. Meanwhile, Lincoln Industrial and Predio Management run a warehouse at 625 S. 27th Ave. – Lincoln owns the space and Predio manages it. 
Closed Loop began leasing the Phoenix facilities in 2010, and when it failed in early 2016, it left a combined 106 million pounds of CRT materials on both properties, according to the complaint, as well as tens of millions of pounds on an Arizona Department of Transportation (ADOT) property, which ADOT cleaned up at its own expense. 
At the 59th Avenue site, material was stored both inside and outside the warehouse, including on bare soil. Berendo/Harrison completed the cleanup of the glass stored outside, and the property managers are now working to remove material and decontaminate the inside of the building. 
Lincoln/Predio have already cleaned out the 27th Avenue warehouse. Material that's been removed to date has gone to landfills, including both hazardous and nonhazardous waste landfills, with the landlords noting in their lawsuit that Closed Loop had crushed and mixed leaded and unleaded glass such that it wasn't a desirable product for use by smelters. 
The landowners estimate cleanup costs may exceed $15 million, and they want suppliers to pay. 
Plethora of companies sued
The lawsuit names 49 e-scrap companies as defendants, and two have already settled: California Electronic Asset Recovery (CEAR) of California, and UNICOR. 
The defendants run the gamut from large suppliers to tiny ones, with many based in California. (See graphic below. Click to view full size. Story continues after graphic.)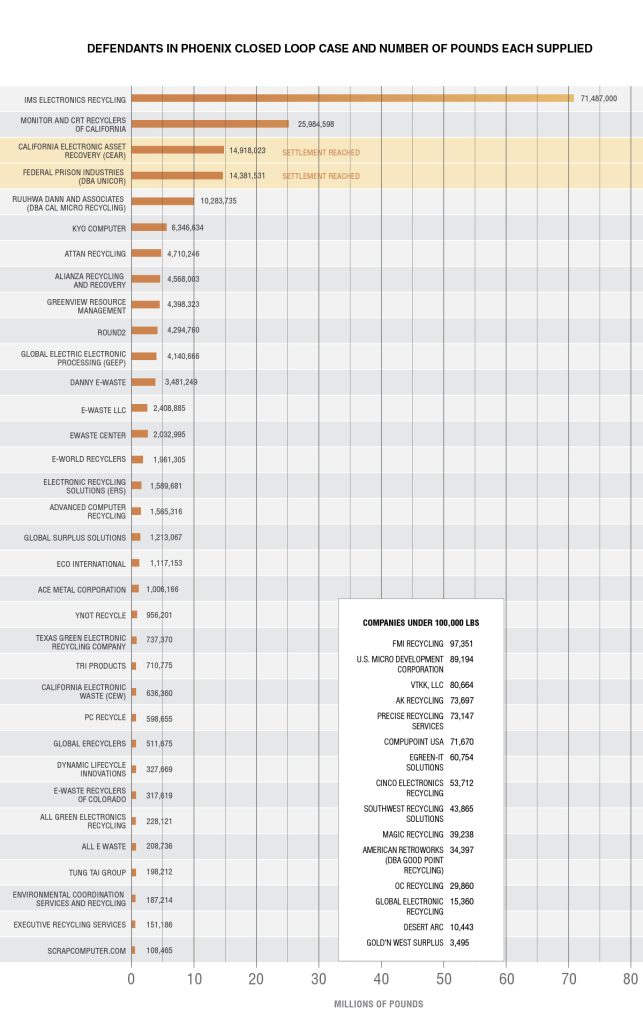 The complaint notes that CRT glass arrived in Phoenix from far and wide, including some shipped in from other countries. For example, the complaint cites records that showed Global Electric Electronic Processing (GEEP) sent CRT materials to Arizona from Alberta, Canada and Costa Rica. UNICOR sent material there from prisons all around the country. 
Landlords claim the largest supplier, by far, was IMS Electronics Recycling, which was also sued in the Ohio case and settled in October for $1.12 million. IMS acknowledged shipping 8.3 million pounds to Closed Loop in Columbus. This new lawsuit claims the company shipped 71.5 million pounds to Closed Loop in Phoenix. 
Once a significant player in the e-scrap business, IMS years ago closed its operations and sold off its physical assets, including its industrial shredding and separation systems. But the corporate entity still exists and is affiliated with the CP Group, a large recycling equipment supplier that has its roots in scrap metals recycling. 
In the Ohio case, IMS settlement documents were signed by Terry Schneider, president of IMS Electronics Recycling and CEO of CP Global. 
Resource Recycling reached out to companies the plaintiffs identified as the top five suppliers for comment about the lawsuit. A spokesperson for CP Group (on behalf of IMS) declined to comment. 
CEAR released a statement that said that during the period the company shipped to Closed Loop, due diligence auditing, including verification with the Arizona Department of Environmental Quality, led the company to believe Closed Loop was a legitimate operation. It also noted that CEAR's final shipment was several years before Closed Loop filed for bankruptcy. 
"It was upsetting to learn that the material that we had shipped to CLRR and paid to be recycled was mishandled and incompletely processed," the CEAR statement added. "We are now satisfied knowing that the material's treatment, proper disposal and site decontamination has been successfully completed and that we have reached a resolution through our settlement."
Representatives of Monitor and CRT Recyclers of California, UNICOR and Cal Micro Recycling didn't respond to Resource Recycling requests for comment.
CEAR and UNICOR reached settlements only weeks after the lawsuit was filed. The judge approved CEAR's settlement on Wednesday, Nov. 16, and UNICOR's settlement on Tuesday, Nov. 15. CEAR agreed to pay $1.14 million, and UNICOR agreed to pay $995,000. 
Eight suppliers are sued again
This was the second time UNICOR was sued by landlords because it shipped materials to Closed Loop. UNICOR eventually paid out nearly $650,000 to end its involvement in the Ohio litigation.
After IMS and UNICOR, six other defendants in Phoenix were already sued and settled in Columbus. They are GEEP, which settled for $500,000; E-World Recyclers, which is still negotiating a potential settlement in the Columbus case; Dynamic Lifecycle Innovations, which reached an $850,000 joint settlement alongside its customer ASUS Computer International; Environmental Coordination Services and Recycling, which paid a $45,000 settlement, CompuPoint USA, which agreed to provide in-kind recycling services valued at $400,000; and Good Point Recycling, which agreed to pay $60,000. 
In some of those cases, it's unclear how much money the Phoenix landowners could extract from the defendants, even if the defendants are willing to settle. 
In the Ohio negotiations, the warehouse owners agreed to reduce the dollar figures for GEEP and Good Point Recycling because both companies provided financial documents showing they couldn't afford what the plaintiffs said they owed. And CompuPoint USA was allowed to provide in-kind recycling services for the same reason. Additionally, after paying its settlement, Environmental Coordination Services and Recycling has since closed. 
The latest complaint is actually at least the third time IMS has been sued for sending material to Closed Loop. In Nov. 2021, Riverside County, Calif. sued IMS, which had a county contract to recycle CRT glass stored at two landfills. In its lawsuit, Riverside County claimed IMS "solely and exclusively selected" Closed Loop in Phoenix to receive about 545,000 pounds of the material in 2011 and 2012. Then, in December 2018, attorneys for the Phoenix landlords demanded Riverside County help fund the cleanup, according to the lawsuit, resulting in a $75,000 payment from Riverside County to the landowners. 
After Riverside County settled and gave the landowners $75,000, the county turned around and sued IMS for $75,000 and legal costs. In January 2022, Riverside County and IMS reached a settlement for an undisclosed sum, and the case was dismissed in March 2022. 
'Several millions of dollars' spent already
The complaint says Berendo/Harrison and Lincoln/Predio have funded the cleanup to date at their own expense, although some costs, such as lost rent from the warehouses, can't be recovered through CERCLA. 
"To date, Plaintiffs have incurred several millions of dollars in necessary removal and other response costs, and Plaintiffs will continue to incur response costs in the future," the complaint states. 
Their complaint notes they're citing CERCLA to seek reimbursement for the following costs: hiring environmental consultants, identifying disposal options and obtaining estimates from cleanup vendors, securing the properties to prevent break-ins, paying for cleanup and conducting decontamination work. 
In the UNICOR settlement document, referred to as a consent decree, the landowners asserted that they've received no insurance payouts for the cleanup costs they've incurred.
The two settlement sums that have already been reached – with CEAR and UNICOR – equal roughly 7-8 cents per pound shipped. Using that rate, the landowners would be seeking widely different payouts from different defendants.
It's unknown whether some of the plaintiffs, including the larger suppliers, will ask a judge or jury to decide their liability. In the Ohio case, many defendants argued that they weren't liable because they were protected by the Superfund Recycling Equity Act, which amended CERCLA with an eye toward protecting recycling companies that act responsibly. 
The plaintiffs argue that the suppliers knew or should have known that Closed Loop wasn't in compliance with federal CRT recycling rules but ignored the warning signs to save money. In their complaint, the landlords wrote that "Plaintiffs detrimentally relied on their reasonable expectation and Defendant Closed Loop's representations that Closed Loop would operate in compliance with applicable federal and state hazardous waste laws." 
But defendants could argue that the landlords, themselves, were in the best position to know that the illegal accumulation of material was occuring on the properties. That was an argument presented in the Ohio case. 
That argument was presented in a CERCLA case filed in South Carolina after the collapse of Creative Recycling Systems. In that case, a judge ultimately put suppliers and the landlords on the hook for cleanup costs, but he shifted quite a bit of the financial burden to the landlords, finding that they failed to take action to mitigate the mess.
A version of this story appeared in E-Scrap News on November 30.
More stories about courts/lawsuits