Industry Announcements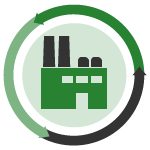 Resource Recycling highlights the latest announcements from industry companies and organizations. If your business or group has a development to share, email news@resource-recycling.com.
February 2017
Vulcan Materials Company has elected David Steiner to its board of directors. Steiner previously served as CEO of Waste Management.
The Institute of Scrap Recycling Industries (ISRI) will honor Herschel Cutler, a retired ISRI executive director, and Crawford Carpenter, a retired Caraustar executive, with its 2017 ISRI Lifetime Achievement Awards. ISRI has also approved new specifications for glass and inbound mixed recyclable materials for MRFs. 
Momentum Recycling will open a bottle-to-bottle glass recycling facility this week in Colorado.
SSI Shredding Systems has hired Paul Breithaupt as the company's new director of engineering.
AMCS has announced its 2016 business performance highlights, which include record growth and expansion of the company's executive team.
Recyclist, an online recycling education platform, is celebrating its first year in business.
Bob Gedert, an affiliate senior consultant for Resource Recycling Systems (RRS), has been voted to the Association of Ohio Recyclers board of directors as a member-at-large.
BigBelly, which makes automated public space receptacles, announced that its containers collected more than 17.4 million gallons worth of recyclable materials in 2016.
Associated Recyclers of Wisconsin (AROW) launched a new website design and focus for its Recycle More Wisconsin program.
Appliance Recycling Centers of America has partnered with Focus on Energy, Wisconsin's statewide energy efficiency and renewable energy program, to re-launch its appliance recycling program in the state.  
The Recycling Coalition of West Virginia has announced five statewide winners for the West Virginia Recycles Youth Contest.
Trex has achieved certification with the International Code Council for its Trex Spartan and Trex Cardinal lines of LLDPE pellets, confirming they're both made of 100 percent post-consumer plastics.
Scott Mouw, section chief for recycling and materials management for the state of North Carolina, will retire from state government effective Feb. 28 and will work part time for The Recycling Partnership.
January 2017
The Recycling Research Foundation (RRF), a nonprofit group connected to the Institute of Scrap Recycling Industries (ISRI), awarded its 2016 National Scholarship to Thomas Boundy, who is pursuing a doctoral degree in metallurgical and materials engineering at the Colorado School of Mines Kroll Institute for Extractive Metallurgy.
Guardian Containers has hired Steve Cook, a business consultant with 10 years of experience in the document-destruction industry, as its new vice president of business development.
The US Composting Council and Keep America Beautiful recommended designating green as the voluntary color standard for organics collection containers.
Harris Waste Management Group has selected Ely Enterprises as its distributor for Ohio, southeast Michigan, Kentucky, western Pennsylvania and western New York.
To promote organizing a Global Recycling Day, the Bureau of International Recycling launched a website that will provide information on actions, stakeholders, supporters and campaigns.
FCC Environmental Services, along with Bollegraaf Recycling Solutions and Van Dyk Recycling Solutions, released a video showing the new Dallas MRF, which opened in early January.
Republic Services has estimated it has a $230 million economic impact in Nevada, a figure that takes into account employment, taxes paid and resources purchased.
Insa Riepen, who has served as executive director of Recycle Utah for the past 17 years, announced she will retire in April.
Recycle Right, El Paso, a video contest put on by the City of El Paso Environmental Services Department, opened its period of video submissions.
International Baler Corporation has named longtime employee Sean Usoff as its director of sales and marketing.
Kessler Consulting has hired Ashley Evans, a professional engineer with 16 years of solid waste experience, as a project and client manager.
Waste to Energy Partners, whose flagship product is made from end-of-life tires and is an alternative to carbon black, is changing its name to Bolder Industries.
At the World Economic Forum meeting in Davos, Switzerland, the third-annual Circulars awards were presented to the following individuals and groups: sustainable development expert William McDonough; Nike and Patagonia; plastics recycling company MBA Polymers; the Scottish government; SJF Ventures, investors in circular economy businesses; recycling data company Rubicon Global; and recycling technology company Bioelektra Group.
Kiser Environmental Consulting announced the availability of its recently completed book focusing on litter in national parks.
Ohio Baler Co. (OBC) decided not to renew its regional dealer contract with Harris and will, instead, focus its efforts on American Baler products.
Resource Recycling Systems has added three senior consultants to its team: Resa Dimino, Bob Gedert and David Refkin.
The Institute of Scrap Recycling Industries (ISRI) has published in its Scrap Specifications Circular recent changes to the plastic specifications.
Recycle Montana has selected Fort Benton Recycles as its Recycler of the Year for 2016, the first time the award has been made.
Appliance Recycling Centers of America (ARCA) in November 2016 opened a new business unit: Customer Connexx, an ARCA customer-care and contact center.
Battery Solutions, a company that collects, sorts and recycles batteries, is expanding its facility in Mesa, Ariz., allowing it to increase capacity as it grows its West Coast customer base.
Ohio Baler Company (OBC) has launched a new waste division and has hired Patrick Spear to lead it. The company also made other staffing changes: Bob Koch has been promoted to sales director for OBC Baling Equipment and OBC Used Equipment, and Jim Olszewski will now work as director of operations for OBC Rigging services.
The US Composting Council announced that the application period for the 2017 Rathmann Challenge — Mitigating Climate Change by Expanding the Use of Compost, will open on Feb. 15.
Procter & Gamble announced a 2020 goal of having all of its manufacturing sites send zero production waste to landfill.
Recycle Track Systems (RTS) announced a new partnership with Juice Press, an organics food and beverage retailer.
Chicago-area recycling company Lakeshore Recycling Systems has acquired K. Hoving Companies, a full-service waste management, recycling and dumpster rental company.
Bunting Magnetics Co. has signed an agreement to acquire Master Magnets Ltd., a U.K.-based manufacturer of magnetic separation equipment.
Laurie Johnson, who recently worked as vice president of client services for Recyclebank, has been hired as the new executive director for the Colorado Association for Recycling (CAFR).
ZenRobotics, a Helsinki-based maker of robotic sortation systems, announced that it will install units at a construction-and-demolition debris facility in China this summer.
Waste Connections has acquired Groot Industries, Illinois' largest private solid waste company and an operator of two recycling facilities.
December 2016
The Foodservice Packaging Institute has released a series of YouTube videos highlighting the benefits of single-serve food packaging.
Sandra M. Volpe has been elected to the board of directors for Republic Services.
It's time to vote in the US Composting Council Research and Education Foundation's International Compost Awareness Week poster contest.
Bob Gedert is retiring as director of the Austin, Texas Resource Recovery Department to work as a consultant based in Cincinnati. Sam Angoori, who has more than 16 years of service with the city, will take over as interim director.
Green Machine announced that it has won a contract to build the largest automotive shredder residue recycling sortation line in the country. GEP Fuel and Energy Indiana is planning to build the large-scale sortation and plastics-to-fuels facility in Camden, Ind.
ASTM is working on standards to help organizations create a waste hierarchy, as well as a plan for communities to develop and operate a compost program.
Cactus Recycling of San Diego and Viking Recycling of Toronto are now partners in Armstrong Ceiling Solutions' ceiling recycling program.
Wendt Corporation shredding and separation technologies are now available in India.
Republic Services has released some holiday sustainability tips.
Machinex has unveiled a new website.
The Government of Ontario proclaimed the Waste-Free Ontario Act.
Zimmer America Recycling Solutions is now the exclusive sales representative for Beccaria Srl.
The new Colorado Composting Council and is celebrating with a formation party.
Aluminum recycling company Novelis has been awarded the European Aluminum Award.
November 2016
Associated Recyclers of Wisconsin released recommendations on how to improve glass recycling.
Media holding company Cox Enterprises announced seven of its locations have achieved zero waste to landfill.
The National Recycling Coalition has selected its 2016-2017 officers.
The Ontario Waste Management Association handed out several awards at the annual Canadian Waste to Resource Conference. The group also named Gord White as its new CEO.
Allentown, Pa. is the latest city to join the Recyclebank program.
SwissRTec America, a recycling technology firm, is helping A&E Auto Electric with its plant expansion.
The USDA and EPA announced the formation of the U.S. Food Loss and Waste 2030 Champions group.
ZenRobotics has developed an upgraded robotic system capable of sorting plastics by polymer and doing more picks per hour.
October 2016
Mary McClellan has been named the executive director for the Carolina Recycling Association.
The Virginia Recycling Association has awarded its Outstanding Service Provider of the Year Award to the Northern Virginia Recycling Center, owned by Republic Services.
The U.K.-based Textile Recycling Association and the Secondary Materials and Recycled Textiles Association, based in the U.S., have released a statement regarding the misconceptions in the secondhand clothing industry.
The founder of Recycling International, Manfred Beck, has retired as chief editor. He recently received a BIR merit award.
Novelis, an aluminum recycling company, has pledged to donate $1 million to Habitat for Humanity over the next five years.
Current trends in battery recycling and other topics were discussed at the recent International Congress for Battery Recycling.  Organizers have released a summary of the event.
reRubber, a company that turns tires into new materials, has opened a new manufacturing and R&D facility in San Bernardino, Calif.
Zimmer America Recycling Solutions now represents IFE Bulk in North America. IFE Bulk manufactures vibratory conveyors, screening machines and other equipment.
The Institute of Scrap Recycling Industries (ISRI) is seeking nominations for its 2017 Design for Recycling Award. Nominations must be made by Jan. 20, 2017.
ISRI has also released its 2016 Scrap Yearbook, which provides statistics on recycled materials and other scrap commodities in the global recycling industry.
ISRI has also has added a new specification to its Scrap Specifications Circular. The new entry is an auto-bumper plastic.
Kris Kaar, a senior consultant with Resource Recycling Systems, has been elected as president of the Illinois Recycling Association.
Cleveland Vibrator Company has released a white paper on the effective use and maintenance of rotary electric vibrators.
Five businesses and programs were honored by the Georgia Recycling Coalition (GRC). The Spirit of Green Awards were handed out the recent GRC conference.
September 2016
The American Institute of Packaging and the Environment (AMERIPEN) has added packaging manufacturers Novolex and Liqui-Box to its membership. AMERIPEN lobbies for environmentally friendly packaging policies.
ClearSpan has updated the design of its Fabric House Building. The structure now features a peaked roof and overhanging eaves for extra coverage.
An upcoming update to the RIOS recycling facility certification will include stronger health and safety requirements and a greater focus on the global recycling industry.
Want to see the benefits of a Toter waste cart? The company has released a sustainability calculator that, among other things, helps customers quantify results.
Luke James has joined Vecoplan LLC as sales manager. He was an intern at the recycling equipment manufacturer during college and will work as liaison between customers and the company's engineering team.
The vice president of materials management and community affairs for Covanta, Meg Morris, was honored with the lifetime achievement award by the National Recycling Coalition.
The North Carolina Recycling Business Assistance Center has named Wendy Worley to the team leader position. Worley was previously handling the grant program for RBAC.
The Northeast Recycling Council (NERC) has released a Reuse Explorations Guide designed to help communities of all sizes and demographics expand product reuse.
The State of Texas Alliance for Recycling (STAR) has announced the winners of its 2016 Environmental Leadership Awards. The awards will be handed out at the Texas Recycling Summit in October.
The International Automobile Recycling Congress is calling for papers. The 17th IARC takes place in Berlin March 22-24, 2017.
Kessler Consulting has been tapped to study the residential solid waste of Carrboro, N.C.
Cynthia Mitchell has been named a senior project manager for MSW Consultants.
The US Composting Council is encouraging people to participate in America Recycles Day, which is coming up on Nov. 15. The annual International Compost Awareness Week poster contest is also underway.
The Witte Co., which makes fluid bed dryers, coolers, pellet classifiers and other recycling equipment, has named Tyson Witte its new president.
David Borsuk of Sadoff Iron & Metal Company has been elected the new director-at-large on the Institute of Scrap Recycling Industries board of directors. He will serve a two-year term.[/vc_column_text][/vc_column][/vc_row]