Industry Announcements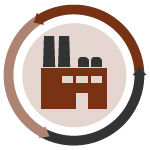 E-Scrap News highlights the latest announcements from industry companies and organizations. If your business or group has a development to share, email news@resource-recycling.com.
March 2017
Ameri-Shred has added a shredder capable of handling solid state drives, cell phones, tablets, memory cards, thumb drives, circuit boards and other devices.
EPEAT has announced the winners of its 2017 purchaser awards, which recognize leadership in the procurement of sustainable IT products.
Commonwealth Computer Recycling changed its name to CyberCrunch and adopted a new logo.
Tech Dump has named Darin Anderson as recycling manager for the company's St. Paul, Minn. location.
February 2017
SSI Shredding Systems has hired Paul Breithaupt as the company's new director of engineering.
Eriez announced the company will celebrate its 75th anniversary this year, and the separation equipment manufacturer is publishing an updated book to tell the company story.
Sustainable Electronics Recycling International (SERI) has added a new R2 Articles and Knowledge Base page to its website.
January 2017
New York City's e-cycleNYC program, which collects e-scrap from apartment buildings, helped the City earn an award from Harvard University's Bright Ideas initiative.
Sunnking, a New York-based e-scrap company that moved into a new 204,000-square-foot facility last fall, has purchased shredding and separation equipment to automate its processing.
NAID-Europe issued a "save the date" for a May 18 seminar to help member companies prepare for Europe's sweeping data-protection regulations set to go into effect in May 2018.
The second-annual Eurasian WEEE Solutions Congress has been scheduled for March 28-29 in Moscow. This year, Russia implements extended producer responsibility for electronics and electrical appliances.
As part of its Electronics Recycling Challenge, the U.S. EPA presented Gold Tier Awards to Best Buy, Dell, LG Electronics and Samsung, Sprint and Staples, and it gave Bronze Tier Awards to Sony and Vizio. The awards were presented at the recent Consumer Electronics Show (CES) in Las Vegas.
Schupan & Sons Inc. has purchased a majority interest in Trinity Metals, an Indianapolis recycling company with an e-scrap division.