Industry Announcements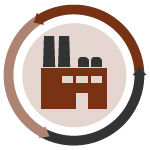 E-Scrap News highlights the latest announcements from industry companies and organizations. If your business or group has a development to share, email news@resource-recycling.com.
February 2017
SSI Shredding Systems has hired Paul Breithaupt as the company's new director of engineering.
Eriez announced the company will celebrate its 75th anniversary this year, and the separation equipment manufacturer is publishing an updated book to tell the company story.
Sustainable Electronics Recycling International (SERI) has added a new R2 Articles and Knowledge Base page to its website.
January 2017
New York City's e-cycleNYC program, which collects e-scrap from apartment buildings, helped the City earn an award from Harvard University's Bright Ideas initiative.
Sunnking, a New York-based e-scrap company that moved into a new 204,000-square-foot facility last fall, has purchased shredding and separation equipment to automate its processing.
NAID-Europe issued a "save the date" for a May 18 seminar to help member companies prepare for Europe's sweeping data-protection regulations set to go into effect in May 2018.
The second-annual Eurasian WEEE Solutions Congress has been scheduled for March 28-29 in Moscow. This year, Russia implements extended producer responsibility for electronics and electrical appliances.
As part of its Electronics Recycling Challenge, the U.S. EPA presented Gold Tier Awards to Best Buy, Dell, LG Electronics and Samsung, Sprint and Staples, and it gave Bronze Tier Awards to Sony and Vizio. The awards were presented at the recent Consumer Electronics Show (CES) in Las Vegas.
Schupan & Sons Inc. has purchased a majority interest in Trinity Metals, an Indianapolis recycling company with an e-scrap division.
December 2016
Atlantix Global Systems, an R2-certified e-scrap recycling and refurbishing firm, was awarded the 2016 Green Supply Chain Award from Supply & Demand Chain Executive.
The Dutch company that makes the Fairphone, a modular, repair-friendly device, is a finalist in the Circulars awards.
Vintage Tech, CyclePoint from SourceAmerica and ECOvanta have all been chosen as certified e-scrap recycling vendors for the Northeast Maryland Waste Disposal Authority.
Sprint is accepting donations of used mobile phones and tablets, and the proceeds from their reuse or recycling will go toward phones for students who lack internet access.
Bunting Magnetics has helped develop a 3-D printed rare earth magnet.
Sunnking is taking applications for its E-Scrap for Camp program.
The National Recycling Coalition has selected its 2016-2017 officers.
E-scrap recycling and asset recovery firm EPC has moved into a new 104,000-square-foot facility in Wright City, Mo.
The York County Solid Waste Authority in Pennsylvania announced it will continue its e-scrap recycling program through 2017.
ICM AG announced the 16th International Electronics Recycling Congress will be held Jan. 17-20 in Salzburg, Austria.
November 2016
Electronics Recycling International is rebranding and has officially changed its name to ERI.
The National Association for Information Destruction (NAID) attended a meeting in Spain with many of Europe's leading information-destruction firms. The topic of the meeting was the General Data Protection Regulation (GDPR), which will go into effect in 2018.
October 2016
Kris Kaar, a senior consultant with Resource Recycling Systems, has been elected as president of the Illinois Recycling Association.
Sony has received recognition for its "Responsible Recycling" program, which promotes e-scrap recycling. The award was handed out by the Industrial Environmental Association.
September 2016
The Institute of Scrap Recycling Industries (ISRI) has released its 2016 Scrap Yearbook, which provides statistics on electronics and other scrap commodities in the global recycling industry.
Current trends in battery recycling and other topics were discussed at the recent International Congress for Battery Recycling. Organizers have released a summary of the event while gearing up for next year's Congress.
CyclePoint from Source America has signed a contract with Allied States Cooperative, growing the network of electronics recycling.
Michigan-based Advanced Technology Recycling has purchased Electronic Recycling Services of Salt Lake City.
Global Recycling Standards Organization, home of RIOS, elected Jeremy Miller its new chairman.
The Institute of Scrap Recycling Industries is seeking nominations for the 2017 Design for Recycling Award. Nominations must be made by Jan. 20, 2017.
MSS, Inc. has announced updates to its L-VIS optical sorter. The update includes better sorting capability for items with difficult colors and weak contrast.
The Ministry of Environment in Saskatchewan, Canada has extended the deadline until Sept. 30 to provide feedback on the proposal to add categories of electronics to the province's e-scrap program.
A recent post from Sustainable Electronics Recycling International (SERI), which administers  the R2 certification standard, explores some common misconceptions about what R2 allows in the areas of reuse and data destruction.