Industry Announcements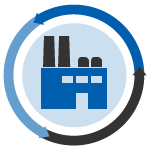 Plastics Recycling Update  highlights the latest announcements from industry companies and organizations. If your business or group has a development to share, email news@resource-recycling.com.
March 2017
Reflex Packaging has released a new video highlighting its recycled-content thermoformed packaging products.
Global packaging manufacturer Sonoco has joined The Recycling Partnership as a funding partner.
February 2017
Kraft Heinz has joined the How2Recycle program, which uses standardized labeling to clearly inform customers how to recycle products. Additionally, the Walt Disney Co.'s business segment producing physical and digital products has also signed onto the program.
Unifi, Inc., the maker of the Repreve brand of recycled PET fiber, will launch an outreach project focused on recycling and environmental responsibility in partnership with five NHL teams and two NBA teams.
SSI Shredding Systems has hired Paul Breithaupt as the company's new director of engineering.
Ettlinger Kunststoffmaschinen, a maker of melt filters and injection molding machines, has named P2B Engineering & Consultancy of Istanbul as its distributor of melt filters in Turkey.
Trex has received International Code Council certification, which verifies that the manufacturer's Trex Spartan and Trex Cardinal lines of LLDPE pellets contain 100 percent post-consumer material.
Scott Mouw, section chief for recycling and materials management for the state of North Carolina, will retire from state government effective Feb. 28 and will work part time for The Recycling Partnership.
January 2017
Kiser Environmental Consulting has released a book called "Litter Crisis in Our National Parks."
International Baler Corporation has named longtime employee Sean Usoff as its new director of sales and marketing.
Plastics recycling company MBA Polymers was among the groups and individuals receiving Circulars awards at the annual meeting of the World Economic Forum in Davos, Switzerland.