Industry Announcements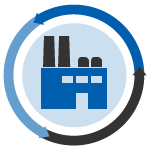 Plastics Recycling Update  highlights the latest announcements from industry companies and organizations. If your business or group has a development to share, email news@resource-recycling.com.
February 2017
Unifi, Inc., the maker of the Repreve brand of recycled PET fiber, will launch an outreach project focused on recycling and environmental responsibility in partnership with five NHL teams and two NBA teams.
SSI Shredding Systems has hired Paul Breithaupt as the company's new director of engineering.
Ettlinger Kunststoffmaschinen, a maker of melt filters and injection molding machines, has named P2B Engineering & Consultancy of Istanbul as its distributor of melt filters in Turkey.
Trex has received International Code Council certification, which verifies that the manufacturer's Trex Spartan and Trex Cardinal lines of LLDPE pellets contain 100 percent post-consumer material.
Scott Mouw, section chief for recycling and materials management for the state of North Carolina, will retire from state government effective Feb. 28 and will work part time for The Recycling Partnership.
January 2017
Kiser Environmental Consulting has released a book called "Litter Crisis in Our National Parks."
International Baler Corporation has named longtime employee Sean Usoff as its new director of sales and marketing.
Plastics recycling company MBA Polymers was among the groups and individuals receiving Circulars awards at the annual meeting of the World Economic Forum in Davos, Switzerland.
December 2016
The Dow Chemical Co. has received a 2016 Sustainability Award from the Business Intelligence Group for its Retain product, a resin compatibilizer that allows the company's high-barrier food packaging to be recycled via traditional PE retail collection streams.
MBA Polymers, which specializes in recycling challenging plastics streams, is a finalist in the 2017 Circulars awards.
Lubo Elliptical and Bollegraaf Filmgrabber machines were installed to sort film at a MRF in France.
More than 4,500 American flags were collected and retired this summer through Advanced Disposal's collection program.
The Foodservice Packaging Institute has released a series of YouTube videos highlighting the benefits of single-serve food packaging.
November 2016
The Institute of Scrap Recycling Industries has made changes to its plastics specifications.
Jerry MacCleary is the newest board officer for the American Chemistry Council. MacClearly is the president of Covestro.
October 2016
CANEI Corporation, a plastics recycling company, has been named one of Canada's fastest-growing startups.
TOMRA, a sensor-sorting company, has launched a reverse vending machine loyalty program in Michigan. The program will eventually expand to other grocery stores in the Northeast.
TOMRA will also show off its newest AUTOSORT FLAKE technology at K-Show 2016.
A company that makes wax from recycled plastics, GreenMantra Technologies, has developed a new product. The Ceranovus waxes help plastics recyclers in the production process.
Kris Kaar, a senior consultant with Resource Recycling Systems, has been elected as president of the Illinois Recycling Association.
The Institute for Scrap Recycling Industries (ISRI) has added a new specification to its Scrap Specifications Circular. The new entry is an auto-bumper plastic.
Sock maker DeFeet has partnered with Unifi to use its Repreve fiber, which is made from recycled PET bottles, in its products.
September 2016
ISRI has also released its 2016 Scrap Yearbook, which provides statistics on plastics and other scrap commodities in the global recycling industry.
Sustainable think tank UPSTREAM has launched a campaign to end plastic pollution.
ASTM International is hosting a meeting to discuss the potential creation of a committee that would develop standards for recycled vulcanized rubber. The online meeting is Oct. 5.
Label and packing company Avery Dennison has launched a sustainability campaign called Together We Can Do Beautiful Things.
Fimic has designed several new filters, including one modified for PVC.
Equipment companies MAS and Gneuss will have new products and machines on display at this year's K Show. The show runs Oct. 19-26 in Dusseldorf, Germany.