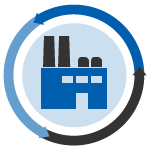 Industry Announcements
Plastics Recycling Update  highlights the latest announcements from industry companies and organizations. If your business or group has a development to share, email news@resource-recycling.com.
April 2017
Austria-based recycling equipment company Erema Group reported sales of 138 million euros (about $148 million) during the 2016-17 financial year, a record for the company.
Bulk Handling Systems (BHS), an Oregon-headquartered recycling equipment company, has unveiled an artificially intelligent robotic sortation system called Max-AI.
New Era Cap Co. has released its first NBA team hat made with recycled plastic bottles. The hat features the Portland Trail Blazers.
Rapid Granulator will begin producing its full range of granulating and shredding equipment in Pittsburgh, a change from its practice of contracting out U.S. production.
Berry Plastics Group, a packaging maker involved in plastics recycling, announced it is changing its name to Berry Global Group.
PET bottle reclaimer CarbonLite Industries has hired C1S Group as the primary contractor for construction of a new recycling facility in Texas.
Waste and recycling industry veterans Tony Moucachen and Emmie Leung have announced the name of their Ontario, Canada plastic packaging recycling company: ReVital Polymers. A new website, revitalpolymers.com, has also been launched for the company.
Petcore Europe has appointed Christian Crépet as its new executive director.
The American Institute for Packaging and the Environment (AMERIPEN) has hired Brian Wagner as its senior director.
Rubicon Global has joined the Ellen MacArthur Foundation's Circular Economy 100 Emerging Innovator Program.
ZenRobotics has sold its three-armed robotic sortation unit to a Singapore materials recovery facility (MRF) operated by V8 Environmental.
Harris Waste Management Group has added Plum Creek Environmental Technologies as a new distributor of its equipment in four U.S. states.
The National Waste & Recycling Association has announced the winners of its annual industry awards and the inductees into its hall of fame.
The Recycling Partnership has begun accepting proposals for its next round of recycling-related grants, which will be available until funds run out.
A new entity called the Nebraska Recycling Council has been formed by merging the Nebraska State Recycling Association with WasteCap Nebraska.
An Introduction to Zero Waste course will be taught by Gary Liss at the Institute of Scrap Recycling Industries (ISRI) Convention this month.
March 2017
Reflex Packaging has released a new video highlighting its recycled-content thermoformed packaging products.
Global packaging manufacturer Sonoco has joined The Recycling Partnership as a funding partner.
February 2017
Kraft Heinz has joined the How2Recycle program, which uses standardized labeling to clearly inform customers how to recycle products. Additionally, the Walt Disney Co.'s business segment producing physical and digital products has also signed onto the program.
Unifi, Inc., the maker of the Repreve brand of recycled PET fiber, will launch an outreach project focused on recycling and environmental responsibility in partnership with five NHL teams and two NBA teams.
SSI Shredding Systems has hired Paul Breithaupt as the company's new director of engineering.
Ettlinger Kunststoffmaschinen, a maker of melt filters and injection molding machines, has named P2B Engineering & Consultancy of Istanbul as its distributor of melt filters in Turkey.
Trex has received International Code Council certification, which verifies that the manufacturer's Trex Spartan and Trex Cardinal lines of LLDPE pellets contain 100 percent post-consumer material.
Scott Mouw, section chief for recycling and materials management for the state of North Carolina, will retire from state government effective Feb. 28 and will work part time for The Recycling Partnership.