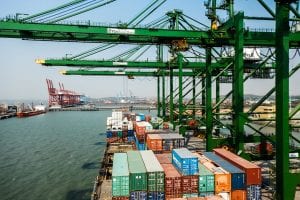 Another major importer of recyclables in Asia is drafting policy to reshape its relationship to materials recovery. But this time, the move could actually be a boon to exporters.
The Indian government is developing a comprehensive domestic recycling plan, and it held meetings in August called "Sustainable Growth Through Material Recycling: Policy Prescriptions." Sessions covered infrastructure, certification and standardization, environmental benefits of recycling, economic issues and circular economy topics, according to a press release from the Indian government.
The policy is in development and a draft document is expected soon.
"Recycling will increase growth, create wealth and generate employment," Nitin Gadkari, minister for road transport and highways, stated in the release.
That type of pronouncement is similar to viewpoints articulated by leaders in China last year as they rolled out plans to grow domestic materials recovery and implement an industry-rocking ban on imports of recyclables.
However, the recycling momentum in India, the second largest importer of U.S. recovered paper after China, is being met with enthusiasm by international stakeholders.
At the August meeting, both the Institute of Scrap Recycling Industries (ISRI) and the Bureau of International Recycling (BIR) participated to share their viewpoints on the global trade of recyclables.
'More of an opportunity'
According to Adina Renee Adler, senior director for government relations and international affairs for ISRI, the Indian recycling policy development has a far different tone than the trade restrictions enacted by China. Adler noted she's "not getting any signals that it's going to translate into any kind of import restrictions."
"In the immediate term, it's more of an opportunity," Adler said. "As India develops a sophisticated recycling industry, there will be an opportunity for trade in the foreseeable future."
India currently has a scrap deficit, she added, meaning its manufacturing sector has to import scrap materials for feedstock. Though greater collection efforts in India could help reduce that demand for imported bales, Adler indicated a focus on optimized recycling in India could also help make it a stronger trade partner for the U.S. and others.
"I think it gets even better if they have a policy in place," she said. Stronger policy would add requirements for environmental health and safety, and as the recycling facilities receive upgrades and improvements, they would likely increase the amount of material they can process, increasing their demand.
Adler also said it would likely be years before domestic supply in India could completely replace current import tonnages.
Adler added she was impressed by the dialogue at the meeting earlier this year. As an example, she pointed out how government representatives queried ISRI for more information about the association's arbitration services. They also asked about Occupational Safety and Health Administration (OSHA) guidelines for the recycling industry and more.
"It wasn't a bureaucratic exercise. It was thoughtful people listening to what all the participants had to say, taking notes and asking thought-provoking questions," Adler said.
Elsewhere in Asia
India's policy development comes as China continues its rejection of scrap materials, particularly plastics, from other countries.
The Chinese government generally issues import permits twice per month. On the plastics side, the last few rounds of permits have brought the lowest consecutive volumes of the year. When the Ministry of Ecology and Environment (MEE) issued permits on Sept. 19 and Sept. 29, plastic wasn't included. Last week, a mere 203 metric tons were approved for import.
Overall, 67,000 metric tons of scrap plastic have been approved for import into China this year, according to MEE documents.
The latest U.S. Census Bureau figures also continue to show smaller volumes of U.S. scrap plastic heading to the world's most-populous country. In August, U.S. exporters sent 1,950 metric tons to China, the lowest volume of any month in 2018.
Most post-consumer plastics have been officially banned from import into China since the beginning of this year. Chinese leaders have stated they will prohibit imports of post-industrial plastics beginning next year.
India's interest also comes at a time when Southeast Asian nations are following China's lead and enacting import restrictions on recyclables. Malaysia, Taiwan, Thailand and Vietnam have either imposed or expressed interest in additional regulations barring or limiting recyclables imports. These countries have been flooded with recyclables imports this year, as exporters in the U.S. and elsewhere search for alternative destinations for loads displaced from China.
Photo credit: Ungureanu Catalina Oana/Shutterstock
More stories about exports