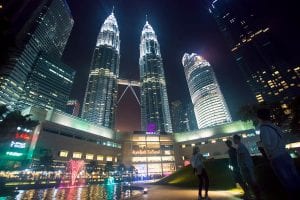 Malaysian authorities plan to ban scrap plastic imports in three years. In the meantime, they'll subject incoming shipments to a series of stringent new requirements.
During an Oct. 26 meeting of several Malaysian ministries, officials decided on a handful of key changes affecting scrap plastic imports, according to Steve Wong, executive director of the China Scrap Plastics Association.
Malaysia has risen as the top importer of U.S. scrap plastic worldwide this year, after China banned imports of most scrap plastic at the beginning of the year.
Permits will be issued for operators that meet the new criteria, according to the government. But it's unclear when that could happen. Besides making regulatory changes, officials stopped issuing permits for scrap plastic effective immediately.
"They did not really have a timeframe when they will start to accept the applications of approved permits," Wong said in a phone interview Wednesday. "The only way people can import will be regrind; regrind is imported under a different tariff code."
If and when permits are issued again, imports will only be allowed from the U.S., the European Union and Japan, explained Wong, who has met with key Malaysian government officials in recent weeks and has firsthand knowledge of the regulations.
As Plastics Recycling Update has previously reported, imports will be subject to a levy of 15 ringgits (about $3.60) per metric ton. But in another new financial requirement, importers in Malaysia must place a deposit with a bank "as a bond to fund against violation of import regulations and to cover the cost of shipment repatriation," Wong said.
There are also quality guidelines: Imports must be "quality and homogeneous plastic scraps which can be recycled for reuse," Wong explained. However, he noted the requirements do not use a percentage threshold for contamination, as is the case in China. Malaysian customs are more relaxed compared with China, Wong noted.
Authorities also clearly outlined a three-year plan to replace imports with domestic material. Under the new guidelines, a formula is set for each importer. During the first year, the scrap importer can use up to 70 percent imported material as feedstock, and the remaining 30 percent must be domestically generated, Wong explained. In the second year, that ratio drops to 60-40 imports and domestic, and in year three, it's 50-50.
Then, after three years, the government will impose a complete ban on plastic scrap imports, Wong said.
Wong, who is also chairman of Hong Kong plastics recycling company Fukutomi, remains skeptical that domestic material will be enough to supply Malaysia's manufacturing industry.
"The local collections, first and foremost in terms of tonnage, are not able to satisfy the requirement for demand," he said. "Secondly, there isn't an efficient system to collect all the waste. And even if they can collect, there's no system for sorting."
More immediately, the recycling industry is anxiously awaiting word on when they can start to import material again, Wong said.
In related Southeast Asian recycling news, India is working to develop a domestic recycling policy, as Plastics Recycling Update reported today.
Photo credit: Qi Yuan/Shutterstock
More stories about exports