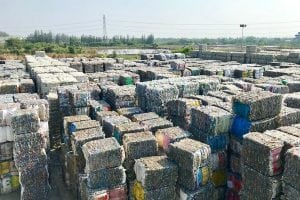 Governments in Southeast Asia are following through on promises to heavily restrict scrap imports.
The following is a roundup of recent activity of recent activity in that area.
Thai scrap ban permanent
Two months after Thailand enacted an immediate prohibition on scrap plastic and e-scrap imports, the country's government has released its longer-term plans.
Thailand has experienced a massive increase in scrap material imports this year, particularly on the plastics side, after many exporters in other countries lost the ability to sell that material into China. When the Thai government took action to stem the influx in June, it also stated that the country would be looking at a long-term policy to permanently ban e-scrap and scrap plastics from import.
Now, that policy appears to be taking shape. The Nation, a Thai news outlet, recently reported on a meeting between a handful of regulatory agencies, at which the long-term ban was discussed. According to the report, the agencies passed a resolution that will completely ban scrap plastic imports within two years.
"I have no doubt that the recycling of plastic waste and used electronic parts are profitable businesses at the moment," Natural Resources and Environment Minister General Surasak Kanchanara said, according to The Nation. "Some business operators may make a lot of profit from the recycling industry, but what will the country gain from their prosperity when our environment becomes polluted and the people suffer?"
Thai plastics recycling companies are concerned that the two-year period is too short a time period for implementation, according to the report. Their concern suggests that, despite the June prohibition, scrap plastic is still entering the country. Industry representatives have noted that imported scrap plastic is of higher quality than domestically generated material, and they say it is cheaper as well.
But the environment minister stated that continuing to import plastic loads will prevent developing a domestic scrap plastics collection system and that without action, "the already-severe waste problem in the country could aggravate."
According to Thai customs data, the country imported 757 million pounds of scrap plastic from January through June, substantially higher than the 118 million pounds it imported during the same period in 2017.
Taiwan to regulate imports
Like other Southeast Asian nations, Taiwan has seen a large increase in scrap material imports this year. But unlike other countries, Taiwan has had a fairly unregulated scrap import system.
But more government attention may be coming, according to the Taipei Times.
The newspaper reported on a Taiwanese news conference held by that country's Environmental Protection Agency on Aug. 13, during which the large-scale import influx was discussed.
According to Taiwanese trade statistics reviewed by Resource Recycling, Taiwan imported 433 million pounds of scrap plastic from all countries during the first half of 2018, up from 171 million pounds during that period in 2017.
According to the newspaper report, officials at the conference explained that "domestic firms do not need to apply for government approval to import waste plastics and paper, because they can be used as industrial materials, but with the increasing volumes, the quality has degraded, while prices for domestic recycled waste have plunged."
To remedy the growing problem, the Taiwan Environmental Protection Agency drafted regulations that will restrict imports.
Under the proposed changes, local firms can only import scrap plastics that originate from their own overseas production processes, the agency said, adding that nothing should be mixed with "other waste." Importers will also need to have proper licensing to bring in material. Scrap plastic imports would be greatly reduced.
The draft regulations have been posted online in Chinese.
RISI (subscription required) reported on the proposed regulations, quoting Taiwanese producers who feel the development is an overreaction by the government.
Vietnam declines to issue permits
Vietnam has seen a major increase in plastics imports this year, but last month, the government there announced it would no longer grant new licenses for waste material imports, according to state media.
The move came shortly after a press conference held by customs officials in the country during which they described backlogs at ports and growing volumes of stalled containers of recyclables.
The country's scrap plastics industry is reeling from the import restrictions. A handful of media reports covered a recent meeting of the Vietnam Plastic Association, where industry representatives expressed major concerns over the recent reduction in import volumes.
Company officials described the shortcomings in domestic collection, which make domestically sourced material harder to use. They also noted quality requirements have increased and that imports have not been able to meet the new demands.
According to notes from another recent Vietnamese government press conference, officials are "also expected to suggest a reduction in the volume of waste imports and a waste import ban in the future."
Photo credit: RecycleMan/Shutterstock
More stories about exports