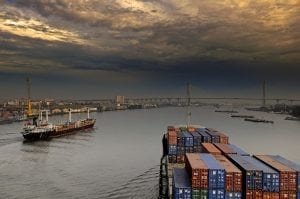 A Thai policy restricting the import of scrap plastics has proved effective. U.S. scrap plastic exports to the country dropped by 94 percent after the ban took hold.
U.S. exporters sent 1.5 million pounds of recovered plastic to Thailand in July, the most recent month for which statistics are available. That's a substantial decline from the 27.1 million pounds the U.S. shipped to Thailand in June, as well as the 41.6 million pounds sent in May.
The latest export figures were released Wednesday by the U.S. government.
Thai authorities in late June announced they would halt scrap plastic imports amid a rising volume of material stuck at ports. In late August, the government described plans to make the ban permanent within two years.
Overall, U.S. exporters sent 203.1 million pounds of scrap plastic to Thailand from January through July, up from 15.5 million pounds during that period in 2017.
The July 2018 figure is by far the lowest volume shipped from the U.S. to Thailand this year.
Elsewhere in the region
Vietnam and China both imported their lowest U.S.-sourced plastics volumes of the year in July.
Vietnam brought in 3.1 million pounds, down from 10.2 million pounds in June and significantly down from 38.9 million pounds in May. The drop accompanied growing interest by the Vietnamese government in restricting scrap plastic flowing into the country. Officials in July announced they would stop issuing new scrap import licenses.
China imported 5.5 million pounds of scrap plastic from the U.S. in July. It's the lowest volume of the year and is down from the 7.3 million pounds of the material shipped to China the previous month. Overall, China has imported an average of 10.3 million pounds of scrap plastic from the U.S. per month this year.
Other Southeast Asian nations stayed fairly consistent in their U.S.-sourced imports in July.
Malaysia imported 52.5 million pounds of U.S. scrap plastic, close to its 2018 monthly average of 56.1 million pounds. Taiwan brought in 13 million pounds from the U.S., near its average of 10.1 million pounds per month. India imported 24.7 million pounds, on par with its monthly average of 25.5 million pounds. Indonesia received 4 million pounds, up slightly from its average of 3.2 million pounds per month this year.
Singapore, which has varied widely in its imports throughout the year, received 117,000 pounds from the U.S. in July, up slightly from its June volume of 99,000 pounds but down from its average of 212,000 pounds per month.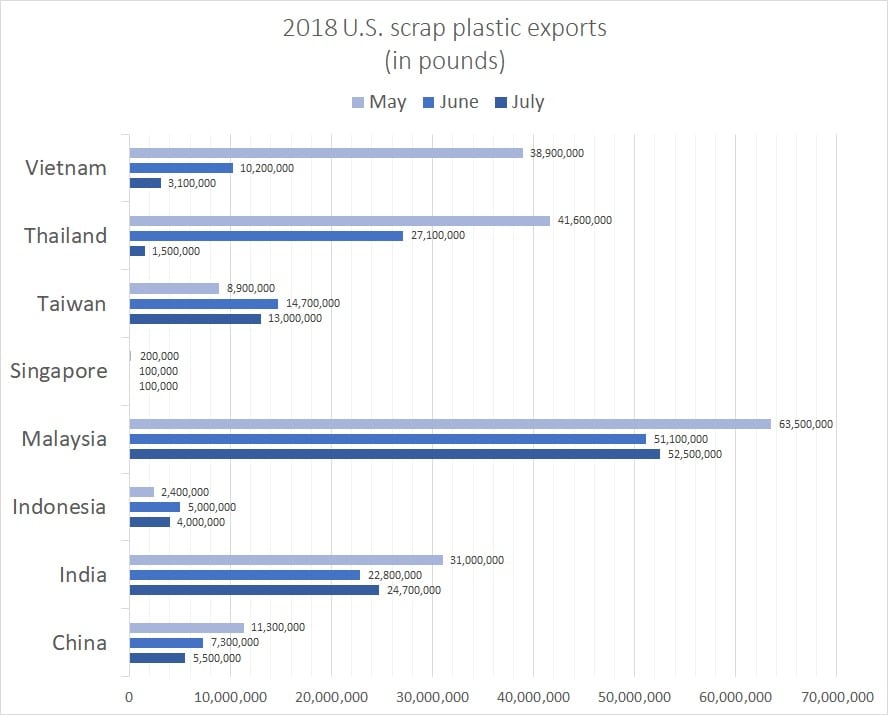 Photo credit: joachim affeldt/Shutterstock
More stories about exports