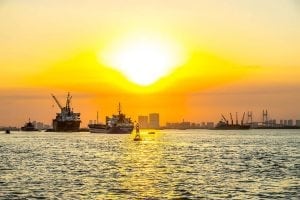 As many in the industry take a breather around Independence Day this week, we thought the time was right to look at the developments that have most caught the attention of readers thus far this year.
The list below shows the 10 most-read Plastics Recycling Update stories in terms of unique page views.
10 | Where exports displaced from China are finding a home
JAN. 17: Scrap plastic exported out of the U.S. is moving to Southeast Asia, where reclaimers are dramatically increasing purchases as China closes its doors to recovered materials. New figures illustrate that shift.
9 | Why Vietnam is shutting out scrap plastic
MAY 31: Soaring volumes of scrap plastic and paper shipped to Vietnam have caused growing concern among local officials, who have logged numerous instances of customs violations in recent months.
8 | Stunning drop in tonnages of scrap plastics allowed into China
JAN. 10: Chinese officials have announced the first batch of plastic scrap import permits for 2018, and the volumes laid out in those authorizations represent a massive reduction from one year ago.
7 | Major Northeast plastics processing plant in the works
MARCH 21: A $20 million New Jersey plastics recycling facility is in development, and project leaders say it will process roughly 100 million pounds of scrap plastics per year for sale into a variety of end markets.
6 | Exporter response to China: 'We are changing our whole strategy'
JAN. 4: A representative from a European firm that has felt the direct impacts of China's import restrictions on recovered plastic recently offered an inside look at the fallout from the unprecedented disruption to industry trade.
5 | From Green Fence to red alert: A China timeline
Over the last five months, we've added numerous details to our exclusive "Green Fence to Red Alert" timeline. The feature covers the latest developments – including new information on U.S. fallout, Chinese regulatory changes and growing restrictions in Southeast Asia – in a centralized, easy-to-digest format.
4 | How China fallout is shaking recycling in California
JAN. 24: Nearly two-thirds of recyclables exported out of California have been bound for China in recent years, and as the Asian behemoth closes its doors to those imports, the state's recycling industry is feeling the hit.
3 | Why a virgin plastics giant entered the recycling business
MARCH 28: LyondellBasell, one of biggest plastic and chemical companies on the planet, has stepped into the plastics recycling sector for the first time. A high-level executive recently explained what drove the decision.
2 | Vietnamese terminals will suspend scrap plastic imports
MAY 23: Major Vietnam shipping terminals will temporarily stop accepting imports of scrap plastic, citing an overload of the material that has caused backups and delays. The move is a significant development for the global recycled plastics industry, because Vietnam has accepted much more material since China cut off imports.
1 | China will expand ban to post-industrial plastic
APRIL 19: China plans to prohibit imports of post-industrial scrap plastic by the end of the year, according to documents published by the country's environmental department.
Photo credit: ngoc tran/Shutterstock