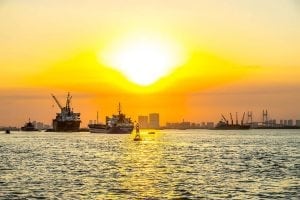 Soaring volumes of scrap plastic and paper shipped to Vietnam have caused growing concern among local officials, who have logged numerous instances of customs violations in recent months.
As Plastics Recycling Update reported last week, key Vietnamese ports will stop accepting scrap plastic for four months beginning in late June. The immediate impetus is a backlog of material that can't be moved. But on a wider scale, Vietnamese officials are restricting imports by taking actions similar to those of the Chinese government over the past year.
Violations discovered
A handful of recent announcements from Vietnamese customs officials confirm growing concerns over scrap imports since the beginning of 2018.
In April, the General Department of Vietnam Customs (GDVC) described numerous recent violations involving scrap plastic and paper coming into the country. The violations included material not meeting Vietnamese quality standards, mislabeling, the use of false import permits and a lack of permits altogether. In response, customs officials have ramped up inspections. According to GDVC, in some areas agents began inspecting 100 percent of scrap plastic and paper imports.
Most recently, GDVC said it had implemented a "plan on risk management for scrap imports," which includes continuing the heightened inspections and taking stock of all the containers of recyclables sitting at ports.
GDVC alluded to the Chinese material ban and said it presented "the potential danger for Vietnam and other Southeast Asian countries to become scrap destinations."
Restricted import permits
An announcement from Saigon Newport Corp. (SNP), which operates major seaports in the country, in late April shows the capacity problem has been growing since the beginning of the year.
On April 23, SNP wrote to its customers that the volume of scrap plastic and paper had "soared" since China banned most of the material. Because of that, Vietnam's Ministry of Natural Resources and Environment and the Ministry of Finance "restricted the import permits for plastic/paper scrap into Vietnam," according to the SNP letter.
"Consequentially, consignees are not able to complete customs clearance for many shipments of plastic/paper scrap which have arrived at Vietnam seaports," SNP wrote.
At that time, 1,000 TEU (twenty-foot equivalent units, a measurement for container quantity) of material was left at the large Tan Cang-Cat Lai port with nowhere to go. The containers had been sent over from the smaller Vietnamese port Tan Cang-Cai Mep, which is also overwhelmed by the quantity.
"If there is no punctual action, this volume will escalate and cause high yard occupancy at ports" and other storage areas, SNP wrote, "affecting routine operation of both ports and shipping lines."
Photo credit: ngoc tran/Shutterstock
More stories about exports