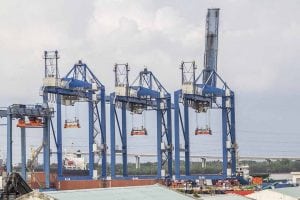 This story has been corrected.
Major Vietnam shipping terminals will temporarily stop accepting imports of scrap plastic, citing an overload of the material that has caused backups and delays. The move is a significant development for the global recycled plastics industry, because Vietnam has accepted much more material since China cut off imports.
A letter from Vietnam's Tan Cang-Cai Mep International Terminal to shipping companies, obtained and shared by the Institute of Scrap Recycling Industries (ISRI), describes a major increase in containers of scrap plastic coming through the port.
The letter notes that Tan Cang-Cat Lai, which is among the largest Vietnamese shipping terminals, has amassed more than 8,000 TEUs (twenty-foot equivalent units, a measurement for container quantity) of scrap plastic and paper on-site as of May 21. The terminal has temporarily stopped accepting scrap materials due to the backlog.
Tan Cang-Cai Mep, a smaller terminal, has stockpiled 1,132 TEUs that can't be moved to the larger terminal due to the buildup. Both terminals are operated by Saigon Newport Corporation.
Because of the volume, the larger terminal has already stopped accepting scrap materials, and the letter notes Tan Cang-Cai Mep will stop accepting all containers of scrap plastic June 25 through Oct. 15.
The terminals will also require more thorough documentation for all scrap loads beginning June 15, according to the letter. This means shipments must be accompanied by valid import permits and a written guarantee of when the container will be picked up by the buyer.
"This notice comports with rumors that Vietnamese customers had no more room for imported materials and that the build-up of containers of recovered paper and plastic scrap diverted from China were causing delays at Vietnam's main import terminal," ISRI wrote.
ISRI added it is "confident this is more to do with port capacity constraints and not a permanent regulatory shift."
Major downstream market
Vietnam has increased significantly as a downstream destination for recyclables during the past year.
According to the U.S. Census Bureau, U.S. ports sent Vietnam nearly 79 million pounds of recovered plastics during the first quarter of 2018, compared with 40 million pounds during the same period a year earlier.
More specifically, from January through March 2018, the U.S. shipped 34.4 million pounds of polyethylene (up from 10.6 million in 2017), 1.9 million pounds of polystyrene (up from 284,000), 12.3 million pounds of PVC (up from 899,000), 4.8 million pounds of PET (down from 8.8 million) and 25.3 million pounds of mixed/other plastics (up from 19.6 million).
Plastics Recycling Update previously reported that Vietnam has absorbed a large amount of the material displaced when China closed the door to most post-consumer scrap imports. From January through November 2017, the country imported 166 percent more PE and 137 percent more PET than it did during the same period a year earlier. And during November 2017, Vietnam was the biggest importer of scrap plastics marked mixed/other.
In interviews, exporters have cited the country as a major alternative market that's increased in the past year. And the country has been a destination for Chinese scrap processors looking to invest in Southeast Asia as a way to work around China's restrictions.
A prior version of this article erroneously presented 2017 data on exports to Vietnam as 2018 data. The figures have been corrected to reflect the 2018 numbers.
Photo credit: Saigoneer/Shutterstock
More stories about exports