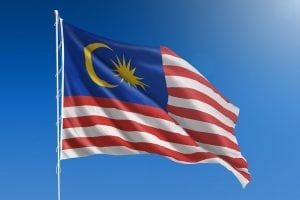 Scrap plastic shipments to Malaysia will be subject to new restrictions in the coming weeks, as the country follows through on vows to get a handle on skyrocketing imports.
However, it remains unclear exactly what impact the move will make. One Asia-based industry professional said the proposed tax is too low to affect the decision-making of those moving material into the country. At the same time, a non-governmental organization in the country is pushing for a complete ban on imports of recovered plastic material.
The Malaysian Ministry of Housing and Local Government announced the tax plan late last month. The government agency said it will add a levy of 15 ringgits (about $3.62) per metric ton.
After China's ban on imports of many recyclables, Malaysia has become the largest destination for U.S.'s scrap plastic exports in Asia, data analyzed by Plastics Recycling Update shows.
The Malaysian government stopped issuing scrap plastic import permits in July, explaining that it was a three-month measure while officials developed regulatory controls. The tax will begin on Oct. 23, the day the government begins processing import permits again.
Plastic recyclables imports until this point have not been subject to levies, according to the government.
In addition to the tax, imports will face additional scrutiny. Importers will need to obtain new government approvals from different agencies, and processors operating in Malaysia will have new zoning requirements.
Expert reaction
Steve Wong, chairman of Hong Kong plastics recycling company Fukutomi, said the tax is very low and he theorized it is unlikely to reduce the volume of imports. He speculated it could be a separate initiative from the move to restrict imports.
"The tax does not stop contamination," Wong said, noting that, "in fact, it can send the wrong message." For example, if companies are now paying duties on material they're bringing in, they might feel like they can get away with less quality.
As for the heightened restrictions on processors inside Malaysia, Wong described optimism among recycling companies. He described his conversations with facility operators who met with the country's Minister of Housing and Local Government, Zuraida Kamaruddin.
"They said the meeting was positive for the recyclers," Wong explained. Authorized companies observing the rules and preventing pollution will be able to carry on without problems, Wong relayed from his conversations.
Wong will speak during the Plasticity conference in Malaysia this month, presenting a session titled "Global Perspective on Waste Stream Economics and Impacts of the Chinese National Sword."
Government officials have expressed a desire to crack down on unauthorized processors and importers who illegally rent out import permits. Plastics processors who have been operating within the law, meanwhile, have said the illegal operators are giving the whole industry a bad name. In a news article, the Malaysian Plastics Manufacturers Association said it supported the crackdown on the numerous illegal operations that have popped up in the past two years.
Not far enough
After the government announced its taxation plan, the Consumers Association of Penang (CAP) responded by calling for a complete ban on imports of scrap plastic. CAP advocates on a number of issues of public concern, including environmental protection.
The organization issued a Sept. 26 release expressing frustration with the Malaysian government, which CAP said "does not recognize the scale of the problem" of plastic scrap imports.
"Now that China has closed its borders to foreign waste, we are discovering that massive volumes of the same have started to arrive in the ports of Southeast Asian countries, including Malaysia where illegal factories to recycle plastic waste have mushroomed," wrote S.M. Mohamed Idris, president of CAP. "We understand from reports that many errant recycling firms, many of which are from China and operating without permits, are burning residual waste that cannot be recycled or illegally dumping them."
The tax, according to CAP, is not an adequate solution, and it doesn't address domestic recycling infrastructure development.
"The cost and burden to public health and the environment far outweigh the revenue gained by the Malaysian government from the levy imposed on plastic waste imports," Idris wrote. "We already have plastic waste generated domestically which needs to be recycled safely."
Photo credit: By Derek Brumby/Shutterstock

More stories about Asia