Recovered plastic exports from the U.S. were up in the first three months of 2021 compared with the prior year. Canada brought in nearly a third of all exported material.
The U.S. Census Bureau, part of the U.S. Department of Commerce, released March 2021 export figures this month, allowing for a first-quarter analysis.
U.S. exporters shipped 333 million pounds of scrap plastic during the first quarter of 2021, up 7% compared with the first quarter in 2020.
About 43% of that material stayed in North America, however, going to either Canada or Mexico. The rest went overseas. The overseas shipments are especially notable, because this is the first quarter during which new global rules covering scrap plastic shipments are in effect.
Malaysia was the largest overseas importer. Despite the country making prominent policy changes in accordance with the Basel Convention and continuing to reject many inbound containers, U.S. exports to Malaysia were consistent at roughly 22 million pounds per month during the first quarter.
The largest importers of U.S. scrap plastic were Canada (102 million pounds), Malaysia (65 million), Mexico (41 million), Vietnam (24 million), India (17 million), Indonesia (15 million), Taiwan (9 million), Hong Kong (7 million), Turkey (7 million) and El Salvador (5 million).
March brought the highest U.S. plastics export volume yet this year at 126 million pounds, compared with 102 million pounds in February and 105 million pounds in January.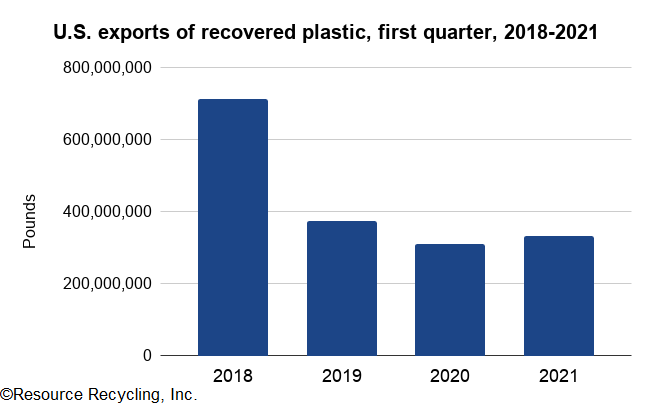 A version of this story appeared in Resource Recycling on May 25.
More stories about exports