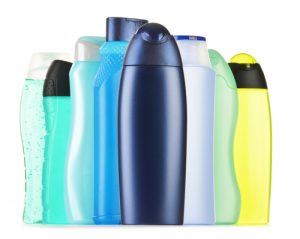 As Loop Industries pushes forward its depolymerization method on multi-layer packaging, the startup is also highlighting the potential of recycling opaque PET containers and textiles.
The Quebec-based company, which is publicly traded, uses a heatless, pressureless depolymerization process to break down PET into its component monomers, which can then be reassembled into new plastic.
In an interview, Daniel Solomita, the company's founder, president and CEO, said the technology is ideally suited to handling opaque PET containers, which are growing in popularity. Using PET allows for a one-quarter reduction in plastics usage, compared to using HDPE, he noted.
Solomita has been working to showcase Loop's technology in France, where the dairy industry is switching from HDPE to opaque PET milk containers.
In the U.S., shifts from HDPE to colored PET are already being seen in hair-care and detergent product categories. A domestic PET reclaimer he spoke with noted 90 percent or more of a bale coming in the door is made up of PET but only about 65 percent of the bale is usable because of the prevalence of problem PET materials, Solomita said.
"I think it's becoming more and more relevant in the U.S.," he said.
Experts speaking at this year's Plastics Recycling Show Europe noted the challenges presented by the opaque PET plastics, both in terms of processing and marketing of the recovered resins. A working group has even asked brand owners to halt the introduction of additional opaque PET milk containers for a two-year period to give the recovery system time to catch up.
French company Carbios also recently highlighted the ability of its enzymatic depolymerization technology to handle opaque PET containers. Like Loop, Carbios is also targeting textiles streams. Carbios recently announced it signed a deal to scale-up its technology (see related story).
Depolymerization isn't a new technology, but companies are now working to improve the process and apply it to challenging materials streams.
Tackling textile waste
Depolymerization technologies also hold promise in recovered plastics from textiles, including mixed polyester-cotton blends. In January, Plastics Recycling Update highlighted the work of retired U.S. EPA scientists who developed a depolymerization technology that can be applied to textiles.
This is an area Loop is also exploring. Two major clothing companies sent clothing samples to Loop, which used its technology to depolymerize and separate the plastics. In one instance, Loop used its approach on a Patagonia jacket (see video below).
Solomita said Loop is currently exploring whether residual cotton can be reused; because the process uses no heat or pressure, the assumption is the cotton's quality remains good, he said.
"The big clothing companies are all looking at this," he said. "They're always looking for a solution to recycle the fibers. It's pretty exciting that we can help these corporations achieve their sustainability goals or at least improve on their recycling."
Multi-layer rigid recycling
In other news related to Loop, a recent financial filing from the company provides new details on an agreement it signed with a PepsiCo company to recycled post-consumer packaging. Loop first disclosed the deal with PepsiCo – its first deal with a major brand owner – in March. A subsequent filing, submitted to the U.S. Securities and Exchange Commission on May 30, included more details on the program.
Loop in February signed a deal with Drinkfinity USA to operate a mail-back recycling program for the company's drink pods, which include layers of PET, HDPE and aluminum. Drinkify, owned by PepsiCo, makes dry and liquid mixes that, when mixed with water, create beverages marketed to athletes and health-conscious consumers.
Loop is prohibited from discussing the program until it's officially announced by the parties. But the SEC document and Drinkfinity website include details about the program.
Consumers purchasing the drink pods online will indicate whether they want a pre-paid Loop mail-back envelope. They're advised to put 25 to 30 empty pods in an envelope when they mail them back. They'll first go to a warehousing facility in Vermont and then to Loop's Montreal-area facility.
The Drinkfinity website notes that the pods are too small to make it through municipal collection and sorting systems.
Loop will use its proprietary technology to depolymerize the PET so it can be turned into Loop-branded pellets. Under the deal, it will also separate the HDPE and aluminum layers for recycling.
More stories about technology