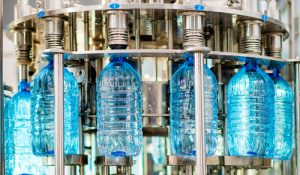 At least three critical issues confront the European PET recycling market, and one of them is having a profound impact on HDPE recovery.
Experts took to the stage to discuss those challenges during Plastics Recycling Show Europe, held March 29-30 in Amsterdam. Many of the points they discussed are also directly applicable to North American reclaimers.
One of the industry professionals to speak was Casper van den Dungen, managing director at Signode Industrial Group and chairman of the PET Working Group within Plastics Recyclers Europe (PRE). He said the European PET recycling rate of 57 percent is just too low. Van den Dungen said current market conditions, in which many PET reclaimers operate at less than capacity, needs to change to assure profitability. He suggested two methods will be needed to reach new and higher recycling targets. First, only 20 percent of the PET collected in Europe is through redemption schemes, and because of the high quality of such scrap plastic, "we need a radical increase in deposit collections." He also contended a substantial effort to increase the recovery of PET trays is needed.
Paolo Glerean, the sales director at Aliplast and a board member for PRE, agreed with van den Dungen's last recommendation. PET reclaimers throughout Europe are seeing rising volumes of thermoformed PET, often as much as 25 percent of mixed PET bales. Glerean pointed out the numerous barriers to increased thermoform PET recycling, including the various types of such packaging, such as mono-material PET trays, middle-gas barrier material and high-gas barrier PET. However, he noted that numerous European PET reclaimers are actively involved in expanding thermoform recovery, with stakeholder projects currently underway in Belgium, France, Italy and the U.K. A PRE survey of 17 reclaimers in nine countries found a number of technical obstacles in thermoform handling, with the principal one being a higher-than-desired yield loss. To grow this market, Glerean said "we need [package] standardization and the design for recycling" by thermoform package makers.
A third substantial change in the PET market is a trend also affecting HDPE recycling: European packaging makers and brand owners, especially in France, are replacing HDPE with PET in some applications. In terms of home and personal care product packaging, this trend is for aesthetic (it's lightweight and shiny) and cost reasons, with PET now being cheaper than HDPE.
European milk packagers are also moving to PET. For PET reclaimers, the switch to opaque milk containers poses significant processing and resin marketing issues. While good from from the consumer's perspective, said Olivier Vilcot, a vice president at SRP, "this package uses pigments and there's no clear recycling channel."
A working group of stakeholders has recommended packagers optimize the opacifiers used in this product, materials recovery facilities increase their sorting capacity and that brand owners stop the introduction of additional opaque PET milk containers for a two-year period to allow the recovery system to mature.
The move to PET from HDPE has caused rumbles in the European HDPE recycling industry. A French study, for example, predicts HDPE packaging will decline in that country from 170,000 metric tons per year to 100,000 metric tons in the period from now to 2020, noted Christine Leveque, recycling business development director at Suez, the huge waste management firm. This may become troubling because, as she said, there is "no demand for opaque recycled PET."