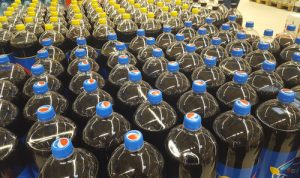 A startup commercializing an innovative PET depolymerization technology has inked its first deal with a major brand owner.
Loop Industries, which uses a heatless, pressureless technology to break down recovered PET into its component monomers, has signed a deal with PepsiCo. A publicly traded company, Loop was required to report the signing of the agreement to the U.S. Securities and Exchange Commission (SEC).
Loop's technology is capable of breaking down mixed and contaminated streams of PET into purified terephthalic acid (PTA) and monoethylene glycol (MEG). Those chemicals can then be used to then make new PET, including for food and drink packaging.
According to an 8-K document filed with the SEC on March 29, Loop signed a deal with an affiliate of PepsiCo on Feb. 28. On that day, the companies also agreed to a "statement of work" through which Loop will manage a mail-back recycling program for certain PepsiCo products. Loop will provide mailing materials, and it will process returned items. PepsiCo will pay Loop for mailing materials and shipping costs, and it will pay a management fee, according to the filing.
Details of the program, including which types of products will be recycled by Loop, were not yet available. The 8-K filing notes that a copy of the agreement will be filed as an exhibit to Loop's annual 10-K filing with the SEC.
Last year, Loop raised million of dollars from investors to scale-up its technology. It currently has a 6,000-square-foot pilot facility in Montreal, Canada, capable of producing 2.5 metric tons per day of PTA and MEG. It is working to build a full-scale production facility capable of handing 3,000 metric tons per year of PET. That facility is scheduled to come on-line this fall.