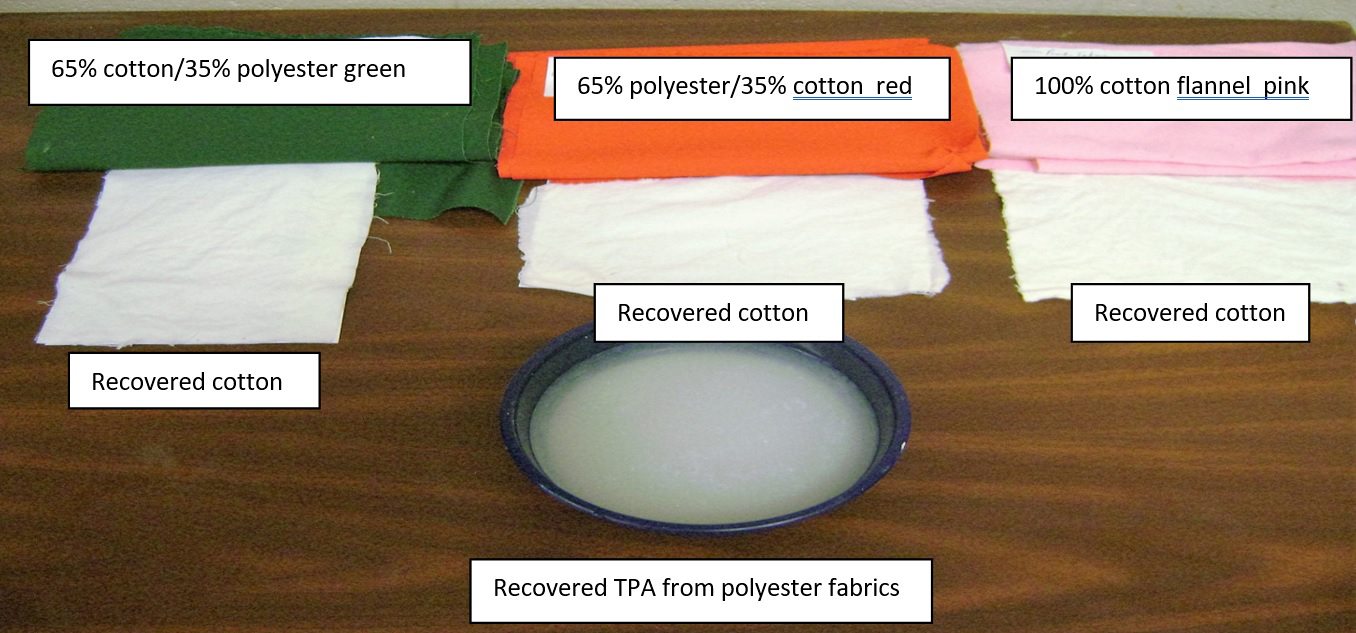 Two retired U.S. EPA scientists have spearheaded development of a technology to depolymerize polyester and recover cotton in mixed-material textiles.
"We're really trying to do something that's important from the standpoint of making a more effective way of recycling textiles," said Charles Rogers, CEO of BCD Group. "We would like to advance this technology in a way that would be helpful."
Current depolymerization technologies generally employ high processing temperatures, which damages cotton in cotton-polyester blends so it can't be reused. The removal of dyes also requires bleaches, solvents and other chemicals, presenting wastewater pollution issues.
BCD Group has adapted technology, originally developed at the U.S. EPA to destroy PCBs, to instead depolymerize polyester fibers at lower temperatures and without the use of high pressures. Called M-BCD, which stands for "modified base catalyzed decomposition," the mmethod can recover polyester monomers and oligomers and remove dyes without damaging the cotton, allowing for its reuse.
The approach can also be applied to nylon and polycarbonate plastics. Additionally, it can be used to remove silver from photographic films, the company notes.
'Don't really want to start a factory at this age'
Rogers and Thomas Opperman, director of business relations at BCD Group, both retired from the EPA's Cincinnati-based Andrew W. Breidenbach Environmental Research Center (AWBERC) in the mid-1990s.
Primarily scientists, Rogers and Opperman have focused their attention more on maximizing the chemistry than on commercializing it, Rogers said.
Opperman, 79, noted that he and Rogers, 82, left the EPA more than two decades ago. "We don't really want to start a factory at this age," he said.
Instead, their goal is to sell the processing system to another company and serve as consultants to help implement it. They conduct their engineering work at labs at Central State University in Wilberforce, Ohio.
The M-BCD process uses as a reagent what's called a nucleophilic substance, which creates a chemical reaction but isn't, itself, destroyed in the process, allowing for its reuse in the reactor.
Shredded fabrics are placed into a non-pressurized reactor with the reagent at temperatures ranging from 90 degrees to 130 degrees Celsius (194 to 266 degrees Fahrenheit) and processing times of 10 minutes to 30 minutes. The step removes about 95 percent of the polyester and 95 percent of dyes. Cotton is then transferred to additional tanks for further removal of polyesters, dyes and the reagent so the natural fiber can be reused.
A paper authored by BCD Group describes the reusable reagent as one that's mostly water with a base and catalyst.
"I don't think there's any process that's any cheaper than this process," Rogers said. "I'd be surprised if there is."
The technology can also aid in mechanical recycling of polyesters. Shorter processing times can weaken the polyester-cotton bonds so they can be separated without fully depolymerizing the plastic, Rogers said.
Innovation developed in 2015
The machinery can be configured either as a batch or continuous-feed process, according to BCD Group.
The company's paper says the technology, as applied to textiles recycling, was developed in 2015. Rogers said they filed for a patent in 2016 to cover that application.
Chemical Engineering wrote about the approach in its November issue. Recycling International also wrote about BCD Group's potential for textiles recycling.
In 2015, BCD Group provided to a major clothing company samples of depolymerized polyester recovered from about 120 pounds of cotton-polyester fabric (85 percent cotton, 15 percent polyester) that was provided by the clothing company. The fabrics had been treated for less than 30 minutes at temperatures of about 120-130 degrees Celsius.
The clothing company tested the samples and determined they were 40 percent monomers and 60 percent oligomers of terephthalic acid (TPA), Rogers said. But the company wanted all recovered monomers.
BCD Group extended the processing times by 20-30 minutes to ensure only monomers remain. It plans to soon send another sample composed entirely of monomers, Rogers said.