A startup led by recycling industry veterans has developed a robotic system for removing hazardous substances from flat-panel display devices. The system is expected to come to a U.S. facility soon.
Founded in 2018, FPD Recycling has developed a robot, called the FPD PRO, that processes TVs, monitors and laptops at a rate of about 60 units per hour, or up to 1 metric ton per hour (the process speed is based on 32-inch screens). The machine "de-pollutes" devices by removing liquid crystal screens and LED or CCFL backlights, allowing devices to be safely shredded for commodities recovery or manually disassembled for parts harvesting.
"[It's] not our job to tell the recycler how to handle his waste stream. Our job was to make it safe, and once we remove the mercury and liquid crystals, it is then safe," Paudy O'Brien, founder and CEO of FPD Recycling, said in an interview.
With an office in Lakewood, Colo., the company is also led by Craig Thompson, who pioneered the first franchised collection network for electronics in the U.K. and who has worked over the past decade with processors in North America and Europe. Austin Ryan, who co-founded the recycling and waste software company AMCS, is another part of the management team.
At the 2018 E-Scrap Conference and Trade Show, O'Brien spoke at the about a different automated technology for dismantling LCD display devices. At the time he was executive director of Votechnik Technologies, a company he is no longer involved with.
O'Brien said in the recent interview that FPD's patent-protected technology is more advanced than Votechnik's, noting the FPD system uses artificial intelligence and handles a much broader range of flat-panel display types.
How the technology works
Formally launched in the U.S. at the 2019 E-Scrap Conference and Trade Show, the FPD PRO can handle devices with displays sizes from 11 inches to 70 inches. It uses artificial intelligence to evaluate size, weight and barcode data to identify the type and brand, O'Brien said.
The machine then knows how to process a product to remove hazardous materials. The removal occurs within a self-contained chamber, keeping employees away from mercury, lead and liquid crystals, according to FPD Recycling.
The device-recognition capabilities also allow the FPD PRO to access information on the parts contained in the e-scrap. "One of the biggest advantages of the way we've developed this is it allows for component reuse," O'Brien said.
FPD Recycling lists its partners as ABB, a global robotics provider; Microsoft Cognitive Services, which provides machine-learning algorithms; and Donaldson, an air filtration provider. In addition, Irish robotics and automation company Robotics and Drives Services helped develop the technology.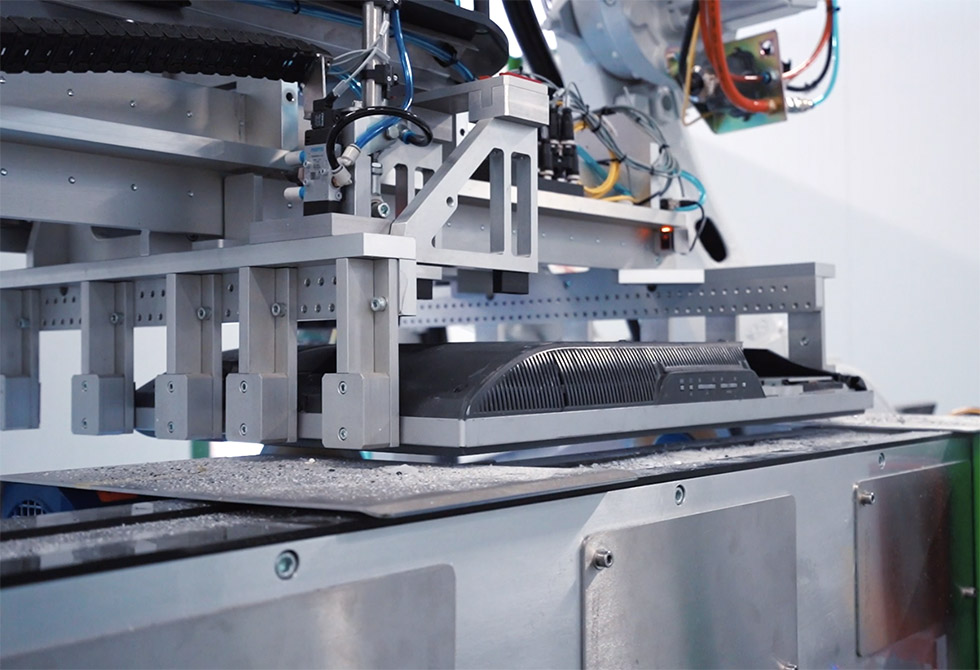 O'Brien said a crucial development role was played by Australia-headquartered CMA EcoCycle, which recycles batteries, e-scrap, lighting and other special wastes. That company funded the first build of FPD PRO, allowing FPD Recycling to accelerate product development. In return, CMA EcoCycle is getting a deal on machines as a cornerstone customer, O'Brien said.
He noted the companies have a framework agreement to provide CMA EcoCycle a number of FPD PRO systems in coming years.
Coming to facilities on two continents
On Oct. 8, CMA EcoCycle posted a press release announcing it had acquired FPD Recycling's first machine. Earlier this year, the state of Victoria imposed a landfill disposal ban for electronics, and the state of South Australia previously strengthened its e-scrap laws, according to the release.
O'Brien said the first FPD PRO is currently being shipped to CMA Ecocycle's facility in Campbellfield, a suburb of Melbourne in Victoria.
A U.S. e-scrap recycling company also has a deal to acquire the FPD PRO. That contract is subject to government approval of the system, O'Brien said (he declined to disclose the name or location of the processor).
O'Brien said FPD Recycling's commercialization strategy does not involve charging up front for capital costs; instead, processors will pay shipping and training fees – typically under $100,000 – and then provide FPD Recycling a per-unit-processed fee. Having a higher throughput and a longer contract with FPD Recycling results in the lowest per-unit fee, he said.
The approach of having zero capital outlay helps make the equipment affordable to processors, according to the company. "This creates stability for recyclers who can ensure FPD PRO is a fixed asset, operating at a fixed cost for the entire lifetime duration of the equipment," according to a company write-up.
Robots have been used elsewhere to help overcome the challenges of safely and economically dismantling flat-panel displays, although the systems vary in their technological capabilities. In addition to the Votechnik system to process LCDs in Ireland, waste management company Veolia uses its ROBOTELE system for dismantling flat screens in the U.K. Three years ago, German equipment company Erdwich announced a robot that cuts open flat-panel displays, although workers still have to manually remove mercury-containing bulbs.
In the U.S., nationwide processor ERI developed its own self-contained LCD dismantling system called ERNIE, which stands for Electronic Recyclers Next Innovative Efficiency.
ERNIE has been deployed at ERI's Fresno, Calif. Headquarters facility, and the company plans to install additional units at other U.S. plants.
More stories about flat-panel displays