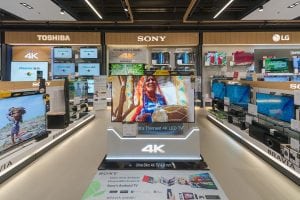 A lot of British households are watching the World Cup on brand new TV sets, which means a robotic disassembly system has been working overtime to recycle their old ones.
Waste management company Veolia UK reports the number of old flat-panel TVs entering its Shropshire, England recycling facility has skyrocketed because of the World Cup. Specifically, the number of TVs coming in the door has increased by 10,500, up 65 percent, compared to the same time last year.
The news has given Veolia a chance to highlight its ROBOTELE technology used at the facility, which processes flat-panel TVs from around the U.K.
"Like the England team, our staff are in training to get ready for the World Cup as we see an influx in old TVs as consumers upgrade," Richard Kirkman, chief technology and innovation officer for Veolia UK & Ireland, stated in a press release. "Thanks to ROBOTELE, we have the capacity to deal with the majority of the U.K.'s disregarded flat screen TVs and monitors, as it is one of the largest robot operated dismantling plants in the U.K."
At the facility, the LED and LCD TVs have their speakers, plugs and accessories manually removed before they're sent to the first robot, which applies pressure to the four sides of the frame and removes the screen without damaging the case. After staff easily remove the top layers of the screen, LCDs are sent to a second robot, which cuts the mercury backlighting tubes while injecting a wax to prevent the release of their mercury. Staff then remove the tubes so they can be sent to another facility to recover the mercury. The remaining shells are sent into a shredding and separation system. The LED units bypass the second robot and head to the shredding line.
Oh, and England's team beat Tunisia's 2-1 on June 18. It faces Panama this Sunday.
Top photo credit: Tooykrub/Shutterstock
More stories about flat-panel displays