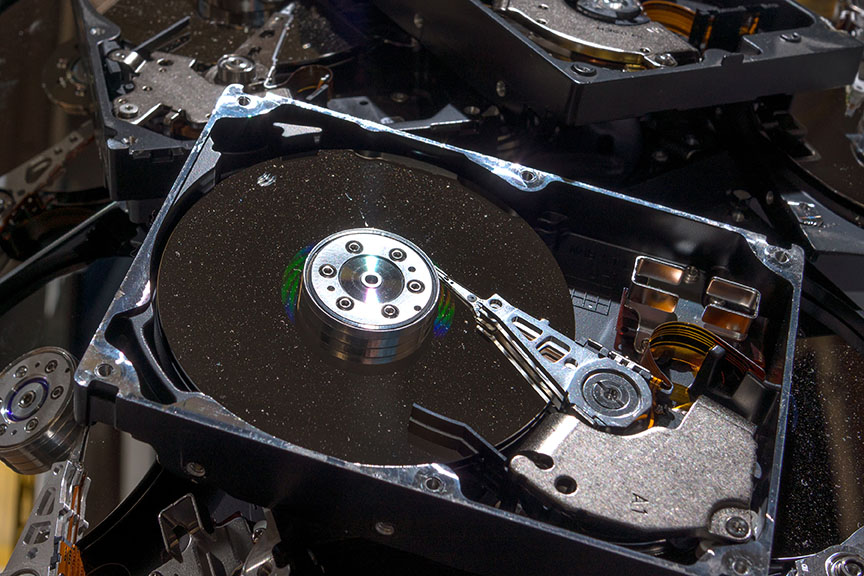 An e-scrap processor is installing a robotic sorting cell to take apart hard drives and recover each component of the device.
Cambridge, Ontario-based Greentec has worked with nearby Conestoga College on several research projects over the years. The polytechnic school, which conducts e-scrap recycling research, has partnered with Greentec on projects tackling sortation of ink and toner cartridges, optical sorting system optimization and more, Greentec CEO Tony Perrotta said.
Their latest collaboration, called Project Lexi, is "a robotic cell that's going to completely dismantle a hard drive in less than a minute," Perrotta explained. The system allows Greentec to recover all components within the drive, including the rare earth magnets, circuit board, stainless steel cover, aluminum casing, disk and more.
"One of the big problems you have when you process and shred a hard drive is the rare earth magnets get commingled with the steel and other ferrous extractions," Perrotta said. "They get caught up in the screens and the shredder blades, and it's very difficult to recover them."
Typically, there are two rare earth magnets inside each drive, he explained. And with the company bringing in up to eight tons of hard drives per month, the volume of potentially recoverable magnets is significant.
"It's very early right now, but the good thing is we can start to develop some type of scale and volume, where we're going to be able to work with some pretty good downstreams," Perrotta said.
Potential buyers interested
Once separated, several key markets could make use of the magnets. They could be reused in the creation of new hard drives, Perrotta explained. They could also be used in the production of high-efficiency energy appliances, or any other appliance that incorporates a spinning movement.
"They just hold so much energy," he said.
Rare earth magnets are also used in servo motors, which are precision tools used in various types of machinery and robotics.
The next step for the company is to seek a partnership with an OEM, Perrotta said. Under that type of arrangement, the recovered magnets could ideally be returned to the OEM for use in new hard drives.
(Story continues below video)
Rare earth recovery has gained steam in recent years, both in the research and commercial sectors. Earlier this month, E-Scrap News reported on a partnership between Dell, ITAD firm Teleplan and hard drive manufacturer Seagate to reuse rare earth magnets through a closed-loop process. And scientists with the Critical Materials Institute and other organizations have looked into innovative recovery methods for hard drive magnets, including disassembling drives in a manner similar to the Greentec project, as well as dissolving rare earths from shredded drives in an acid-free solution.
The U.S. government has also indicated a greater interest in rare earth recycling. The U.S. Department of Commerce last summer included rare earths on a "critical minerals" list, identifying priority materials for increasing domestic supply. And the U.S. Department of Defense has also been funding efforts to recover rare earths. As is, China supplies most of the world's rare earths and, in the past, has set limits on exports.
Robotic improvements
Greentec system is currently in the trial stage. The company plans to scale up by late summer.
Right now, in order to effectively dismantle the various types of hard drives that come through Greentec's facility, the robotic cell has to learn how every make and model of hard drive is constructed.
The system does not incorporate any artificial intelligence technology. The next system Greentec is considering pursuing is a type of blockchain system where manufacturers can communicate directly with the robot about the configuration and makeup of the hard drive, "so we know where every screw is and where all the components are without having them give us drawings or technical things that are proprietary in nature," Perrotta explained.
Beyond hard drives, Greentec is interested in exploring other devices that could be dismantled using the robotic cell process.
"That's our plan, is to take what we've built, and to roll it out into other products, like mobile phones, tablets, laptops," Perrotta said. The robotic separation system could target high-value components from those devices.
A similar concept is employed by Apple, which uses a disassembly robot called Daisy to take apart iPhones and recover their components.
Greentec is also exploring the use of robotics and a visioning system, incorporating those components into full shredding and separation lines. These types of robotic sorting systems have seen growing interest in the e-scrap industry.
Photo credit: Doug McLean/Shutterstock

More stories about metals