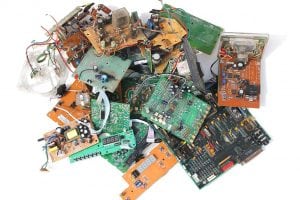 Several minerals used in electronics were recently deemed critical to the economic and national security of the U.S.
The list includes antimony (found in batteries and flame retardants), cobalt (rechargeable batteries), gallium (integrated circuits and LEDs), indium (LCD screens), lithium (batteries), palladium (circuit boards), rare earths (batteries and magnets), tantalum (capacitors), tin (circuit boards) and other metals.
According to a press release, the U.S. Department of Commerce is drafting a report examining several issues related to the selected minerals. The report will cover "the status of recycling technologies," methods of increasing domestic production and refining, alternatives to using critical minerals, and other topics.
The list was issued in response to a presidential executive order signed last December. The order, titled "A Federal Strategy to Ensure Secure and Reliable Supplies of Critical Minerals," cemented in federal policy the need to support domestic sources of these minerals.
The executive order specifically notes that the federal policy will support "an increase in private‑sector domestic exploration, production, recycling, and reprocessing of critical minerals," and it will include efforts to streamline permitting processes for companies focusing on these minerals.
The list was created with input from a number of federal entities, which drafted a report on critical mineral supply chains.
Itronics, a Reno, Nev. printed circuit board refining company, issued a statement praising the list and noting that the company's furnace recovers several of the minerals included on the list: tin, antimony and palladium.
In another recent move related to critical minerals, the Trump Administration recently proposed a 10 percent tariff on numerous goods imported from China, including rare earth elements. China is the largest supplier of the minerals globally, and the world's reliance on China has created major supply disruptions when the country has restricted exports of those materials in the past.
Photo credit: KY Tan/Shutterstock
More stories about metals