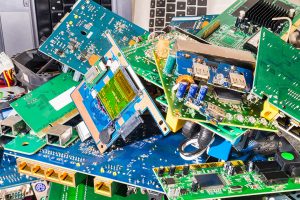 A sibling of SAM has landed in the Midwest. ERI has installed its second Super Automated Machine (SAM), an e-scrap sorting robot, at the company's Indiana plant.
The nationwide ITAD and e-scrap recycling company installed its first SAM unit at its Fresno, Calif. headquarters in December. The system, which is sorting shredded material, was developed in partnership with Denver-based AMP Robotics.
E-Scrap News in February took an in-depth look at the system, which is the first known instance of a robot with artificial intelligence being used to sort e-scrap commodities. Robotic systems are now in use around the country sorting residential and commercial recyclables in materials recovery facilities (MRFs).
ERI on April 30 announced that a second SAM has been installed at its massive Plainfield, Ind. plant. The company opened the 315,000-square-foot location only last year, calling it the largest e-scrap processing facility in the world.
As is the case with the Fresno unit, the Plainfield SAM is sorting shredded aluminum, printed circuit boards, yellow brass, capacitors, copper products and other materials. It can perform about 70 picks per minute, using a robotic arm with suction to lift items off the belt.
The robot's vision system uses a camera and has software that categorizes materials based on their visual characteristics: size, shape, color, texture, and more. The system improves its recognition abilities over time.
Additional siblings of SAM are expected this year. John Shegerian, ERI's co-founder and executive chairman, previously told E-Scrap News that, by early 2020, the company expects to have up to a dozen of the units operating in the U.S. After Indiana, the Holliston, Mass. location is likely next, he said.
Photo credit: KPixMining/Shutterstock
More stories about processors