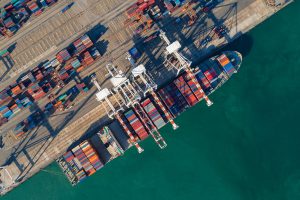 As many in the industry take a breather around Independence Day this week, we thought the time was right to look at the developments that have most caught the attention of readers thus far this year.
The list below shows the 10 most-read Resource Recycling stories in terms of unique page views. Not surprisingly, National Sword dominates the rundown.
10 | China: Scrap imports down 12 percent due to ban
MARCH 20: China's top environmental official has quantified the reduction in scrap materials flowing into the country as a result of recent restrictions. He also spoke publicly about the market fallout and the criticism China has received for enacting its reforms.
9 | Chinese customs enforcement ramps up with Blue Sky 2018
MARCH 13: Officials in China have announced an enforcement campaign to implement the country's new import restrictions.
8 | Company moves forward on $90 million beneficiation plan
MAY 1: A glass recycling company backed by a billionaire is betting big it can significantly lift U.S. glass recycling through the use of technology and rail transportation.
7 | China faces 'staggering' shortfall in recovered fiber supply
MAY 30: A market expert recently discussed some of the effects China's National Sword policy has had on that country's massive paper-products industry.
6 | How China fallout is shaking recycling in California
JAN. 30: About 85 percent of mixed paper and OCC exported out of California has been bound for China in recent years, and as the Asian behemoth closes its doors to some of those imports, the state's recycling industry is feeling the hit.
5 | China chaos lifts U.S. fiber giants – for now
MAY 8: China's import shifts have meant plummeting OCC prices, a fact that's been a boon to the bottom line of U.S. mill owners. But paper executives aren't expecting the scenario to necessarily become the new norm.
4 | Recycling industry could see variety of metals tariff impacts
MARCH 6: Steel and aluminum imports have been singled out by the White House, and though plenty of questions linger about the development, prices for recyclables could jump in the short term.
3 | Where exports displaced from China are finding a home
JAN. 16: Recyclables exported out of the U.S. are moving to Southeast Asia, where reclaimers and mills are dramatically increasing purchases as China closes its doors to recovered materials. New figures illustrate that shift.
2 | What depressed OCC means for the recycling industry
APRIL 10: A major portion of the single-stream mix has fallen sharply from record high prices a year ago. Industry stakeholders recently opened up on the factors behind the shift, and how it's impacting U.S. recycling operations.
1 | From Green Fence to red alert: A China timeline
Over the last five months, we've added numerous details to our exclusive "Green Fence to Red Alert" timeline. The feature covers the latest developments – including new information on U.S. fallout, Chinese regulatory changes and growing restrictions in Southeast Asia – in a centralized, easy-to-digest format.
Photo credit: MAGNIFIER/Shutterstock