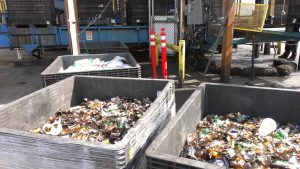 A glass recycling company backed by a billionaire is betting big it can significantly lift U.S. glass recycling through the use of technology and rail transportation.
Pace Glass has for the past two years taken in recovered glass from independent MRFs at a small operation in Jersey City, N.J. Today, the firm held a groundbreaking ceremony for a second, significantly larger New Jersey facility.
The facility, located in the town of Andover in central New Jersey, will sit on a 100-acre parcel and feature 27 optical sorters to process an estimated 550,000 to 750,000 tons per year. If that plan pans out, the site could significantly alleviate pressures for a recyclable material that has encountered economic challenges.
The project's total price tag is expected to be $90 million, a company leader said in an interview several days before the groundbreaking event.
"The construction of the new facility is probably around $60 million to $70 million," said George Valiotis, CEO of Pace Glass, noting that total accounts for possible cost overruns and expenditures. "We've spent about $20 million on land, building, trucks. We really had to build the infrastructure first. We're about $20 million in and we're going to invest another $70 million into this."
Real estate money comes to glass processing
The Pace CEO is the son of Efstathios (Steve) Valiotis, who owns New York residential real estate company Alma Realty as well as Alma Bank, headquartered in Queens, N.Y. The National Herald, a New York-based newspaper that covers the Greek-American community, pegged Steve Valiotis' worth at $1.2 billion in 2014.
"My father is backing this financially and working with banking institutions," George Valiotis said. "My business partner and I are the ones handling the material and finding a home for it."
George Valiotis said he and his father were introduced to the prospect of profiting in glass recycling in mid-2013 when they were approached by a business associate named Michael Mahoney, who had worked with them on construction projects and had experience with glass recycling in Ireland.
The younger Valiotis and Mahoney soon after partnered together to purchase Pace Glass, an existing Jersey City company. They upgraded the operation and brought it back on-line in 2016. In 2017 and 2018, the site has been handling 8,000 to 10,000 tons per month.
Valiotis said that once Pace had suppliers and downstream customers in place, as well as a deeper understanding of the U.S. glass landscape, company leaders started moving to scale up.
He said a key component of the new site in Andover will be its connection to a railroad line. The strategy, which is used by some other glass recycling companies, centers on taking in material collected in the densely populated Northeast U.S. and moving it by rail to the manufacturing plants of large bottle makers in the middle of the country.
The Andover site will also feature sortation technology to capture fine grind, which can be sold into the fiberglass market.
When the team purchased the Andover site, it was undeveloped land that had been approved for a quarry. Local leaders provided a quick go-ahead for the land to be used as a recycling facility, and the Pace team then worked to connect the site to the railroad. In January, Resource Recycling reported on the initial project documents.
Valiotis said Pace has put $20 million into the Andover endeavor thus far.
A sector that has well-noted barriers
Such expenditures are eye-catching in a segment of the recycling market that has raised concerns for many stakeholders.
With single-stream collection now being the norm nationwide, glass bottles often become broken and difficult to sort out from other materials at materials recovery facilities. That has meant two types of contamination: glass shards contaminating other materials, and small pieces of residue contaminating the glass.
As a result, some communities have moved to remove glass from their recycling programs.
But Valiotis is adamant that glass recycling is ripe for growth. He said large bottle makers, such as Owens-Illinois, Ardagh Group and Anchor Glass, are hungry for consistent supplies of material so that they can more reliably integrate recycled-content numbers into their manufacturing plans.
"If these companies have a guaranteed supply of cullet, they can know to buy less sand, less limestone," he said. "We realized we can offer better customer service. That's been our mantra."
Still, Pace will need to find a way to bring in enough glass at a sufficient quality level to provide steady feedstocks to big customers.
Valiotis said he currently does not have contracts in place with large MRF operators like Waste Management and Republic Services. But he said meetings with representatives of those companies convinced him that if Pace built a sophisticated plant that could process major tonnages, the big haulers would come on board.
Valiotis also noted that once the Andover site is open, the company will take in loads of glass with less than 10 percent contamination for no tipping fee (he said at the currently operating Jersey City site, the typical tipping fee is around $35 a ton). The aim is to provide an easy outlet for communities that source-separate glass.
And for dirtier glass, the company is hoping its numerous optical sorters and other technology will do the trick. Valiotis did not say which company or companies are providing the optical sortation equipment, but he noted equipment consultants were coming to the operation from overseas.
"We brought in all the big guns from Europe," he noted. "If anyone is going to figure this out, it's going to be them."
More stories about glass