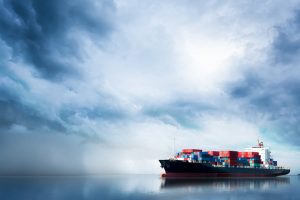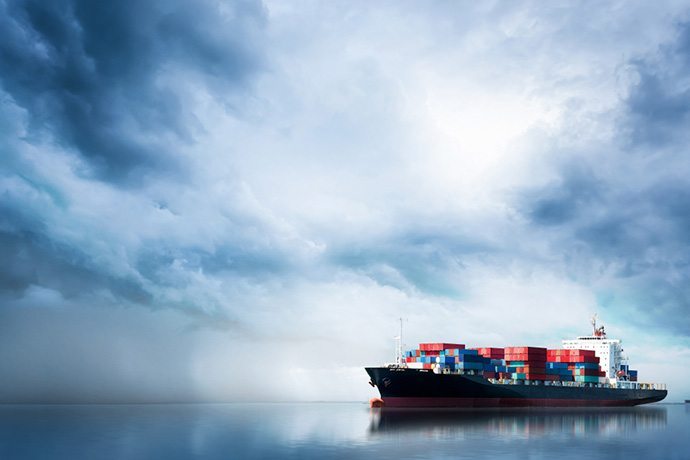 Recyclables exported out of the U.S. are moving to Southeast Asia, where reclaimers and mills are dramatically increasing purchases as China closes its doors to recovered materials. New figures illustrate that shift.
Malaysia nearly quadrupled its U.S.-sourced imports of plastics categorized as mixed/other last year, jumping from about 9,600 metric tons in 2016 to nearly 38,000 a year later, according to figures from the Institute of Scrap Recycling Industries (ISRI). It also brought in substantially more PE and PET, as did Thailand and Vietnam. India, meanwhile, absorbed major tonnages of PE last year, increasing imports 50 percent to reach more than 88,000 metric tons, larger volume growth than that of any other country.
Figures on the shifting market come as China continues to take steps barring scrap from entering its borders. The first round of 2018 import permits shows a stunning drop in plastic tonnages and companies approved for import compared with a year earlier. Also, Chinese officials last week finalized a 0.5 percent contamination limit for recovered plastic and paper imports.
In the past, China has been responsible for 55 percent of global recovered fiber imports and 51 percent of scrap plastic imports, according to data from ISRI. But with the country's much-discussed imports ban, reduced import permits and upcoming contamination crackdown, that has changed dramatically.
The Chinese policy changes have quickly begun to "reshape the global recycling landscape," ISRI Chief Economist Joe Pickard said, and newly compiled data from the industry group makes that market movement clearly visible.
Countries up plastics demand
Plastics exporters have begun shipping bales to Southeast Asian processors who will create pellets that can be sent to Chinese end users, according to the China Scrap Plastics Association (CSPA).
Plastic has seen the largest movement into other countries over the past year.
"It's a real game changer that (China is) not going to be taking this in," said Bernie Lee, ISRI's commodities research analyst. The global industry has already begun to adapt. Lee pointed to several large plastic scrap growth markets broken down by resin.
For PE, India has had the most volume growth, importing 88,155 metric tons in 2017 compared with 58,747 a year earlier, according to the figures from ISRI. Vietnam increased PE imports by 166 percent, from 16,845 to 44,716 metric tons. Malaysian imports grew 132 percent, from 16,277 to 37,778 metric tons. Taiwan increased imports by 18 percent, from 14,063 to 16,575 metric tons. Thailand increased PE imports by 876 percent, but the volume was relatively small: 10,153 metric tons, up from 1,041.
Recovered PET shipments saw similar Southeast Asian growth on a smaller volume level. Turkey also nearly doubled PET imports, although that was only an increase of about 2,500 metric tons.
For PVC, Malaysia grew imports by 407 percent to hit 8,521 metric tons in 2017. Canada, Mexico, Thailand and Vietnam also saw modest increases by smaller volumes.
The mixed/other category of plastics saw large volume growth in Malaysia, where imports grew from 9,604 metric tons in 2016 to 37,694 the following year. Mexico increased imports from 12,968 to 24,386 metric tons. Thailand increased imports from 3,642 to 9,114 metric tons. Spain also boosted imports from 606 to 5,014 metric tons last year.
Although these provide a clear picture of where material is migrating, Lee cautioned against drawing too much from the numbers, particularly given the fast-changing market dynamics where exporters are scrambling to find outlets for material.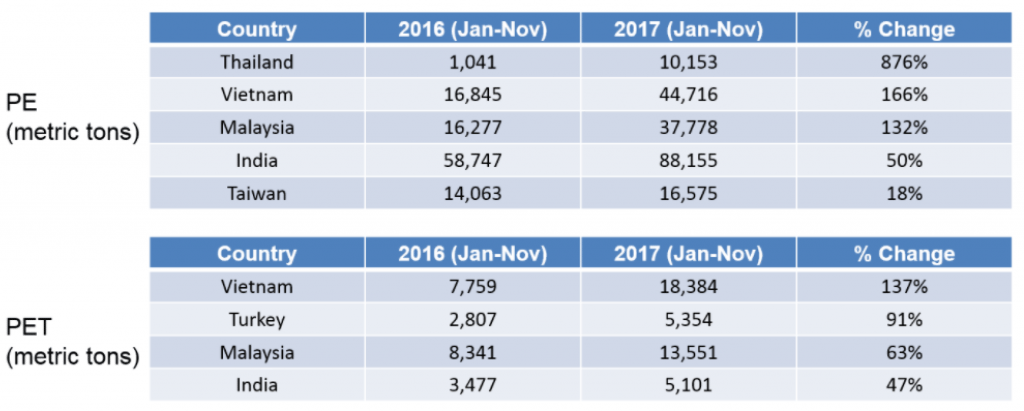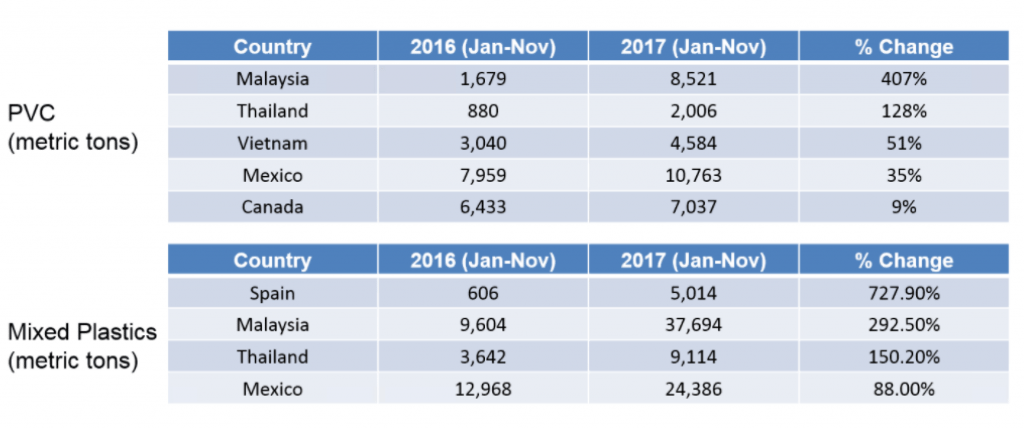 "A large growth change doesn't necessarily mean that there's a huge amount of consumption demand that's going to be coming on-line in the next few months or next few years," he said. "It really depends on what may have been available at the time."
Despite their growth, the market alternatives have "far from enough" capacity to fill the Chinese demand, said Steve Wong, executive president of CSPA and chairman of Hong Kong plastics recycling company Fukutomi. He said the scrap restrictions have created a 5-million-ton supply gap for Chinese end users.
Shifts in fiber shipments
Lee also pointed to alternative recovered fiber markets that have grown substantially in the past year, although he offered a qualification: The increased demand among some countries is not necessarily indicative of long-term capacity boosts due to infrastructure investment or manufacturing increases. Some of these large growth changes may, instead, be due to rejected shipments that had tried to enter China at the end of the summer 2017, and they could be temporary.
Mixed paper has seen the most dramatic impact, because it is outright banned from import into China. Vietnam increased its consumption of mixed paper by 616 percent from 2016 to 2017. India and Canada also increased their purchases of mixed paper.
"However, this kind of pales in comparison to how much China is not going to be consuming in the coming years on mixed paper," Lee said. The shortage means there will be a weakness in Chinese supply of recovered fiber for containerboard production, he added.
India, Mexico and Vietnam are leading on percentage of growth in OCC imports. India and Vietnam each grew about 150,000 tons in their OCC import demand on U.S. exports. For India, that was a 19 percent rise, but for Vietnam it was 156 percent more.
The increase in Vietnam is largely due to Chinese companies moving their operations to the nearby country. India, meanwhile, may already have most of that infrastructure in place and is simply buying more to fill its existing capacity, Lee said.
Import permits fall
China's Ministry of Environmental Protection approved the first round of permits for scrap importers late last month. The permits indicate a steep decline in approved plastic import volumes compared with a year earlier.
They allow a combined total of 9,335 tons of scrap plastic imported into the country. In 2017, the first round of import permits approved nearly 3.9 million tons. That means the new permits allow just 0.24 percent of the volume approved during the same period last year.
ISRI recently published a translated list of the first set of companies inside China that have gained import permits for recovered metal, paper and plastic. The list also includes the companies' approved tonnages. However, ISRI leadership said it has been "told that this list is just a 'proposed list' of companies likely to be approved for the first tranche of licenses." The group expects a finalized list detailing the first batch of import permits to be issued soon, followed by a list of the companies approved for the second batch.
The difference in permit volumes from early 2017 to early 2018 is likely due to the substantially fewer companies approved for import so far.
"[The decrease] is not a total surprise," said Harry Lee of CSPA. He pointed to a handful of factors that played into this development. Some companies had trouble meeting environmental regulations, barring them from receiving new permits. Others have a "pessimistic attitude" and are unsure whether they will be approved, so they don't apply, he said.
Additionally, a large part of the decline can be attributed to a majority of post-consumer plastics being banned from import as of the beginning of 2018. Post-industrial plastics are not named in the ban but have been targeted for sharp quality controls.
The plastic tonnages stand in stark contrast with fiber, which saw less of a disruption. For example, Nine Dragons Paper was approved to bring in more than 1 million tons of scrap fiber. Altogether, the first round of permits approves nearly 2.3 million tons of scrap paper imports.
The permits continue a multi-year downward trend in plastics volumes. Just looking at PET permits approved during the first issuance round each year, weights dropped from more than 3 million tons in 2015 to 1.1 million in 2016, and then up slightly to 1.5 million in 2017 before plummeting to the current 5,692 tons, according to CSPA.
Although it's just the first round of permits, the decrease — which China has said for months would happen — provides a bleak outlook for scrap importers.
"If this approval rate is continued for the subsequent import permit approvals, the major recycling operations in China, which used to rely on imports, would be forced to switch to sourcing from domestic supply," Wong of CSPA said.
More stories about Asia