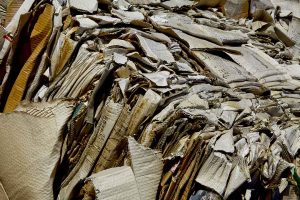 China's import shifts have meant plummeting OCC prices, a fact that's been a boon to the bottom line of U.S. mill owners. But paper executives aren't expecting the scenario to necessarily become the new norm.
Resource Recycling analyzed recent quarterly earnings calls from six of the largest publicly traded recovered fiber consumers in North America: Cascades, Graphic Packaging, International Paper, Packaging Corporation of America, Sonoco and WestRock.
These companies consume millions of tons of recovered fiber annually. Old corrugated containers (OCC), which they use in large volumes to produce new containerboard, account for much of the mill operators' recycled-material purchasing. But they also consume other grades in smaller amounts.
As Chinese import changes have unfolded over the last nine months, OCC prices have fallen considerably. And according to executives on the earnings calls, domestic mill operators have enjoyed the fallout, with some seeing millions of dollars worth of feedstock savings during the first quarter of 2018 alone.
The National Sword initiative from China has also left huge tonnages of mixed paper looking for a home. While U.S. mills currently take in relatively small tonnages of this mixed material, at least one company has started making significant investments to start handling more.
At the same time, leaders say they likely have a limited window of opportunity to take advantage of significantly boosted recovered fiber supply. That's because demand for fiber packaging globally seems destined to continue to grow, so the economic balance will likely be restored sooner rather than later.
It's important to note that the paper executives made their comments before China's May 3 announcement that it was implementing a month-long shutdown of China Certification and Inspection Group's North American arm, a move that is expected to freeze U.S. scrap shipments to China over the coming weeks.
OCC prices generate savings, surplus fills mills
The profit benefits being seen by fiber companies amid low OCC pricing were most clearly articulated by Graphic Packaging, which produced nearly 1.1 million tons of containerboard at five domestic mills in 2017.
In the first quarter of 2018, Graphic saw its recycled fiber costs drop $3 million, Stephen Scherger, senior vice president and chief financial officer, said during an April 24 call.
Graphic manufactures containerboard entirely from recovered fiber. It buys about 1 million tons of secondary fiber per year, half of which is OCC and double-lined kraft paper. Executives noted that if OCC was to stay at its current price of $75 per ton for the entire year, the company's total 2018 OCC expenditure would come in a whopping $20 million below initial projections.
Meanwhile, a leader at packaging producer Cascades, which consumes more than 2.4 million tons of a variety of recovered fiber grades annually at its North American mills, said the price situation for recycled feedstock could even get better.
"OCC has been in abundant supply in North America, even during February, when generation is typically at its slowest," said Luc Langevin, president and chief operating officer, in the company's March 1 earnings call. "Near term, OCC pricing could potentially continue to decline. This is certainly good news for Cascades as a whole."
Barry Saunders, senior vice president and chief financial officer for Sonoco, said his company is anticipating OCC prices falling another $10 in May.
But while China's National Sword policy has given domestic OCC buyers plenty to smile about, executives noted the profitability equation is nuanced.
For example, Cascades and some other players in the sector also operate materials recovery facilities. And the lowered OCC pricing is hurting revenue of the recycling side.
"Inventories are very good at our mills, but it will make it harder for the recovery sub-segment to replicate last year's outstanding Q1 performance," Cascade's Langevin said.
And for some end users, other market factors countered the low feedstock prices. For instance, WestRock, Graphic Packaging and International Paper all said increased costs from the tight freight market nearly offset the savings they have enjoyed from lower OCC costs.
Absorbing mixed paper
As China's import policies continue to affect global flows of recycled fiber more significantly, a major question mark is whether mills in the North America will be able to take in loads of mixed paper. This material has of late been reported to have virtually no value for MRF operators because China made up such a significant portion of global demand, and the country has shut off that flow entirely.
In the plastics recycling sector, there have been recent reports of domestic reclaimers adjusting to take in material that was previously destined to China as well as news of processors from China angling to open operations in North America.
Could a similar phenomenon unfold in mixed paper? Fiber executives said it would be an uphill climb.
Mark Kowlzan, CEO of Packaging Corporation of America (PCA), pointed out that fiber feedstock is just one component of the cost for a facility, and that labor, energy and transportation also have to be factored in when considering conversions or new investments.
"You have a significant number of costs that have to go into the analysis to tell somebody whether they can make a project make sense financially," Kowlzan said. "And so, you have to believe that with the lack of conversions so far that have truly taken place that the math just doesn't work in many cases."
Nonetheless, Sonoco says it is set to spend millions of dollars to absorb some of the flood of material no longer headed for China.
"We're making investments in our mill system so that we can take advantage of more loose paper," Sonoco CEO Robert Tiede said in an April 19 call. He noted Sonoco "made a strategic decision to invest $60 million to $70 million into our mill system."
The company has invested in "best-in-class machines," he said. Work on those improvements is already in progress, he said, but it is part of a wider three-year process for the company to improve its mills throughout North America.
The company anticipates the improvements will generate $25 million in net earnings over the next three years.
'We're going to see [China] come back'
Company leaders avoided making too many cut-and-dry predictions on material pricing, pointing to China as a wild card that could change things at any time.
"You have a market which has that significant a player impacting prices; it's just hard to see where prices are going to go," said WestRock CEO Steve Voorhees on an April 27 earnings call. "So we're going to stay flexible and be able to adapt where the market goes."
But many of the fiber executives did say they expect the current supply and demand phenomenon to be relatively short lived.
Tiede of Sonoco hypothesized that recovered fiber shipments would eventually rise back up as the Asian giant's manufacturing sector demands additional feedstock to meet increasing capacity.
"As I think about China in totality, I think about the thirst of those new machines that are going in and the magnitude of input that has to go in there," Tiede said. "I've got to believe that over a period of time, we're going to see them come back into the marketplace."
Glenn Landau, senior vice president and chief financial officer of International Paper (IP), predicted on IP's April 23 earnings call that there will be "strong demand for recovered fiber" in the future. That prediction, he noted, assumes that global growth continues, because corrugated box packaging will play a large role in facilitating that commerce growth.
The American Forest & Paper Association told Resource Recycling that its 2017 projection for U.S. containerboard capacity was 38.4 million short tons, slightly up from the actual 2016 capacity of 38.2 million tons.
Landau said the sector's growth will place pressure on OCC over time. Ultimately, that would logically lead to a more valuable commodity, IP Chairman and CEO Mark Sutton noted.
"If you believe in global growth of fiber based packaging, then you understand that OCC is going to become more and more valuable," Sutton said.
Thomas Hassfurther, PCA's executive vice president of corrugated products, said that Chinese manufacturers are going to have to continue obtaining fiber to run their paper mills, "one way or another." China has a few options to do so, he said. The country can relax import regulations to allow more OCC in, or mills can pay more to suppliers to facilitate capital improvements for recycling facilities, allowing them to produce higher quality product.
Alternatively, Chinese mills can buy more linerboard, which is used in containerboard manufacturing. Producers can buy finished linerboard instead of consuming OCC to create it themselves, but doing so adds considerable expense. Hassfurther said this is definitely happening, as linerboard imports are up substantially.
China is also working to bolster its own domestic collection system, but Hassfurther pointed out OCC collected inside China is selling for about four times the price of U.S.-imported material.
Whichever route proves most popular, Hassfurther said he sees the current market as temporary.
"I think it's bound to go back up, but impossible for me to predict," he said. "I just think that it will find its level and it will level out at a certain point that makes sense for all the parties that are involved."
Sonoco's Tiede said his company expects OCC prices and exports to China will be down "lower for longer" compared with previous market disruptions. But he also noted that the last time he made a forecast on OCC prices, it was proven wrong the next day.
Some of the information for this article was gleaned via call transcripts made available by the fiber companies, and other details were obtained through market reporting outlet Seeking Alpha. Fiber expert Bill Moore of Moore & Associates provided a list of the largest recovered fiber consumers in North America.
Photo credit: ja images/Shutterstock
More stories about fiber