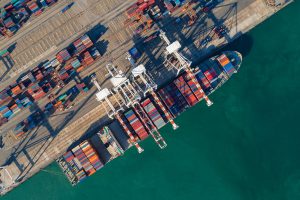 Officials in China have announced an enforcement campaign to implement the country's new import restrictions.
Dubbed Blue Sky 2018, the action will run from March through December, according to China's General Administration of Customs. It will focus on preventing the import of recovered materials named in the country's recyclables ban, which took effect Jan. 1, as well as cracking down on falsified import documents. According to authorities, a common practice has been for smugglers to circumvent import regulations by illegally using another company's import license.
Blue Sky 2018 follows a smuggling enforcement action of the same name in 2017. Customs inspectors across the country carried out a handful of coordinated actions throughout the year, including in November and December.
The campaign is related to National Sword, a wider smuggling crackdown launched in February 2017 targeting a variety of materials. "National Sword" has come to be used in the West as a catch-all term for China's recyclables import restrictions. In a statement to Resource Recycling, Harry Lee of the China Scrap Plastics Association (CSPA) described Blue Sky as "further development of Green Fence and National Sword" in the crackdown on illegal scrap imports.
According to state news outlet Xinhua, last year's Blue Sky actions led to the seizure of 866,800 metric tons of solid waste and hundreds of arrests. An online translation of a Chinese customs report explains that the campaign targeted importers who smuggled plastic mainly through the use of purchased licenses and then resold the material to domestic unlicensed factories and workshops for processing.
This year, the action is focused as much on the banned recyclables as the import permit fraud. According to a news release from the General Administration of Customs, the enforcement is a way to implement the new import policies. A translation of the release was provided by CSPA.
The news release also indicates customs authorities have focused strongly on scrap plastics imports. From Jan. 1 through Feb. 27, they investigated more than 50,000 metric tons of imported material, more than 80 percent of which was scrap plastic. Recovered paper made up a far smaller portion of the investigated material.
As China has rolled out its restrictions, a key question has been how the country will enforce them. A bale with 0.5 percent contamination, for instance, could appear virtually identical to a bale with 1 percent contamination.
A report by paper industry research firm RISI last week offers some hints at enforcement methods. RISI interviewed Chinese importers and recovered fiber suppliers, who described customs officials opening at least 30 percent of recovered paper containers brought into the country. The containers receive a visual inspection to determine whether their cargo is "clean and sorted."
Then, every container of recovered fiber is X-rayed to ensure contaminant levels falls below the new 0.5 percent limit, RISI reports.
Meanwhile, China has issued seven rounds of import permits this year, and the trend continues to show sharply reduced plastic volumes. The most recent batch, issued Feb. 23, approved imports of 2,207 metric tons of scrap plastics. Overall, 26,509 metric tons have been approved so far in 2018.
The most recent round of fiber permits approved 636,730 metric tons for import, bringing the total so far in 2018 to more than 5.5 million metric tons.
Photo credit: MAGNIFIER/Shutterstock
More stories about Asia