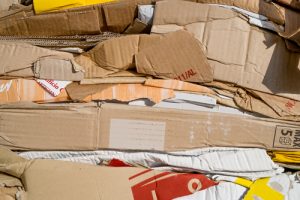 A major portion of the single-stream mix has fallen sharply from record high prices a year ago. Industry stakeholders recently opened up on the factors behind the shift, and how it's impacting U.S. recycling operations.
The national average for U.S. domestic OCC prices has dropped from about $160 per ton in March 2017 to $74 per ton currently. It fell by between $5 and $10 per ton in late March, according to fiber research firm RISI (subscription required). The recent drop was the sixth decline in the past eight months, RISI said.
Experts point to China's import restrictions as a major factor behind the price decline.
"When you look at the level of material that was going into China pre-National Sword, and now you take that material and disperse it into the rest of the marketplace, it's flooded," said Dave Vaughn, vice president and senior director of business and market development for Recology. "And until they work through that backlog of material, I think pricing will continue to be sluggish."
Resource Recycling spoke with representatives from haulers Recology and Waste Management, as well as state recycling group leaders in multiple regions, to get their insight about the current market for OCC.
Transition away from China
Although OCC isn't banned from entering China like mixed paper and many plastics, it is subject to the new contamination requirement, which took effect last month. But the decline in OCC moving to China is not necessarily because loads are getting rejected. It's because of a chilling effect the new policies have had on even attempting to send material.
"A lot of suppliers had the sense that they don't want to be made the example of with Chinese customs, so we essentially flooded the domestic markets with OCC in the last few months," said Brent Bell, vice president of recycling for Waste Management.
In recent weeks, Waste Management's OCC shipments to China have been at their lowest levels in years, Bell said. The company, which handles OCC both from its commercial customers and through residential programs, has continued selling to its domestic outlets, but is also working with Chinese mills to ensure the OCC they buy is able to be moved into China.
"We make sure that, when they need material, they're comfortable shipping it," Bell said. Waste Management continues to have inspectors at its MRFs, examining loads for quality with a particular eye toward bales bound for China. The company has taken steps to clean up all materials coming through its MRFs, installing new screens, optical sorters and even a robotic unit that's being tested at one facility. But even with high-tech equipment and more workers, it's a tall order to bring in curbside loads that contain 25 percent or more contamination and reduce it to 0.5 percent, per China's new requirement. (For Waste Management and others, the OCC obtained through commercial channels is typically much higher quality than what is recovered at the curb.)
Waste Management secured a number of alternative markets for mixed paper, including in Southeast Asia. Some OCC has gone to those markets, but not nearly as much as on the mixed paper front, Bell said. Overall, he said, "I think it's easier for us just to ship domestically."
California-based Recology is also still moving OCC into China, although Vaughn noted the company has diversified its geographical customer base over the years. The real impact in China, he noted, has been on the mixed-paper front.
Recology, which handles about 50,000 tons of OCC per year, has sought new OCC end markets both domestically and internationally, particularly in the Pacific Rim, Vaughn said.
The company has made a major push for quality in recent months, both in capital upgrades and outreach efforts. That comes at a cost, but in some ways it's the new cost of doing business: Recology is looking at the Chinese restrictions as permanent new measures to adhere to.
"I don't view anything as temporary anymore. I just view it as what we would call the new norm," Vaughn noted. "Unless we take that approach we're going to just continue to battle ourselves. So we've got to be more quality conscious."
Domestic outlook
As Bell and Vaughn both noted, the domestic route is becoming more common for MRF operators looking to move OCC, and that fact plays a major role in the price of the commodity.
Bell said Waste Management has not added new buyers on the domestic front; rather, it is selling its existing mill customers more material. With other MRF operators doing the same, domestic OCC buyers have significant leverage.
"[Mills are] definitely being able to drive the prices down even lower on OCC," Bell said. "I know export [prices] popped up a little bit in April, but it looks like domestic OCC is still looking for a bottom."
For buyers at mills, the downturn has been a welcome shift. Graphic Packaging referenced the positive impact of the market for end users in its year-end earnings call, held Feb. 6.
"We've factored in a modest tailwind from lower recycled fiber input costs," Stephen Scherger, the company's chief financial officer, said on the call. "We expect OCC prices in our Midwest OCC fiber basket will average $15 per ton to $20 per ton lower in 2018 versus the 2017 average level."
In Combined Locks, Wis., a mill is converting fiber processing equipment to take in OCC. Mill representative Doug Osterberg told Resource Recycling the pricing and supply is certainly favorable for the operation, but that the conversion has been in motion for a year, long before the OCC price tanked.
Bell maintained that the OCC disruption seems like a temporary trend, particularly given the growth in packaging using the material and the demand that creates. He predicted OCC prices will hit the floor soon and begin to bounce back.
Such a rebound is going to be important for the economic sustainability of local recycling programs.
Bell said fiber can make up 80 percent or more of a typical curbside stream, and OCC can be as much as 60 percent of the fiber portion. That means OCC price fluctuations are particularly impactful.
To illustrate, Bell offered a hypothetical $80-per-ton blended value of material collected in a single-stream program.
"OCC's a big driver of making that $80 a ton go up and down," he explained. "Aluminum has the highest value, but it's not going to move the $80 a ton too much, just because it's less than 3 percent of the material."
Implications for value
Leaders of regional recycling groups helped put the market episode into context.
In New Mexico, the OCC decline has been felt alongside the wider commodity downturn. To continue providing residents recycling service, cities are facing fast-increasing contract prices. Las Cruces, N.M. recently approved contractual changes with the city's hauler, Friedman Recycling, and the cities of El Paso and Albuquerque are being asked to make similar changes.
The economics are being hammered by both increased processing costs to push quality, and the low commodity prices.
"I'm hopeful that cardboard is going to come back up, and hopefully be a commodity that will help kind of maintain these programs," said Sarah Pierpont, executive director of the New Mexico Recycling Coalition.
Will Sagar, executive director of the Southeast Recycling Development Council, noted that OCC prices have gone up and down many times over the years. "The inelastic supply of materials leads to these price fluctuations," he said.
In the Southeast, OCC has dropped from $185 per ton a year ago to $85 per ton today, according to RISI. Still, Sagar pointed to the recent record highs compared with the longer-term average. "I don't think they're going to go back up a lot, because we're within 10 percent of the 15-year average," he said.
Sagar also referenced forecasts showing low energy prices during the next five years, which could put even more downward pressure on recycled commodities.
"I think we're going to be looking at depressed prices in the near future, with or without anything China does," Sagar said.
Photo credit: Giorgio Morara/Shutterstock
More stories about fiber