The U.S. continues to export less and less scrap plastic overseas, the latest trade figures show.
Over 261 million pounds were exported from the U.S. during the first quarter of 2022, down 21% year over year, according to the U.S. Census Bureau.
The decline follows a rough years-long trend of dropping exports. During the first quarter of 2021, 333 million pounds were exported, which was actually up from 311 million pounds during the same period in 2020.
But that 2020 number was down sharply from first-quarter numbers of 374 million pounds, 711 million pounds and 1.125 billion pounds in 2019, 2018 and 2017, respectively. The biggest impacts of China's National Sword campaign went into effect starting in 2018.
The latest numbers brought some notable changes to the top 10 destinations for plastic recyclables: Canada at 78 million pounds (down 23% year over year), Mexico at 54 million pounds (up 33%), Malaysia at 33 million pounds (down 49%), India at 23 million pounds (up 33%), Indonesia at 15 million pounds (up 1%), Germany at 9 million pounds (up 374%), Vietnam at 7 million pounds (down 70%), El Salvador at 7 million pounds (up 30%), Turkey at 7 million pounds (flat year over year) and Ecuador at 3 million pounds (down 16%). The rest of the world took 24 million pounds, down 53%.
(Story continues below chart.)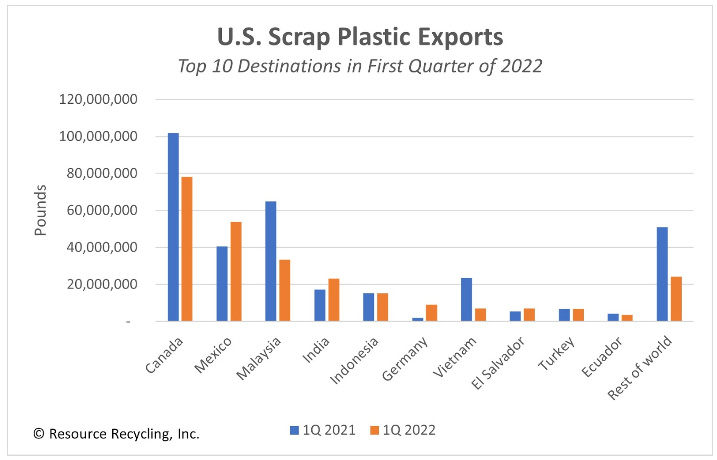 Germany and Ecuador were new on the top 10 list for the first quarter of 2022. Taiwan and Hong Kong dropped off the list.
China used to be the biggest recipient of bales from the U.S. As of the first quarter of this year, it was 21st on the list, just behind Latvia.
More stories about exports