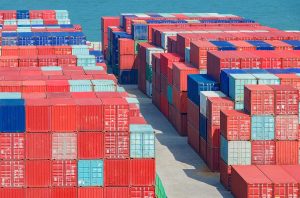 U.S. recovered plastic exports during the first quarter were down by nearly half compared with a year ago.
The latest trade figures, published this month by the U.S. Department of Commerce, show not only the impacts of China's trade restrictions but also sharp reductions in exports to southeast Asian countries over the past year.
Year-over-year volume plummets
U.S. exporters shipped 374 million pounds of scrap plastic from January through March. That's almost half the amount exported during the same period in 2018, and it's 67% less than the first quarter of 2017.
The decline was influenced largely by China, which no longer appears in the top 10 destinations of U.S. scrap plastics. Even though the country effectively banned scrap plastic from import in 2018, the small volume that entered the country still made it one of the largest importers of U.S. scrap plastic that year. But the weight has continued to drop off into 2019, and Chinese imports during the first quarter were down 98.6% from two years ago.
But the plastics decline was also driven by shifting markets beyond China. Although countries that recently increased their recovered fiber shipments have maintained those higher import volumes, many that brought in more plastic in 2018 have since enacted stringent policies reducing the imports.
(Story continues below charts.)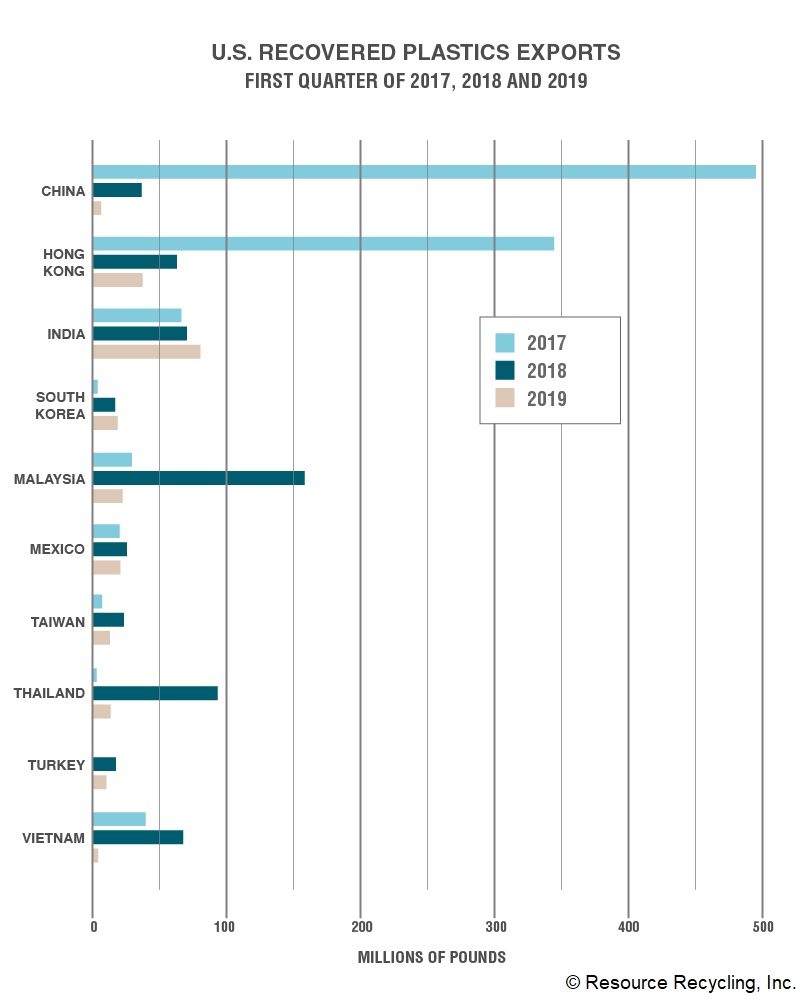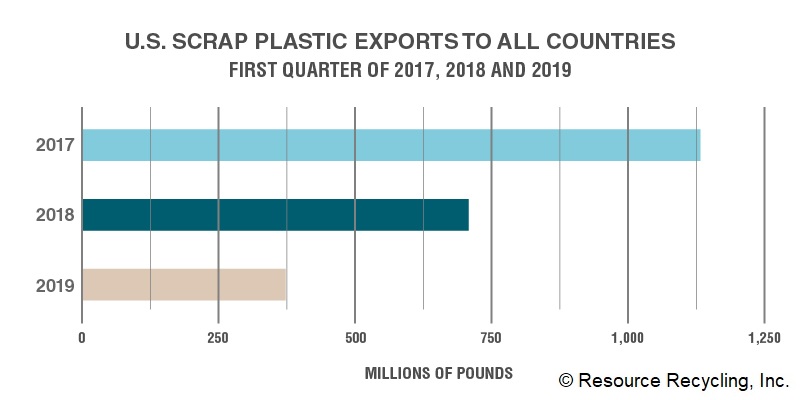 After importing 30 million pounds of U.S. plastic in the first quarter of 2017, Malaysia increased its import volume to 159 million pounds during the same period in 2018. But the country's first quarter 2019 imports are down to 23 million. That decrease corresponds with recent Malaysian government policies to restrict the trade after growing environmental concerns last year.
It was a similar story in Thailand, which went from 4 million pounds to 94 million pounds to 14 million pounds in the first quarters of 2017, 2018 and 2019, respectively. And Vietnamese imports grew from 40 million pounds in the first quarter of 2017 to 69 million pounds during that period in 2018, before plummeting to 5 million pounds this year.
March export specifics
U.S. companies exported 131.9 million pounds of scrap plastic in March. The top 10 importing countries were India (28.7 million pounds), Canada (28.3 million), Hong Kong (12.7 million), Mexico (7.7 million), South Korea (7.5 million), Malaysia (7.3 million), Indonesia (6 million), Taiwan (5.3 million), Turkey (4.9 million) and Thailand (3.6 million).
Photo credit: chenxueting/Shutterstock
A version of this story appeared in Resource Recycling on May 21.
More stories about exports