New trade figures show lower year-over-year exports of recovered plastic from January to June. The decline was largely driven by less material going to India.
The U.S. Census Bureau, which is part of the Department of Commerce, last week released export figures for June 2020, providing a look at recycled material export trends for the first half of the year.
The numbers illustrate the substantial impacts of overseas import restrictions enacted in Southeast Asian countries over the past year, as well as some COVID-19 ramifications.
U.S. exporters shipped 635 million pounds of scrap plastic during the first half of the year, down 18% compared with the same period in 2019, when exports were already down 47% compared with the prior year.
Most of the major export markets for scrap plastic saw moderate to significant declines, with a couple notable exceptions. Malaysia, which has enacted stringent scrap plastic import rules in recent years, nearly tripled its imports. And Vietnam more than doubled its imports.
But those increases weren't enough to offset the significant decline in shipments to India, which reduced imports from 156 million pounds in the first half of 2019 to 23 million pounds during that period this year. The drop comes as India is increasing scrutiny on scrap plastic imports. The  country has faced lockdowns and significant strife at the ports due to the COVID-19 pandemic.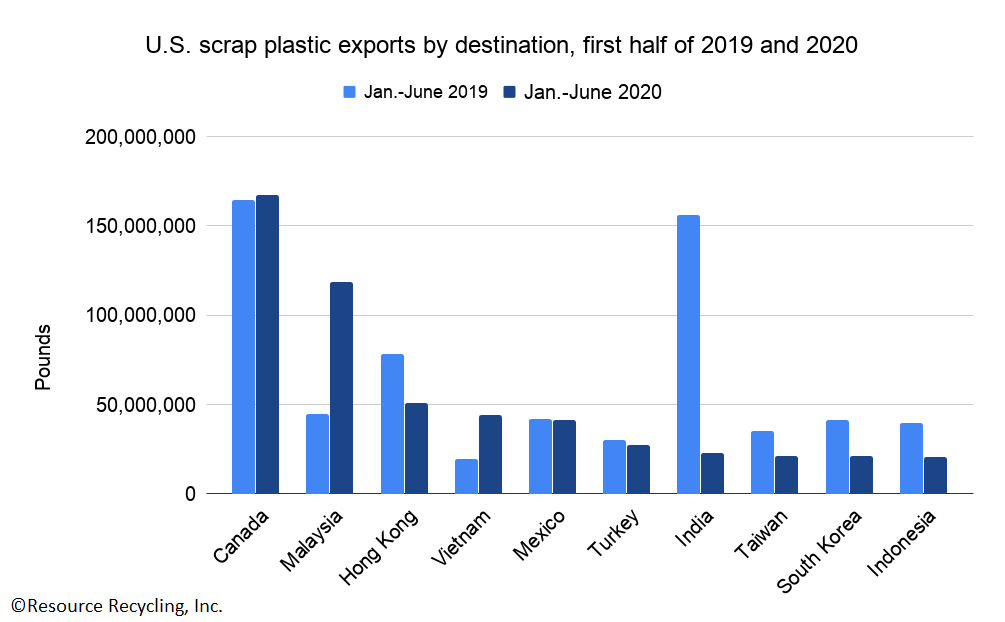 A version of this story appeared in Resource Recycling on August 11.
More stories about exports