Federal trade statistics released last week show U.S. export volumes for the first six months of 2019. Recycled plastics have seen a major drop when compared with figures from a year ago.
U.S. exporters shipped out 773 million pounds of scrap plastic in the first half of 2019, down 47% from the nearly 1.5 billion pounds exported during that period last year.
The 1.5 billion pounds in 2018 was already down from 2.1 billion pounds in 2017, a decrease of about 29%.
U.S. exports of the material have been heavily impacted by multiple factors in recent years – first by China's ban on most scrap plastic imports and then by a rash of import restrictions implemented throughout Southeast Asia, as countries in that region tried to stem major increases in imports of material displaced by China's ban.
The latest figures indicate that the plastics recycling disruption is ongoing, and there are many indications the export situation will only experience more uncertainty. For instance, this decrease comes before the impact of the Basel Convention changes in scrap plastic shipping rules. And additional countries are publicly denouncing scrap plastic imports and calling for regulatory reform.
For the first half of this year, the largest buyers of U.S. scrap plastic were Canada (163 million pounds), India (156 million), Hong Kong (78 million), Malaysia (45 million), Mexico (42 million), South Korea (42 million), Indonesia (40 million), Taiwan (36 million), Turkey (30 million) and Thailand (26 million).
Together, those countries brought in 85% of the scrap plastic shipped out of the U.S.
By grade, 43% was PE, 35% was mixed plastics, 12% was PET, 5% was PS and 5% was PVC.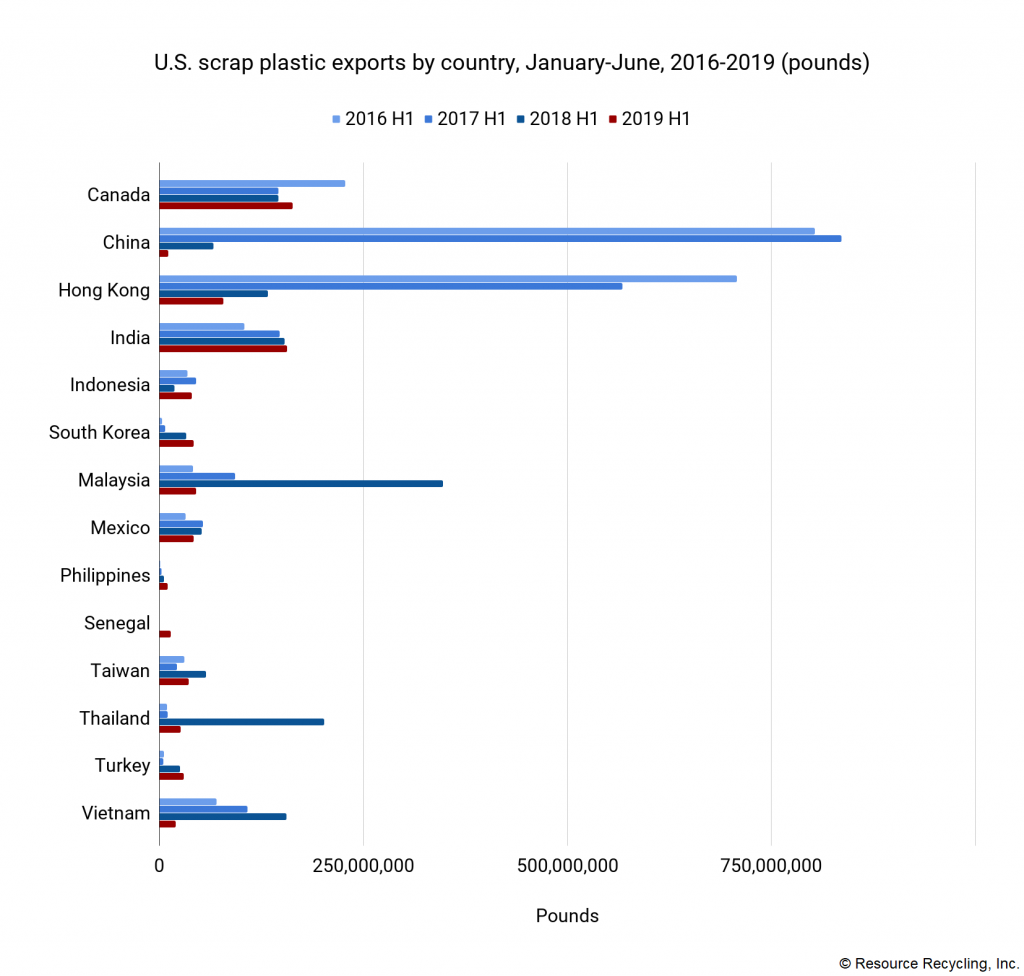 A version of this story appeared in Resource Recycling on August 6.
More stories about exports