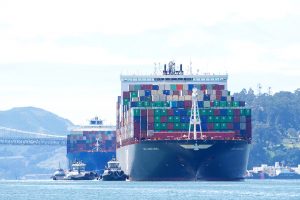 The move last week by 187 governments to alter a global waste treaty will mean further uncertainty for U.S. scrap plastic exports.
Major plastics-related changes to the Basel Convention, first proposed by the government of Norway last year, were approved by all countries that have ratified and are party to the treaty. The changes take effect Jan. 1, 2021.
The Basel Convention, which went into effect in 1992 and is supported by the United Nations, has the goal of limiting global trade in hazardous wastes, especially between developed and developing countries. The United States has signed but not ratified the agreement, meaning it did not have a vote in last week's discussions.
What the recent Basel shifts mean for recycled plastic exporters is not yet entirely clear, but experts predict a significant amount of disruption.
Exports of well-sorted material, particularly single-resin loads will be able to continue, though they will probably be subject to additional inspections to determine that they're clean.
For containers of mixed-plastic bales, however, movement will be more difficult. They will be subject to new notification and consent rules by sending and receiving parties. And some of the markets for U.S. scrap plastics that have seen the biggest growth in recent years will likely be restricted under the new rules.
"It is going to be very challenging for the future of our industries," said Steve Wong, executive director of the China Scrap Plastics Association. Wong added that the changes will have a "bigger impact" on the global scrap plastic industry than the Chinese import restrictions that took effect last year.
Undoing exemptions on scrap plastic
There were several major changes that were approved in the recent Basel discussions, which took place over two weeks in Geneva, Switzerland. They are summarized in a draft document of the agreement, posted by the Basel Action Network (BAN) advocacy organization.
The first significant shift is that a large portion of the scrap plastic shipments that were previously exempt from Basel rules will now come under the purview of the treaty.
Currently, "solid plastic waste" is exempt from any Basel controls, by way of an annex to the convention titled Annex IX. Those rules allow virtually all commonly recycled plastic resins, or a mixture of plastic resins, to be shipped without having to meet any specific Basel requirements.
However, last week's decision will mean a new solid plastic waste entry is replacing existing Annex IX verbiage. Under the new listing, exemptions will only be made for shipments "almost exclusively consisting" of a single resin type. The list of allowable resins includes most common recyclables, but it excludes PVC.
The new entry for exemptions also includes a note about certain types of mixed plastic shipments that will be allowed. Containers will be exempt from the rules if they contain "mixtures of plastic wastes, consisting of polyethylene (PE), polypropylene (PP) or polyethylene terephthalate (PET), provided they are destined for separate recycling of each material and in an environmentally sound manner, and almost free from contamination and other types of wastes."
That phrasing seems to leave a lot open to interpretation, but the bottom line is the new exemptions will likely only allow very clean shipments. Making a determination about whether a load hits the quality threshold will require additional enforcement and inspection activities on the part of the receiving country.
That fact could create issues for exporters.
"It creates a burden on shippers of plastic scrap to prove that their material meets those exceptions," said Adina Renee Adler, assistant vice president for international affairs for the Institute of Scrap Recycling Industries (ISRI).
Meanwhile, shipments that don't meet the above criteria will become subject to new "prior informed consent" requirements. For countries that have ratified the convention, this requires special notification of the destination country before the shipment is approved as well as additional documentation of how the material is processed.
In addition, the parties added a new classification identifying plastic waste that is contaminated with hazardous materials as identified in separate Basel guidelines. These include materials that are flammable, poisonous, toxic to human health and more.
Finally, the Basel country representatives approved the development of a Partnership on Plastic Waste workgroup that will bring together stakeholders to discuss plastic waste challenges in the future.
Impact for the U.S.
Under existing Basel policy, countries that are members of the Organisation for Economic Co-operation and Development (OECD), generally considered non-developing nations, can receive Basel-controlled material from non-party countries such as the U.S. That means trade with Canada and Mexico, two of the largest current destinations for U.S. scrap plastic, will not be impacted by the Basel changes – nor will shipments to most European nations and a handful of other countries, including South Korea.
However, since China drastically reduced imports of recovered plastics material, U.S. exporters have begun sending significantly higher tonnages to countries such as India, Thailand, Vietnam and Malaysia. Those shipments would be covered by the recent changes.
The convention does allow for certain bilateral and multilateral agreements between countries, and these agreements supercede Basel requirements. The U.S. has several of these agreements in place – with the Philippines and Malaysia, for instance. But those agreements lay out guidelines for imports into the U.S., rather than exports to the Asian nations.
The Basel changes drew swift reactions from recycling stakeholders and environmental organizations.
Jim Puckett, executive director of BAN, which advocates for stricter control of hazardous waste shipments, praised the move.
"The fact that the U.S. will no longer be able to use the rest of the world as a plastic waste dump is a very significant victory for the environment and global justice," Puckett said in a statement. BAN also published a document laying out how the changes will impact the recycling industry.
ISRI, which previously expressed opposition to the changes, reiterated its position that recycling is "part of the solution to the global issue of plastic pollution."
In a statement, the organization wrote that the changes "will create an administrative burden that will make it harder for countries without recycling capacity to export collected plastics to countries with the infrastructure in place."
ISRI added that it will participate in the plastic waste workgroup.
Even though the rules don't officially take effect for 18 months, the impact may come down the line sooner than that.
"Asian countries will implement these amendments ahead of time," Wong of CSPA told Plastic Recycling Update. "Some will use it as a reference for importation of scrap plastics."
Wong predicts a lot of recycling facilities in countries that have been major importers will close down in the near future, and he anticipates the Basel amendment will spur further movement toward recycling at the point of generation.
"In this case, the recyclers have to move to where the goods or where the scraps are, at the source," he said.
A version of this story first appeared in Resource Recycling on May 14.
Photo credit: Sheila Fitzgerald/Shutterstock
More stories about exports