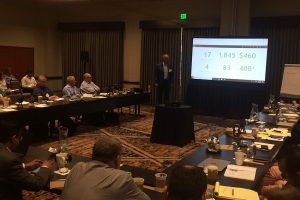 Brands across the globe are announcing goals to use high levels of recycled plastic. But the companies that actually deliver PCR to the market are predicting a major hurdle: supply shortfalls.
At the June meeting of the Association of Plastic Recyclers (APR) last week, the group's president said the wider recycling system in North America today simply isn't robust enough to deliver enough high-quality recovered plastic to meet all of the recycled content hopes being outlined by consumer product giants.
"It would be like asking a 1979 Chevette to meet today's EPA emission standards," said APR's Steve Alexander in his opening remarks at the event. "It's not plastics recycling that is broken; it's the infrastructure. We stand willing and able to get as much material as necessary to the market, but please help us get that material."
That theme of systems improvement ran through the APR meeting, which attracted 175 plastics recycling stakeholders to the Renaissance Minneapolis Hotel June 4-6.
Sector executives and APR staff discussed a number of projects geared toward strengthening plastics processing and recovery. Below are some of the ways stakeholders are working to chart a path forward and openly addressing barriers to growth.
(Disclosure: APR earlier this year purchased Resource Recycling, Inc., the publisher of Plastics Recycling Update.)
Put it in writing
During a discussion about the APR's ongoing Demand Champions program, Greg Janson of St. Louis reclaimer QRS noted that greater focus on contracting can help bring more stability to companies processing recovered polymers.
He gave the example of a recycler that has $10 million tied up in equipment and facilities but no formal agreements in place guaranteeing the quantities or pricing of loads it will be delivering to the market in the future.
"If this industry is going to mature, that's what needs to happen – contracts in the range of five, 10, 15 years," said Janson, who is CEO of QRS.
Janson also pointed out another current challenge for plastics recycling businesses: a glut of virgin material on the domestic market that is in some cases being snatched up by buyers who would otherwise use post-consumer resin (PCR). The phenomenon is a result of increased capacity in the U.S. Gulf Coast as more virgin resin projects come on-line and difficulties moving that virgin plastic to foreign buyers due to tariffs and other factors.
"This tsunami of PE is happening; we've got rail cars of wide-spec PE backing up, and that is seriously reducing prices," said Janson. "We can handle some lower pricing, but material not moving is an existential threat to a company."
Opening doors through certification
Over the last 18 months, a committee of APR members has been working to develop a certification standard that brand owners can use to verify the PCR they use in products and packaging.
The idea is to have guidelines and processes laid out by APR and then to rely on third-party companies that have expertise in auditing do the actual certifying. A logo developed by APR would be used by brands that have their PCR verified.
The organization's PCR Certification subcommittee is continuing to grapple with tricky questions about how to define post-consumer resin. For instance, would material from recycled milk jugs that were removed from store shelves before getting to actual consumers qualify?
Nonetheless, the project is moving quickly toward launch, with the expectation that details will continue to be ironed out as the certification comes into use.
"We're going to make it a living document that can evolve," said Liz Bedard, director of APR's Rigids Program. She also made clear that the certification will have a wide scope in terms of the PCR it covers: "all polymers, all forms," Bedard said.
Where does chemical recycling fit in?
Most companies involved in APR are built around "mechanical recycling" systems – that is, sourcing specific recovered resins and then using size reduction, washing, sortation and other processing methods to produce clean flake or pellets.
But of late, the wider recycling and packaging industries have been giving much attention to technologies classified as "chemical recycling." These approaches use a variety of methodologies, including depolymerization and gasification, to transform the material at a molecular level in some cases.
The hope is that such approaches can unlock new opportunities for recovering plastics that have not typically been handled through mechanical recycling operations in a cost-effective manner.
At last week's meeting, APR's technical director, John Standish, delivered a presentation on the chemical recycling trend and discussed the ways chemical and mechanical recycling operators might actually overlap.
He stressed that in many ways the concepts being leveraged by chemical recycling operators are nothing new, noting that gasification was used (with coal as a feedstock) as far back as the 1920s and patents for methanolysis and glycolysis processes were first filed by tire company Goodyear in the 1960s.
He also pointed out that two current APR members – PET-focused Reterra Recycling and GreenMantra Technologies, which handles PE, PP and PS – have already scaled up techniques that would fall under the chemical recycling umbrella.
"For these two companies, chemical recycling isn't a vague notion in the future," Standish said. "It's something they are using in the commercial environment today."
Standish suggested the organization help make chemical recycling operators "feel at home here at APR." And in fact at the meeting APR announced it would be forming a chemical recycling work group, to be chaired by Janson of QRS and Julie Zaniewski, sustainability director at Dow Packaging and Specialty Plastics.
The aim appears to be to encourage dialogue between packaging stakeholders who are looking for new tools to stem pollution and feed material into the supply chain and long-established recycling businesses that know the ins and outs of processing and markets.
"I'm an optimist," Standish said. "I'm looking at how the rising tide of chemical recycling can lift all ships."
Photo credit: Resource Recycling, Inc.
More stories about industry groups