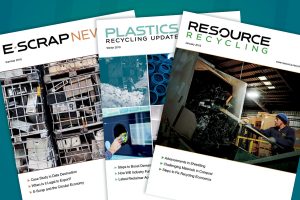 Resource Recycling, Inc., which produces a number of recycling trade publications and conferences, has been acquired by the Association of Plastic Recyclers.
APR, headquartered in Washington, D.C., closed on the sale of Resource Recycling on March 1. Terms of the deal were not disclosed.
Resource Recycling, based in Portland, Ore., is the publisher of Plastics Recycling Update and puts on the annual Plastics Recycling Conference and Trade Show, which is the world's largest plastics recycling event. That conference attracted 2,000 attendees in 2018. The 2019 show, which will be the 14th iteration, is taking place next week outside Washington, D.C.
Resource Recycling also publishes Resource Recycling magazine, geared toward the municipal recycling sector, and E-Scrap News, a trade journal for the electronics recycling business. In addition, it produces the Resource Recycling Conference and Trade Show and the E-Scrap Conference and Trade Show.
Steve Alexander, the president and CEO of APR, said the group intends to retain all Resource Recycling staff and to continue to produce all six products in the Resource Recycling portfolio. He noted the plastics magazine and conference have clear ties to APR's mission, and he said the other products carry value to APR both as revenue generators and as conduits to the wider recycling industry.
"APR's goal is to grow recycling, and having a widely respected publishing and conference management arm helps accomplish this important purpose," Alexander said. "The distribution of well-researched recycling information greatly benefits APR members."
'Respect for Resource Recycling's industry voice'
Alexander said the Resource Recycling staff of 11 will continue to work out of its Portland office and will maintain its independence in terms of developing topics for editorial and conference products.
"APR has had long-term respect for Resource Recycling's industry voice," said Alexander.
Resource Recycling began nearly 40 years ago as a print magazine serving the growing municipal recycling sector. In the early 1990s, more communities were adding curbside recycling programs, in part to respond to wider environmental concerns and in part to take advantage of the economic upsides of landfill diversion.
Founded by Jerry Powell and his wife, Judy Roumpf, Resource Recycling added its plastics and e-scrap publications as those markets grew.
The company moved into the conference arena in 2003 when it launched the E-Scrap Conference and added the Plastics Recycling Conference and Resource Recycling Conference in subsequent years. The plastics and e-scrap shows are the largest in their respective fields.
The company has also pushed forward distributing industry news digitally. Its email newsletters are currently received by more than 60,000 readers each week.
Powell and Roumpf remained the company's owners up until the APR acquisition last week. APR had emerged as an important partner for the company in recent years, with the Plastics Recycling Conference and Trade Show hosting an annual event called the APR Technical Forum. The conference was also regularly co-located with APR member meetings.
"We have had a business affiliation with APR for over a decade and have come to greatly respect the association's staff and board," said Powell. "APR is a wonderful group with which to work."
Powell, who is transitioning into retirement, will continue his connection to the company as a consultant. However, his move away from company ownership marks the end of a recycling era.
"I will miss two things," Powell said. "I enjoy working in the firm's editorial bullpen debating issues and discussing news sources. And I'll greatly miss my staff. In the past three decades, I've worked with some of recycling's most talented, warm and fun folks."
More stories about industry groups