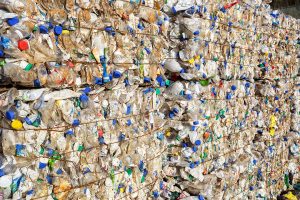 Five plastics recycling projects will take in a total of $11.7 million in California state grants. The awarded companies are targeting scrap plastic from a variety of sources.
The California Department of Resources Recycling and Recovery (CalRecycle) recently approved its 2018-19 Recycled Fiber, Plastic and Glass Grant Program recipients. All five awardees are targeting some amount of plastics with the funds.
The program uses state money to support the expansion of recycling infrastructure, according to CalRecycle documents. During the latest round of funding, the department received and evaluated 14 applications.
Below are the details on the five businesses that came away with grant dollars.
FDS Manufacturing: The Pomona, Calif.-headquartered food and agriculture packaging producer was selected to receive $3 million for a melt-filtration unit, pelletizer and extruder to process an additional 2,000 tons per year of PP and PE. The resulting recycled plastic will be used in manufacturing angle board, bins, pallets and other products. FDS also has a plant in Fowler, Calif.
Envision Plastics: The reclaimer, which is headquartered in Reidsville, N.C. but has a plant in Chino, Calif., will receive $2.9 million to install equipment that will produce decontaminated, food-grade HDPE from post-consumer containers and agricultural film.
"The project will create a high-value recycled plastic feedstock material that can be used to manufacture goods and products made in California and nationally," CalRecycle wrote. The project is estimated to divert from landfill 3,480 tons per year of containers and film.
Roplast Industries: The Oroville, Calif. bag manufacturer was awarded $2.5 million for a new de-inking system allowing the company to recycle 2,500 more tons per year of LDPE, which will be used by the company to produce retail and reusable grocery bags. The de-inking system is produced by Spanish company Cadel Deinking. Plastics Recycling Update wrote about the company and its technology in early 2017, after it presented at Association of Plastic Recyclers (APR) Technical Forum. Cadel was also a finalist for the FlexPack Recovery Challenge because its technology can be used to separate different polymers in multimaterial flexible packaging.
Netafim: The irrigation products company will receive $2 million to expand its recycling of used HDPE farming irrigation tubing. It will collect used tubing and transport the material to the company's recycling facility, where the tubing will be shredded, washed and pelletized. The pellets will go to Netafim's manufacturing plant, where they'll be used to produce new tubing.
"Once this recycled content irrigation tubing reaches end of life, it will be collected by Netafim in a closed-loop recycling process," according to CalRecycle.
Based in Fresno, Calif., Netafim USA is a subsidiary of Israeli irrigation equipment manufacturer Netafim.
Shark Glass Recycling West: This company was awarded $1.3 million to establish a windshield recycling facility processing glass into feedstock for fiberglass insulation. As part of that process, the company will extract polyvinyl butyral (PVB) from the used windshields. The plastic makes up about 8 percent of a typical windshield. This material will be sent from California to related company Shark Glass Recycling North America in Lavonia, Ga., where it will be processed into a replacement for PVC in carpet tiles, according to CalRecycle. Georgia is a hub for carpet production.
The Shark companies are part of the Danish PVB recycling company Shark Solutions.
Additionally, nine projects applied for funding but were not selected:
Aemerge, requesting $1.5 million for components of a system that converts medical plastic waste to natural gas for steam production and electricity generation.
Allegiant Commodities, requesting $3 million for a facility to sort, grind, wash and sell PET flakes.
Al's Plastics, asking for $2.9 million to upgrade an existing LDPE and HDPE reprocessing line.
Andros Engineering Corp., requesting $2.9 million for an agricultural film wash line and pelletizing system.
BioCellection, asking for $3 million to install new chemical recycling equipment in the GreenWaste MRF in San Jose, Calif.
CarbonLite Industries, requesting $3 million for a new plastics Nos. 3-7 sort, wash and processing line at the company's Riverside, Calif. facility
Ionobell, asking for $3 million for its system of producing battery materials from post-consumer mixed plastics
University of California, Berkeley, requesting $1.7 million for recycling equipment to process campus recyclables at the university.
VSP Labs, requesting $265,000 for a project that would recover and put through a gasification process the scrap plastic and liquid material produced by grinding eyeglass lenses.
Photo credit: hiv360/Shutterstock
More stories about processing