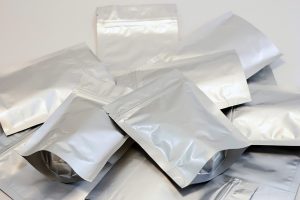 Recently announced finalists in the FlexPack Recovery Challenge use a variety of recycling technologies – both mechanical and chemical – to recover an often-landfilled material.
The Sustainable Packaging Coalition (SPC) and The Center for the Circular Economy at Closed Loop Partners on March 6 announced they've selected five finalists for the competition. They include both U.S. and European startups.
The FlexPack Recovery Challenge seeks to help commercialize promising technologies for recycling multi-material flexible packaging, which is becoming increasingly common on store shelves but is usually landfilled or burned. The package type includes such items as stand-up pouches, chip bags, wraps and other multi-layer films.
The winner of the challenge will be decided in April, and that entity will receive a year-long SPC membership and entrance into a mentorship program administered by Closed Loop Partners and SPC.
The five finalists in the competition are:
EcoGlobal: This U.S. company has a mechanical recycling technology that processes a mix of LDPE and other materials into its Ekopolimer brand material. The company's product has been used as access mats for construction and other sectors, shipping crates, walkways and low-impact roads, storm drains and other products in the construction and agriculture industries.
Cadel De-Inking: This Spanish company became a finalist in the challenge for its delamination process combining elements of both mechanical and chemical recycling, according to the competition release. It has recently applied the technology to separating PE and PET and metalized BOPP from BOPP. Plastics Recycling Update in 2017 wrote about an earlier iteration of the technology.
ReNewELP: This U.K. company employs a chemical conversion technology to process mixed plastics into synthetic crude oil, chemicals and waxes. The company's process uses what's called a catalytic hydrothermal reactors (Cat-HTR), which leverage water at high pressure and temperature.
Synova and BioBTX: These Netherlands-based companies are partnering to combine their chemical conversion technologies using both gasification and pyrolysis, as well as gas cleaning, the press release states. The goal is to specifically address multi-material flexible packaging, converting it to feedstock for plastic production (benzene, toluene, xylene and styrene).
Renewlogy: This U.S. company uses a pyrolysis technology to convert low-grade plastics into fuel and petrochemical feedstocks. The equipment used is modular and can be scaled up in increments of 10 tons per day. Plastics Recycling Update reported in February that the city of Phoenix is considering selecting Renewlogy to operate a program for diverting plastics Nos. 3-7 from landfill.
For the FlexPack Recovery Challenge finalists, the next step will be presenting during the SPC Impact 2019 conference, to be held in Seattle in early April.
SPC, which counts a number of major packaging stakeholders as members, is a project of environmental nonprofit group GreenBlue. Started with funding from major consumer goods companies, Closed Loop Partners is a nonprofit group that invests in sustainable consumer goods, recycling technologies and development of the circular economy.
The FlexPack Recovery Challenge isn't the only high-profile effort to enable widespread recycling of multi-material flexible packaging. The Material Recovery for the Future (MRFF) project is testing the ability of a MRF in Pennsylvania to effectively sort flexible packaging into distinct bales for eventual recycling.
Additionally, a number of global plastic and packaging manufacturers have released versions of multi-layer films, including those used for stand-up pouches, that are recyclable through PE bag drop-offs at stores across the country.
Photo credit: Ploylada/Shutterstock
More stories about technology