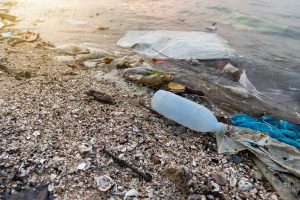 Resin and packaging giants last week committed $1 billion over the next five years to "end plastic waste." While recycling and sustainability stakeholders say they are encouraged by the effort, they also want to ensure materials recovery remains part of the solution.
"I just want to raise our hand and say, 'Don't forget us over here,'" said Steve Alexander, president and CEO of the Association of Plastic Recyclers (APR). "We're the solution to your problem at the end of the day. If you can capture it, we can recycle it."
Keeping North America in focus
The Alliance to End Plastic Waste, a new group that was announced Jan. 16, plans to focus its resources on developing waste collection infrastructure, innovating in recycling and product design, educating consumers about waste, and cleaning up plastic in the environment. It hopes to boost the dollar amount behind the project to $1.5 billion in the coming years by bringing more entities on board.
The group's founding members include Berry Global, Chevron, Dow, ExxonMobil, LyondellBasell, Procter & Gamble, Shell, Suez, Total, Veolia and others.
In its initial announcement, the Alliance noted some of its early work will target Southeast Asia because a large portion of marine debris enters waterways in that region. But recycling stakeholders noted that materials recovery focus – and funding – is needed across the globe.
Nina Goodrich, executive director of the Sustainable Packaging Coalition (SPC), agreed that marine debris is a key component of addressing plastic waste, because ocean plastics have such a major global impact.
"That said, I also think we need to address collection and recycling of plastics films and pouches in the U.S.," she added. "I am very afraid that we may go backwards in recycling, not forward, in the U.S. This would hurt investment in new innovative technologies and future competitiveness."
Alexander of APR added there are significant infrastructure requirements in Southeast Asia and other regions. But he added, "Let's not make the assumption that there aren't infrastructure needs in North America. I'm heartened by the fact that the announcement indicates they'll be working with large urban areas on solid waste infrastructure, I think that's particularly important."
It's also true that a strengthened plastics processing and remanufacturing system in North America can help reduce the amount of material that could become pollution elsewhere. For instance, plastic exports from the U.S. to Southeast Asian nations skyrocketed in the first part of 2018, largely driven by the loss of China as a downstream destination for scrap materials.
Different from past projects?
The Alliance joins a handful of previous and existing plastic waste reduction projects with similar goals, and in some cases, similar scope.
For example, in 2017 the Indonesian government pledged up to $1 billion annually to reduce plastic waste. And numerous companies, some of which are part of the Alliance, have made commitments to reduce single-use packaging and increase recyclability over the years.
There are also a variety of existing initiatives focused on marine debris reduction, including Project STOP in Indonesia and the Closed Loop Ocean project that evolved into Circulate Capital, which is looking to leverage investment dollars to drive solutions.
But recycling industry stakeholders don't see problems with multiple efforts targeting plastic waste in different ways.
"In the case of the Alliance, there are many more companies joining, so we hope this can be an additional push to a much-needed effort," said Pablo Leon, Asia manager for Fosimpe S.L., a major Spanish broker of recovered plastics.
More stories about marine debris
And the inclusion of an array of interests in the Alliance has the potential to push this new initiative beyond the capabilities of previous efforts.
"What's different to me in this announcement is the role of the brand owner as a leader," Alexander said. "They're really the face of a lot of the products at the end of the day," Alexander said. "That would separate it for me, in terms of expanding from the normal focus."
Goodrich pointed to the number of chemical and oil companies involved in the effort. It's "an important significant change," she said. "They are now part of the conversation."
Varied criticism
In the wake of its announcement, the Alliance received speedy criticism from a number of environmental groups. Most of the negative reaction focused on the involvement of major chemicals companies and virgin plastic producers – and the conflict of interest they might bring to a waste reduction initiative.
Break Free From Plastic, a coalition of several plastics reduction advocacy organizations, sharply criticized the effort as an effort by plastic interests "to preserve their ability to produce cheap single-use plastics."
In addition, criticism from European environmental organization Recycling Netwerk noted that the major companies behind the alliance are also planning to spend billions to expand virgin plastics production.
Alexander said he didn't altogether agree with those assessments, arguing that plastics and packaging producers have realized they need to undertake some fundamental shifts when it comes to the end-of-life side of their products.
"I think companies recognize that they have to change the way they've been doing business," he said.
Alexander also noted that because the alliance is receiving so much publicity, member companies are going to be "monitored very aggressively in terms of what their commitments are and what they're able to achieve."
Leon rejected the idea that it's problematic to have virgin plastics companies and chemical producers leading a charge on waste reduction.
"On the contrary, we think that virgin plastics producers have realized that their products can have a downside if they are not properly disposed, and they are taking action about that issue, so we see this as a great step," Leon said.
But he added that materials recovery leaders need to have a voice in the development. "We hope that more recyclers are welcome to join this Alliance in the future and share their expertise, because they look a bit misrepresented in the initial membership list," Leon said.
'Essentially greenwashing'
Not all recycling stakeholders have praised the approach of the Alliance, however.
Ted Siegler, a longtime waste and recycling consultant with DSM Environmental, said that although $1 billion is a figure that grabs attention, it falls far short of the needed investment to move the needle on plastic waste worldwide.
"I think the amount is essentially greenwashing," he said, adding that it's "$1 billion spread over five years and spread over 28 incredibly profitable companies."
He cited World Bank figures showing that governments worldwide spend $200 billion per year on solid waste management. Siegler has in the past proposed a small tax on plastic resin sales that he says would raise about $6 billion per year to address plastic litter problems.
"That is the order of magnitude it would take to begin to make a difference," Siegler said.
Photo credit: YimJi WK/Shutterstock

More stories about industry groups