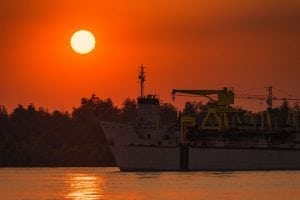 The government of Thailand has banned all scrap plastic from entering its ports, amid a major increase in shipments to the country and others in Southeast Asia.
According to a June 24 news release, Thailand's Department of Industrial Works "has issued a prohibition on further imports of electronic and plastic waste effective immediately, and will be proposing to the Ministry of Industry to issue an indefinite ban on these imports in the near future."
There are 26 companies that have been legally permitted to import scrap plastics into the country, but they are now prohibited from any more imports, according to the release. Officials will begin inspecting recycling facilities across the country.
Thailand and a number of other Southeast Asian nations have seen substantially more scrap material flow into its ports this year because of China's disappearance as a downstream destination. Census figures show U.S. exporters shipped 132.8 million pounds of scrap plastic to Thailand in the first four months of 2018, up from 4.6 million pounds shipped during the same period a year earlier.
Steve Wong, executive director of the China Scrap Plastics Association, told Resource Recycling the ban in Thailand would hit Chinese recycling companies hard. Southeast Asian countries, he said, are becoming as strict as China when it comes to scrap imports. Chinese companies have set up factories around Southeast Asia, looking to stay in business by processing materials and shipping pellets back to China.
"Recyclers from China are not welcome because they care about how to make quick money, and forget about environmental protection," Wong said.
Wong said a government advisory board in Thailand plans to implement a policy in which only companies producing zero waste and zero carbon emissions will be allowed to operate recycling facilities.
"In the end, only a few players are able to survive," he said. "We need to think about recycling in exporting countries."
Growing trend
Thailand joins Vietnam and other Southeast Asian nations in enacting restrictions on scrap material imports. Major Vietnamese ports this month stopped accepting scrap plastics. Vietnamese officials said there were roughly 9,000 containers idle at the country's ports. When it comes to Thailand, Wong cited reports that note there are more than 30,000 containers idle at Thai ports, unable to move due to port capacity and problems with import permits.
Shipments are still moving to Malaysia, exporters have told Resource Recycling, but Wong noted "market players are worried that problems similar to that of the other two countries will arise in the near future."
Exports to Thailand had already seen a couple disruptions in recent months – loads were getting backed up and shipping companies decided to temporarily stop accepting bookings. But the bans were short-lived and were reversed when the backlog began to move. But there have also been calls for stricter controls on recyclables flowing into the country. Inspectors have ramped up customs enforcement activities after a recent bust on imported scrap electronics, and during one recent inspection they came across 58 metric tons of what they identified as illegally imported plastic.
Local environmental advocates began calling for a complete ban on recovered plastic imports in favor of bolstered domestic collection.
Still, scrap plastics experts have told Resource Recycling some of the customs authorities in Southeast Asian countries do not have the experience to correctly identify scrap plastic that's suitable for recycling and distinguish it from true waste. Customs agents haven't had to differentiate between those materials as much in the past, exporters say, so they are unaccustomed to identifying recyclable materials.
Transport lines take action
Shipping and logistics companies responded swiftly to the Thai government announcement. Maersk announced on June 23 that it would stop accepting shipments of recovered plastic bound for any port in Thailand.
"Considering the recent measures taken by the government authorities and ports to restrict plastic scrap imports, the decision has been made to avoid long idling of future plastic scrap import containers," the shipping company wrote in an advisory to customers.
Other shipping giants took similar action, including APL and Hapag-Lloyd. MCC Transport, which works with Maersk and other shipping lines, announced earlier this month it would immediately stop accepting shipments of scrap plastic headed for Thailand.
Cosco Shipping issued a detailed advisory to its customers this month, explaining a host of new policies being implemented at Thai ports.
Photo credit: Bubbers BB/Shutterstock
More stories about Asia