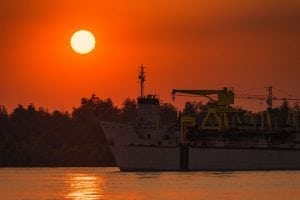 The government of Thailand has banned all scrap plastic from entering its ports, amid a major increase in shipments to the country and others in Southeast Asia.
According to a June 24 news release, Thailand's Department of Industrial Works "has issued a prohibition on further imports of electronic and plastic waste effective immediately, and will be proposing to the Ministry of Industry to issue an indefinite ban on these imports in the near future."
There are 26 companies that have been legally permitted to import scrap plastics into the country, but they are now prohibited from any more imports, according to the release. Officials will begin inspecting recycling facilities across the country.
Thailand and a number of other Southeast Asian nations have seen substantially more scrap material flow into its ports this year because of China's disappearance as a downstream destination. Census figures show U.S. exporters shipped 132.8 million pounds of scrap plastic to Thailand in the first four months of 2018, up from 4.6 million pounds shipped during the same period a year earlier.
Steve Wong, executive director of the China Scrap Plastics Association, told Resource Recycling the ban in Thailand would hit Chinese recycling companies hard. Southeast Asian countries, he said, are becoming as strict as China when it comes to scrap imports. Chinese companies have set up factories around Southeast Asia, looking to stay in business by processing materials and shipping pellets back to China.
"Recyclers from China are not welcome because they care about how to make quick money, and forget about environmental protection," Wong said.
Wong said a government advisory board in Thailand plans to implement a policy in which only companies producing zero waste and zero carbon emissions will be allowed to operate recycling facilities.
"In the end, only a few players are able to survive," he said. "We need to think about recycling in exporting countries."
Growing trend