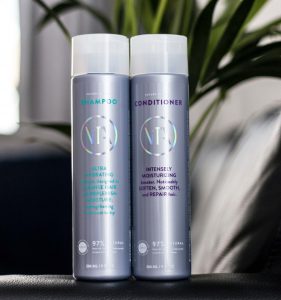 Envision Plastics has launched a bottle made completely from materials at risk of becoming marine debris.
The reclaimer says its first 100 percent OceanBound plastic container is being used by Primal Group's Vita brand of personal care products.
"Envision is proud of the work we are doing by collecting and recycling OceanBound Plastic, but we are excited that it was able to displace 100 percent of the virgin resin in the bottle and colorant," Dan Ferus, general manager of Envision Plastics, stated in a press release.
Techmer, a global producer of value-added color and masterbatch additive, was also involved in the project. The bottles were molded by Ontario, Calif.-based Classic Containers.
In April 2017, Envision announced its goal of sourcing 10 million pounds of plastic in two years from areas of the world where the material is likely to end up in the marine environment. The focus is on at-risk zones lacking formal community-based waste collection, according to the company.
More reclaimers and brand owners are finding business opportunities in using plastics collected from the ocean or shorelines. Procter & Gamble has incorporated plastic recovered by volunteers from European shorelines in its Head & Shoulders and Fairy dish soap bottles. Dell made headlines when it began using plastics recovered in Haiti in its product packaging. Dell is also one of the founding partner in a new effort called NextWave, which aims to collect and recycle at least three million pounds of plastic in coastal areas over the next five years.
Photo credit: PRNewsfoto/Consolidated Container Company
More stories about HDPE
To receive the latest news and analysis about plastics recycling technologies, sign up now for our free monthly Plastics Recycling Update: Technology Edition e-newsletter.