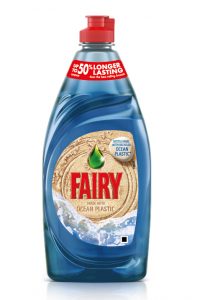 After producing 150,000 shampoo bottles made partially with recovered marine plastics, Procter & Gamble will now do the same thing with 320,000 dish soap containers.
The consumer goods company announced it will work with TerraCycle to incorporate recovered beach plastics into bottles in the U.K. The containers, which will hold Fairy brand dish soap, will be made of 10 percent marine plastics and 90 percent post-consumer material recovered through traditional recycling channels.
The products will land on British store shelves in 2018.
"Our consumers care deeply about this issue and by using ocean plastic we hope to show that the opportunities are endless when we rethink our approach to waste," Virginie Helias, vice president of Global Sustainability at P&G, stated in a press release.
TerraCycle, a New Jersey-based company that specializes in recovering difficult-to-recycle materials, previously worked with P&G on a project to incorporate beach plastics into 150,000 Head and Shoulders bottles for sale in France this past summer. Those containers were made of 25 percent ocean plastics.
In February, Plastics Recycling Update published a detailed rundown of how the project partners overcame challenges in collecting, sorting and stabilizing the ocean plastics for use in the HDPE bottles.
The latest announcement was made at the 2017 Our Ocean conference, which was held in Malta Oct. 5-6.
Also in conjunction with the conference, nonprofit and industry groups announced efforts to create a $150 million to invest in projects to reduce ocean plastics generation in Southeast Asia (see related story for an update on that project). P&G is also involved in that effort.
According to the press release, in the future, P&G intends to expand the use of ocean plastics into additional brand containers sold in other regions.
To receive the latest news and analysis about plastics recycling technologies, sign up now for our free monthly Plastics Recycling Update: Technology Edition e-newsletter.
More stories about brand owners