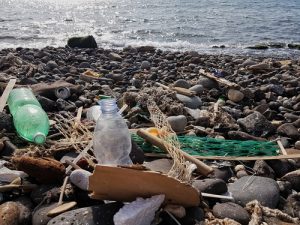 Large brand owners and manufacturers have formed an effort aimed at diverting millions of pounds of plastic material that could potentially end up as marine debris.
NextWave is a collaborative effort to collect and incorporate marine plastics as recycled content in new products, and to reduce plastic usage overall. Its founding partners include Dell, General Motors, Trek Bicycle and others. The effort was launched last month and is led by The Lonely Whale, an environmentally focused nonprofit organization.
The NextWave effort focuses on what it defines as "mismanaged waste." This is material that would likely eventually make its way to the ocean, but isn't there yet. Plastic litter within about 30 miles of a waterway or coastal area generally falls into this category.
The initiative will target nylon from fishing nets as well as PET and HDPE.
"Our goal is to create an integrated collection system that turns mismanaged PET and HDPE into managed waste and provides for on-land collection of fishing nets so that they aren't discarded at sea," the group wrote.
There are a number of moving pieces within the new project, and the group isn't saying for sure how much material NextWave will be able to handle. But it aims to divert at least 3 million pounds in the next five years.
Another uncertainty is the details on processing infrastructure. One of the key considerations is "distance to manufacturing facilities," the group wrote. "Each of the NextWave member companies is committed to keeping their environmental footprint as low as possible and that extends to ensuring source material isn't being shipped halfway around the world to where manufacturing is taking place."
NextWave takes its model inspiration from one of its founding members. Dell announced early last year it would begin using recovered marine plastics, specifically HDPE, in certain computer trays it manufactures.
The group acknowledges it is working toward goals that are similar to those of the New Plastics Economy Initiative and other marine plastics efforts. But NextWave stresses that the work is complementary, not competitive, and it says it is "committed to staying engaged to ensure that complementarity persists and we can learn from and benefit from each other's experiences."
More stories about challenging materials