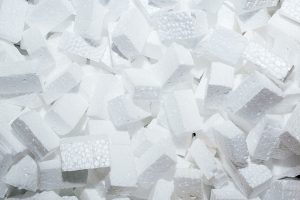 Polystyrene producer INEOS Styrolution has recently partnered with a pair of companies that are developing emerging chemical PS recycling processes. An INEOS executive said the activity is the first step toward what partners hope will be a full-scale polystyrene recycling consortium.
Earlier this month global PS supplier INEOS signed a memorandum of understanding with Oakville, Ontario-based Pyrowave, which uses microwaves in a depolymerization process breaking down post-consumer PS into styrene monomers. Those plastic building blocks can then be assembled into new plastic, including material used for food and drink packaging.
INEOS Styrolution America, U.S. subsidiary of German-headquartered INEOS Styrolution, also recently entered a development agreement with Tigard, Ore.-based Agilyx. That company is also recovering styrene monomers from scrap PS.
Chemical recycling processes overcome challenges with contamination and end markets facing mechanically recycled PS, said Ricardo Cuetos, vice president of standard products at INEOS Styrolution America.
"We really want to support and foster these types of technology," he said.
Because of challenges associated with recycling PS, many local governments around the country have banned foam PS food-service products. Perhaps most notable has been New York City, which recently announced a ban and drew a PS industry lawsuit.
The INEOS partnerships also come at a time when virgin plastics producers are showing greater interest in having a hand in plastics recycling. For example, global polymer producer LyondellBasell recently announced it was buying a stake in a large HDPE and PP reclaimer in the Netherlands.
Pledging to purchase products
Through its recent action, INEOS Styrolution essentially committed to buying Pyrowave's final product, which it will use to create new PS, Cuetos said. The partnership is still in the early stages, however, so feedstock volumes and prices on a commercial basis haven't yet been determined, he said.
Through Pyrowave's catalytic microwave depolymerization (CMD) technology, styrene is recovered from input materials at a higher rate than it is when feedstock is put through other pyrolysis approaches, Jocelyn Doucet, Pyrowave CEO and co-founder, previously told Plastics Recycling Update.
CMD is also an energy-efficient process, Doucet said. Pyrowave plans to provide portable modules to recycling facilities, allowing them to avoid shipping costs by processing PS on-site.
Pyrowave also recently received a $50,000 grant from the industry-funded Foam Recycling Coalition. The money will pay for equipment to shred densified PS coming into Pyrowave's Montreal facility, reducing the company's costs of operations.
Pyrowave is not INEOS's only North American partner when it comes to pushing ahead innovative forms of PS recovery.
Under a separate deal, INEOS also committed to acquiring recovered styrene monomers from Agilyx. Under the development agreement, the companies will collaborate to refine Agilyx's output to match INEOS's feedstock needs, Cuetos said. For example, INEOS will provide technical feedback to help Agilyx avoid polymerization of its product and manage byproducts, boosting efficiency and product quality, he said.
Looking forward
Ultimately, INEOS sees chemical recycling as a complement to mechanical recycling, not a replacement, Cuetos said.
His company is a backer of the Foam Recycling Coalition, which is managed by the Foodservice Packaging Institute. The coalition has provided grants to recycling facilities to buy densifiers, which remove air from foam PS and improve the freight economics involved in recycling the plastic. INEOS plans to continue supporting those efforts, he said.
Cuetos said he hopes his company can begin producing PS that uses recovered styrene monomers via Agilyx and Pryowave some time in 2018.
When asked about the long-term economics of purchasing styrene from post-consumer plastics versus virgin sources, he said he expects the costs of recovered styrene to decrease as the recycling processes become more established and scale up. And depending on the cost, INEOS can probably bring some value added to the recycled-content products, he said.
Further, the INEOS-Pyrowave partnership is the beginning of what's envisioned to be a consortium with membership from the full PS supply chain, Cuetos said, including styrene and resin producers, converters, end users and recycling companies.
The goal in part is to shift the public perception of PS, he said. As he sees it, the big challenge will be educating and persuading consumers and municipalities to collect it for recycling, instead of sending it to landfills or prohibiting it all together.
More stories about technology