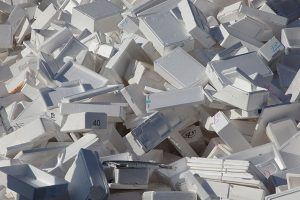 In Canada, a number of companies are tackling difficult plastic streams without using traditional mechanical recycling processes. One of them, Pyrowave, uses microwaves to depolymerize polystyrene scrap and has recently made some strong steps forward.
In September, Pyrowave was selected by the Canadian Innovation Exchange (CIX) as one of the country's top 20 innovative technology companies. That means it will have the opportunity to present to hundreds of investors and peers at a CIX 2017 event this month. The company CEO and co-founder, Jocelyn Doucet, described the recognition as "essential to our future development."
Based in Oakville, Ontario, Pyrowave uses a catalytic microwave depolymerization process to extract styrene monomers from post-consumer PS streams, including food-service items. Those monomers are sold to chemical companies for creating new plastics that can go into high-value applications.
"The beauty of our technology that really differentiates us from any other recycling technology is we're able to [put] post-consumer material back into the loop of food-service items," Doucet said.
Doucet recently spoke with Plastics Recycling Update to provide more details on the company's technology and commercialization plans.
Technologies for tough plastics
A number of companies in Ontario and Quebec are targeting challenging plastics with alternatives to mechanical recycling. For instance, Brantford, Ontario-based GreenMantra has used a partial depolymerization process to create waxes from polyolefins. It recently obtained a sizable government grant to also tackle PS. Also, Terrebonne, Quebec-based Loop Industries employs a heatless, pressureless depolymerization process to recover PET. It recently signed a deal to process post-consumer multi-layer packaging.
And Montreal-based Polystyvert is using essential oils to dissolve expanded PS at generators' sites, allowing for economical collection. The company later separates the PS from the oils so it can be recycled.
Founded in 2014, Pyrowave is different in that it depolymerizes PS using microwaves, an energy-efficient way of breaking the molecules, Doucet said.
"What we know about pyrolysis in general is if you do it with microwaves, it's far more efficient in terms of making product," he said.
The output consists of three components: a liquid/oil fraction containing styrene monomers, a gas that can be captured for burning, and a solid that is made up of carbon and other contaminants. The monomer-containing oil output can reach 95 to 98 percent of the input, Doucet said. When Pyrowave tested non-microwave heating processes, it found they generate a larger fraction of ethylbenzene and less styrene, he said.
Pyrowave pays outside companies to purify the oil fraction before sending it to chemical companies make new plastic.
The company has developed shipping-container-housed modules processing up to 800 tons per year. It is currently operating a demonstration facility in Montreal.
In June, Pyrowave won first prize in the IQ-CHem International Chemistry Innovation Competition, earning it a $20,000 prize and recognition from major chemical companies. Last year, Pyrowave received more than $1 million Canadian each from the Quebec provincial government and a group funded by Canada's federal government.
Growing in the marketplace
Pyrowave is not the first company to target styrene monomers. Tigard, Ore.-based Agilyx began extracting them for resale after oil prices fell, challenging the economics of its earlier plastics-to-oil operation. In January, the company announced financing to build a dedicated unit processing up to 10 tons per day of PS.
To Doucet, Agilyx's moves confirm Pyrowave's business model going after styrene monomers.
"I believe that advanced chemical recycling solutions are part of the future," he said. Mechanically recycled PS often has tight specifications from buyers and more limited end markets, he added, particularly now that China has proposed a ban on post-consumer plastic imports.
Pyrowave is not the only company using microwaves in pyrolysis. In the U.S., California-based Resynergi provides microwave depolymerization units to convert polyolefins into fuels. But Pyrowave sees market opportunities in PS. One reason for that is the public perceptions of PS products.
"PS is a great product. It has great thermal properties. It's cheap. So brand owners like that," he said. "But the real negative side of it is, 'What do we do with it when it's used?'"
Pyrowave plans to deploy its units at places where PS is collected, including materials recovery facilities (MRFs). The idea behind the distributed approach is to avoid the costs of shipping large volumes of PS scrap long distances, he said.
The company plans to either sell or lease the equipment and purchase all of the output for treatment and shipment to chemical companies, he said. Doucet said he'll announce a "consortium project" next year, allowing Pyrowave to deploy more units by the end of 2018.
"We want to offer the industry a new pipeline to new markets to be able to create value from what they're collecting," Doucet said.
More stories about technology