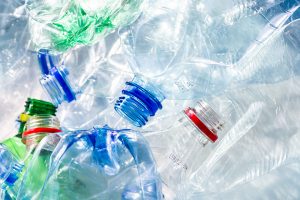 The U.S. PET bottle recycling rate dropped from 30.1 percent to 28.4 percent in 2016, a number that is emblematic of several concerning trends hitting the sector.
That's according to an Oct. 31 report from the National Association for PET Container Resources (NAPCOR) and the Association of Plastic Recyclers (APR).
The volume of virgin PET bottles placed onto the market continues to grow, from 5.97 billion pounds in 2015 to 6.17 billion pounds in 2016. But collection isn't matching that growth, dropping from 1.80 billion pounds in 2015 to 1.75 billion pounds last year.
"The decline in curbside collection volumes of PET in 2016 marks the end of a period of slow, steady growth," according to the report.
The findings point to a decline in containers covered by deposit programs as a large factor in the reduction in total PET container collection.
Curbside PET collection also fell, however, and the report points to low PET bale prices as a factor in this trend. Low pricing likely pushed "some of the smaller commercial collectors to reduce or eliminate recycling collections," the report states. "Lower bale prices also may have contributed to less attention to best practices in single-stream MRFs, and as a result, more loss of PET bottles to the paper or residue streams."
Reclaimers buy more but some close down
But the declining collections tell just part of the story. Although there was less material collected, U.S. reclaimers in 2016 purchased about a million more pounds of PET container material than a year earlier. They purchased 1.37 billion pounds of the total 1.75 billion pounds collected, or about 78 percent.
Exports of PET, on the other hand, declined from 424 million pounds in 2015 to 379 million pounds in 2016, marking the lowest export percentage of total collections since 2000, according to the report. The majority of exports went to buyers in Asia, particularly in China. Still, the volume sent to Asian countries dropped off from 335 million pounds down to 295 million pounds.
Despite the slight increase in processing volume, the U.S. reclamation sector reported significant challenges in 2016. Some respondents said it was the most difficult year since the industry began in the early 1980s.
Eight processing plants went off-line throughout the year and just one opened up shop, leaving 21 U.S. plants operating by the end of the year. The closures represent an unusual degree of fluctuation, according to the report.
"Tight margins, driven down by low virgin resin prices, put significant pressure on PET reclaimers and not all were able to withstand it," analysts wrote in the report.
Utilization falls by percentage point
There were also visible challenges in the material stream leading to less PET utilization. The report estimated the 1.75 billion pounds collected led to production of 1.24 billion pounds of clean flake. That equates to buyers using about 71 percent of the amount they purchased, down from about 72 percent in 2015. The report described the 2016 utilization number as a "significant gap."
The declining utilization reflects many familiar trends in the recycling stream: Contamination in curbside bales, smaller and lighter products, and a lack of design for recyclability all played into the lower utilization of collected material, according to the report.
Combined U.S. and Canadian end market news was positive, representing a partial resurgence from a year earlier. Converters used about 1.5 billion pounds of recycled PET, a figure that includes domestically generated and imported material. That was a 5 percent year-over-year increase in end market demand, after 2015 saw a 9 percent dropoff in end-market purchases.
By end market, bottle usage grew while RPET film usage fell substantially. Overall RPET usage in packaging fell 6 percent but was offset by a substantial spike in fiber and strapping applications.
The report will be discussed in a Nov. 7 webinar hosted by APR.
More stories about PET