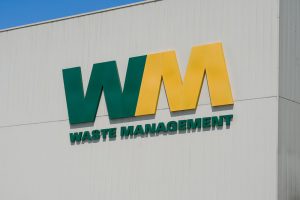 The largest residential garbage and recycling company in North America plans to get a lot bigger with a nearly $5 billion acquisition.
Houston-headquartered Waste Management announced it entered an agreement to acquire Advanced Disposal Services for $4.9 billion. Headquartered in Ponte Vedra, Fla., Advanced Disposal Services is the fourth largest garbage and recycling company in North America. It primarily serves the eastern half of the U.S.
In terms of waste and recycling industry acquisitions, this is a large one. In 2016, Waste Connections acquired Canada-based Progressive Waste Solutions in a transaction valued at $2.67 billion. In 2017, Republic Services, the second largest residential hauler, bought MRF operator ReCommunity for $165 million. In terms of privately held companies, in 2018, Toronto-based GFL Environmental signed a merger agreement with Raleigh, N.C.-based Waste Industries, a transaction valuing Waste Industries at $2.8 billion.
The Wall Street Journal described the deal as Waste Management's largest acquisition ever.
According to a press release, Waste Management will buy all of Advanced Disposal's shares for $33.15 each. The deal represents a total value of $4.9 billion (including Waste Management assuming about $1.9 billion of Advanced Disposal's net debt). The $33.15 price tag is 22.1 percent over the closing share price on April 12, the last day of trading prior to the April 15 announcement.
In terms of recycling, Waste Management is more involved than Advanced Disposal. For example, in 2018, Waste Management brought in $1.29 billion in recycling revenues. That made up about 9 percent of the company's revenues. Waste Management has 102 MRFs.
By contrast, Advanced Disposal brought in $18.1 million through its recycling business, making up about 1 percent of company revenues. The company owns or operates 22 MRFs.
The transaction is expected to close by the first quarter of 2020. It is still subject to regulatory approval and the OK by a majority of holders of Advanced Disposal's outstanding common shares. The Canada Pension Plan Investment Board, which owns about 19 percent of those shares, has already agreed to vote in favor of the transaction.
Photo credit: Ken Wolter/Shutterstock

More stories about markets