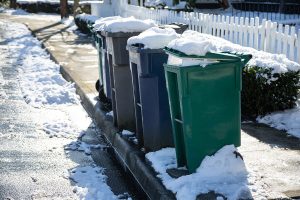 China's scrap import restrictions and their rippling market effects pared recycling revenues for Waste Management and Waste Connections last year.
According to annual financial reports, the companies both saw major drops in recycling revenues as a result of depressed pricing for recyclables. Waste Management recycling revenues were down by 10 percent, and Waste Connections saw recycling revenues plummet 43 percent.
Waste Management experienced "the strongest recycling headwinds we've seen in over a decade" last year, CEO Jim Fish said during a Feb. 14 conference call with investors.
Waste Management is the largest residential garbage and recycling company in North America, and Waste Connections is the third largest. The second largest, Republic Services, issued its 2018 financials on Feb. 7. Resource Recycling covered the company's results last week.
The filings provide windows into how 2018, the first year of China's ban on imports of certain recyclables, affected key North American recycling stakeholders. In addition to bans, Chinese officials tightened quality standards for bales that are still accepted, including OCC; reduced import permit quotas and boosted container inspection requirements. And, in response to U.S. tariffs, China slapped duties on a number of U.S. goods, including some categories of recyclables.
The result was a tumultuous year, with sharp shifts in international scrap destinations (triggering other import restrictions), lower commodity prices, and end-user demands for better-quality bales.
Significant impact for largest hauler
The Houston-headquartered company reported its recycling revenues at $1.29 billion in 2018, down $139 million year over year, or 10 percent. (An accounting change was responsible for some of the decrease in the 2018 revenue number. That's because, starting in 2018, recycling rebates paid to customers were subtracted from revenues; in the 2017 numbers, they had been added to operating expenses. Waste Management did not provide a sheet showing an apples-to-apples, year-over-year comparison.)
In addition to marketing material sorted at company MRFs, Waste Management also runs a large brokerage business for recyclables. The $139 million decrease noted above does not include revenue from the brokerage business. Combining both, Waste Management's total recycling revenue fell by $197 million year over year.
The recycling business makes money from both commodity sales and various fees. Faced with a 40-percent-lower average recyclables value in 2018, the company experienced a drop of $273 million in commodity sales revenues last year.
During the conference call, Devina Rankin, company chief financial officer, said prices for a blended ton of recyclables were $65 to $70 per ton in 2018. The company predicts a $70 average in 2019, but so far, the price has been less, she said.
There were a few brighter points in the report. Waste Management saw year-over-year improvements in the fourth quarter (the effects of China's actions starting being felt in the market in late 2017.) Waste Management's recycling revenue in the fourth quarter of 2018 was $339 million, up 9 percent year over year. Earnings were also up modestly.
The company has been working to change contracts with customers to reduce its commodity market risks. The fourth-quarter financial improvement was a result of new fees, not better material prices. Sales revenues for recyclables in the fourth quarter were down $21 million year over year, according to a company press release.
John Morris, chief operating officer, said MRF operating expenditures peaked during the second quarter. He estimated the operating costs per ton have come down by 4 to 5 percent since then. On the call, Morris mentioned the company's project to build a "MRF of the Future," a sorting facility designed to run at lower operating costs than existing MRFs. The company also touched on this project during its recent annual sustainability forum.
When both revenues and expenses were tallied, the company's 2018 earnings from its recycling business were down by $90 million compared with 2017. But Fish forecasted an improvement going forward.
"Included in our 2019 forecast is our expectation that the strong recycling headwinds from last year will turn into a tailwind, thanks to our focused efforts on reducing operating costs in our plants and charging fees for contamination," Fish said during the call, according to a transcript provided by Seeking Alpha.
Waste Management operates 102 MRFs. Recycling makes up less than 9 percent of the company's revenue. Overall, Waste Management's revenue last year was $14.9 billion, up 3 percent year over year.
Waste Connections sees revenue collapse
The company's recycling revenues totaled $92.6 million in 2018, down 43 percent year over year. According to the annual report, commodity sales revenue fell by $66.3 million in 2018, primarily because of lower fiber prices.
For the fourth quarter, company recycling revenue was $21.87 million, down 23 percent year over year, according to a press release. But Waste Connections acquired a number of companies last year, including the December acquisition of American Disposal Service, the largest privately owned garbage and recycling company in the mid-Atlantic region. Excluding their revenue from the 2018 number, Waste Connections' recycling revenue was $20 million in the fourth quarter, down nearly 30 percent year over year. (A full-year look at recycling revenue excluding the impact of acquisitions wasn't provided).
During a Feb. 14 call with investors, Worthing Jackman, company president, said OCC during the fourth quarter averaged $93 per ton, down 23 percent year over year but up 6 percent from the third quarter. Mixed-paper revenues declined about 45 percent year over year, with prices between $0 and $5 per ton.
According to a transcript from Seeking Alpha, Jackman said OCC prices currently average about $85 per ton, down about 15 percent from the first quarter of 2018.
Waste Connections owns 64 MRFs. Recycling makes up less than 2 percent of the company's revenue. Overall, Waste Connections' revenue in 2018 totaled $4.92 billion, up 6 percent. Of that amount, $153.1 million was from other companies Waste Connections' acquired. In addition to American Disposal Services, Waste Connections acquired 19 smaller companies throughout the year.
Photo credit: VDB Photos/Shutterstock
More stories about markets