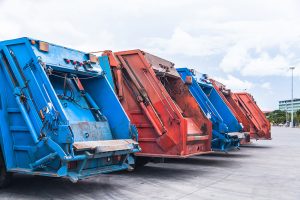 Casella Waste Systems and Advanced Disposal Services, two of the larger garbage and recycling companies in North America, experienced tumbling recycling revenues last year.
Advanced Disposal suffered a 45 percent drop in recycling revenue, and Casella, which is much more involved in recycling, experienced a 32 percent decrease.
Their results were not outliers. Waste Management, Republic Services and Waste Connections, the first, second and third largest garbage and recycling companies in North America, also saw steep drops in their recycling businesses. Resource Recycling covered Republic's results on Feb. 12 and reported on Waste Management and Waste Connections on Feb. 19.
Financial results for Advanced Disposal and Casella were released on Feb. 21. Advanced Disposal, the fourth-largest garbage and recycling company on the continent, provides service in the Midwest, on the East Coast and in the Southeast. Casella, the fifth largest, serves Northeastern states.
Decline in prices and volume
The recycling business at Rutland, Vermont-based Casella brought in $42.2 million in revenue in 2018, down $20.1 million, or 32 percent, from the year before. Casella sorts and sells recyclables at its facilities and also operates a brokerage business. (The revenue reduction looks worse than it was because of an accounting change. Starting in 2018, Casella accounted for recycling and organics rebates to customers by reducing the recycling revenue number. Last year, those payments totaled $6.3 million. In 2017 and earlier periods, the payments were recorded as a cost of operations.)
According to Casella's annual financial filing, most of the recycling revenue pain came from lower commodity prices. Specifically, lower recovered material values reduced revenues by about $23.5 million year over year. The company also handled a lower volume of material, reducing revenues by $7.2 million.
But as has been the case with other haulers, Casella has worked to reduce its exposure to commodity price risks in recent years by imposing fees, including what it calls the sustainability recycling adjustment (SRA) fee. In 2018, the company charged higher tipping fees for recyclables as commodity values dropped. Those fees generated $10.6 million more in revenue, partially – but not fully – offsetting the price and volume declines.
Recycling costs also increased after Casella MRFs, responding to market demands for higher-quality bales, slowed sorting lines and added labor. As they removed more contamination, they also faced high disposal costs. The lower revenues and higher costs meant a drop in recycling income of about $10.6 million in 2018.
In a press release, John W. Casella, the company's chairman and CEO, noted the fourth quarter brought better results for the recycling business, despite the full-year decrease. Even while the fourth-quarter average commodity revenue per ton was down 18 percent year over year, the company boosted recycling income by $700,000 year over year.
"Our team has done a great job over the last several years working to off-take risk across our business, including recycling commodity pricing risk," Casella stated. "As recycled paper and cardboard commodity prices stabilized over the last six months, our trailing SRA fee and revenue share contracts, where applied, are now fully recovering lower commodity prices."
Going forward, company executives see better news in the recycling business. "Recycling has become a processing-for-a-fee-type business now, so we expect financial performance going forward to be more stable," Ed Johnson, Casella's chief operating officer, told investors during a Feb. 22 conference call.
As of the end of 2018, Casella Waste Systems operated 18 recycling facilities, including eight large-scale, high-volume facilities. Last year, the company processed and/or marketed more than 800,000 tons of recyclables.
Recycling now accounts for more than 6 percent of Casella's revenue, down from more than 10 percent in 2017. In terms of overall company revenue, Casella brought in $660.7 million last year, up more than 10 percent (nearly half of the growth came from acquisitions in 2018 of other solid waste businesses)
Impact spurs outreach and contract adjustments
Ponte Vedra, Fla.-based Advanced Disposal brought in $18.1 million in recycling revenues in 2018, down $15.1 million, or 45 percent, from 2017.
During the fourth quarter, the company collected $4.2 million in recycling revenue, down $1.4 million, or 25 percent, from the prior-year period.
Company CEO Richard Burke told investors during a Feb. 22 conference call that lower recovered fiber prices hurt revenues. For example, Advanced sold OCC for an average of $63 per ton during the fourth quarter, down from $84 per ton during the same period in 2017.
"We have continued our previous discussed efforts in the fourth quarter to educate our customers around the impacts of contamination and the cost of recycling along with securing price increases related to the collection of recyclables," he said, according to a transcript from Seeking Alpha. "We've now had initial conversations with almost all of our municipal customers and received some form of pricing concessions from nearly 20 percent of that group."
Recycling now makes up 1 percent of the company's revenue, down from 2 percent in 2017. In terms of total revenues, the company brought in $1.56 billion in 2018, up 3 percent from 2017. The company's annual financial report hasn't yet been posted, so additional details were not yet available.
Photo credit: Nitikorn Poonsiri/Shutterstock

More stories about markets