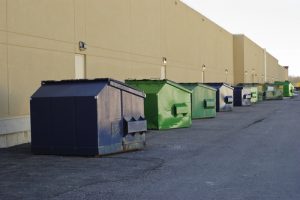 Republic Services reported higher recycling revenues during the third quarter, and it expects its acquisition of MRF operator ReCommunity will boost tonnages it processes by about half going forward.
According to Republic's quarterly filing with the U.S. Securities and Exchange Commission, the second-largest garbage and recycling company in North America acquired all of ReCommunity's shares for $165 million, net of cash acquired, plus the assumption of capital leases. The purchase was made in October.
ReCommunity, which operated 26 MRFs in 14 states, was the largest independent MRF operator in the country. It worked largely in areas where Republic has a leading market presence, according to Republic.
"The investment in ReCommunity enables us to further vertically integrate our recycling operations without adding capacity in our existing markets, to meet the demands of our customers who have told us recycling is important to them and have also demonstrated a willingness to pay, and to continue to capitalize on secular trends such as the growth in online shopping," CEO Donald Slager told investors during a Nov. 2 conference call (Seeking Alpha provided a transcript of the call).
Third-quarter results
Republic's recycling business brought in $131 million during the third quarter of this year, up 14 percent year over year. The first and third largest garbage and recycling companies in North America, Waste Management and Waste Connections, respectively, also reported higher recycling-related revenues during the third quarter.
Republic experienced an average price of $185 per ton for OCC during the quarter, compared to $125 for the prior-year's period. The average price for ONP during the third quarter was $108, compared to $114 in 2016.
Looking at average values for all recovered materials, excluding glass and organics, Republic saw a price of $167 per ton in the third quarter, up from $133 during the prior-year quarter.
In terms of tonnages, Republic processed 500,000 tons during the quarter, down from 700,000 tons during the third quarter of 2016. For the first nine months of the year, Republic processed 1.7 million tons of recyclables, down from 1.9 million tons the year before. The acquisition of ReCommunity is expected to boost volumes by an estimated 1 million tons annually.
The higher commodity sales revenues were a continuation of a trend the haulers began to see in late 2016.
Republic's total revenue for the third quarter quarter was $2.56 billion, up more than 6 percent year over year. Recycling now makes up 5.1 percent of Republic's revenue pie.
As of the end of September, before the ReCommunity acquisition, Republic had 64 recycling centers.
Volatility caused by China
n the conference call, Slager addressed the market impacts of China's decision to restrict imports of certain recovered materials. While overall recycling revenues were higher in the third quarter, by the end of the quarter prices had fallen steeply from the highs earlier in the year. Specifically, OCC export prices fell from $237 to $113 per ton from July to October.
Since the beginning of October, the volatility has continued, with OCC values rebounding nearly 45 percent higher, he said, noting that they're now above the 10-year average.
"In the past, when comparable programs were implemented, we also saw a temporary increase in pricing volatility," Slager said. "We believe the recent volatility is again temporary and the pricing we saw in early October is not indicative of a new normal. Also, we haven't seen a structural change in the demand for packaging or recovered fiber and believe that continued growth in e-commerce and online shopping will further increase demand."
When asked by an analyst about China's newly proposed contamination thresholds and the ability of Republic to meet those, Slager said it's too early to tell where they'll end up. But Republic has a better starting point than a lot of other companies because it has invested a lot in its MRFs in recent years to produce a high-quality pack and reduce residual, he said.
"At the end of the day, they need fiber and packaging demand isn't going to go down in my mind," he said.
China's campaign forced Republic facilities to produce a higher-quality product, raising Republic's costs. That offset some of the benefit of the better pricing, Slager said.
Republic has been able avoid warehousing or landfilling recovered materials by selling them to partners across the globe. He noted the company has established relationships with buyers across the U.S., China, India, Indonesia, Thailand and South Korea
Still, he sees the need for continuing adjustments in response.
"Recent events reinforce our efforts to transition to a durable fee-based model and the need for additional public outreach and education to reduce the amount of recycling contamination of low-value material in the recycling waste stream," he said.
More stories about markets