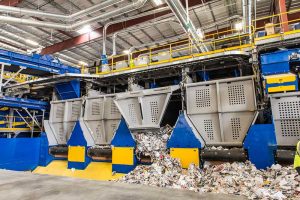 Republic Services has purchased recycling processor ReCommunity, a move that's in line with Republic's recently stated goal of adding more recycling capacity in the coming year.
The purchase, announced Aug. 24, involves 26 recycling centers across 14 states. The sites handle a combined 1.6 million tons of material each year. The acquisition also includes long-term municipal agreements. Terms of the sale were not disclosed.
In its most recent sustainability report, publicly traded Republic said it plans to continue investing in recycling, and said it hopes to add an additional 150,000 tons of recycling capacity per year by 2018.
The company also reported it currently collects 100 million tons of material per year, 5 million of which are processed for recycling.
Similar to other large haulers, Republic has recently enjoyed strong financial returns due to improved commodity prices. The company generated $133.9 million from selling recovered materials during the first quarter of 2017. Recycled commodity sales now make up 5.6 percent of Republic's revenue pie.
"Recycling continues to be one of the fastest growing segments of the waste stream, and our focus remains on investing in traditional recycling in select and prioritized markets where customers have demonstrated both a demand and a willingness to pay for recycling," said Don Slager, CEO of Republic Services.
The transfer consolidates an already-concentrated materials recovery facility operation industry.
ReCommunity has made headlines during the past two years for a very public dispute with the City of Ann Arbor, Mich. After the city terminated ReCommunity's contract to operate the local MRF, ReCommunity accused the city of concocting false pretenses under which to fire the recycling company. The dispute is now at the center of a lawsuit, which is ongoing.
In a webinar last year, ReCommunity business development executive Robert Anderson discussed the wide range of challenges facing recycling facilities, including increased contamination, volatile commodities values and higher overhead costs for staffing.
More stories about MRFs